At the end of each year, travel magazines all over create "bucket-list" blog posts to inspire you to discover and explore new destinations. And we did this in 2022 with our "Ubuntu Travel Bucket List". If you missed it last year, our Bucket List is as relevant going into 2023 as it was at the end of 2021. Go and have a look after this post. 
We have done things slightly different this year. 
We decided to reflect back on our very own Ubuntu Travelers, and their tailor-made journeys. We were so inspired by the many wonderful and different safari experiences, that we decided to select a few of our favorites to share with you. 
Enjoy! And of course… We can design a unique journey for you too!

1) A Wedding in the Serengeti
Ubuntu Travelers: Francesca and Leon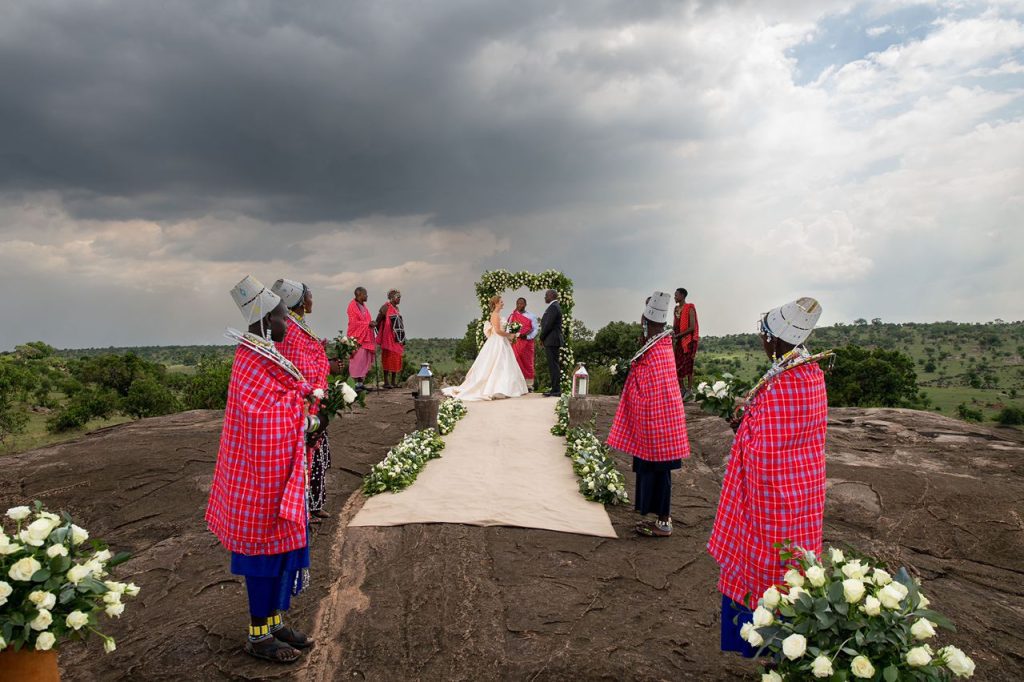 A destination wedding in the African wilderness.  Yes, it can be done, and Ubuntu Travelers Francesca and Leon did just that at the wonderful Lemala Kuria Hills Lodge in the remote corner of Northern Serengeti, Tanzania. Part of the experience is that you enjoy an authentic and traditional Swahili blessing hosted by the lodge staff. A truly authentic and special experience. We will let their images speak for themselves. 
Francesca & Leon – "While we have traveled to many countries around the world, getting married in Northern Serengeti was a trip of a lifetime. This trip catapults to the top of the list. We each left a piece of our heart in Tanzania. We will definitely be back."
Where did they stay: Lemala Kuria Hills Lodge
Country: Tanzania 
Region: Northern Serengeti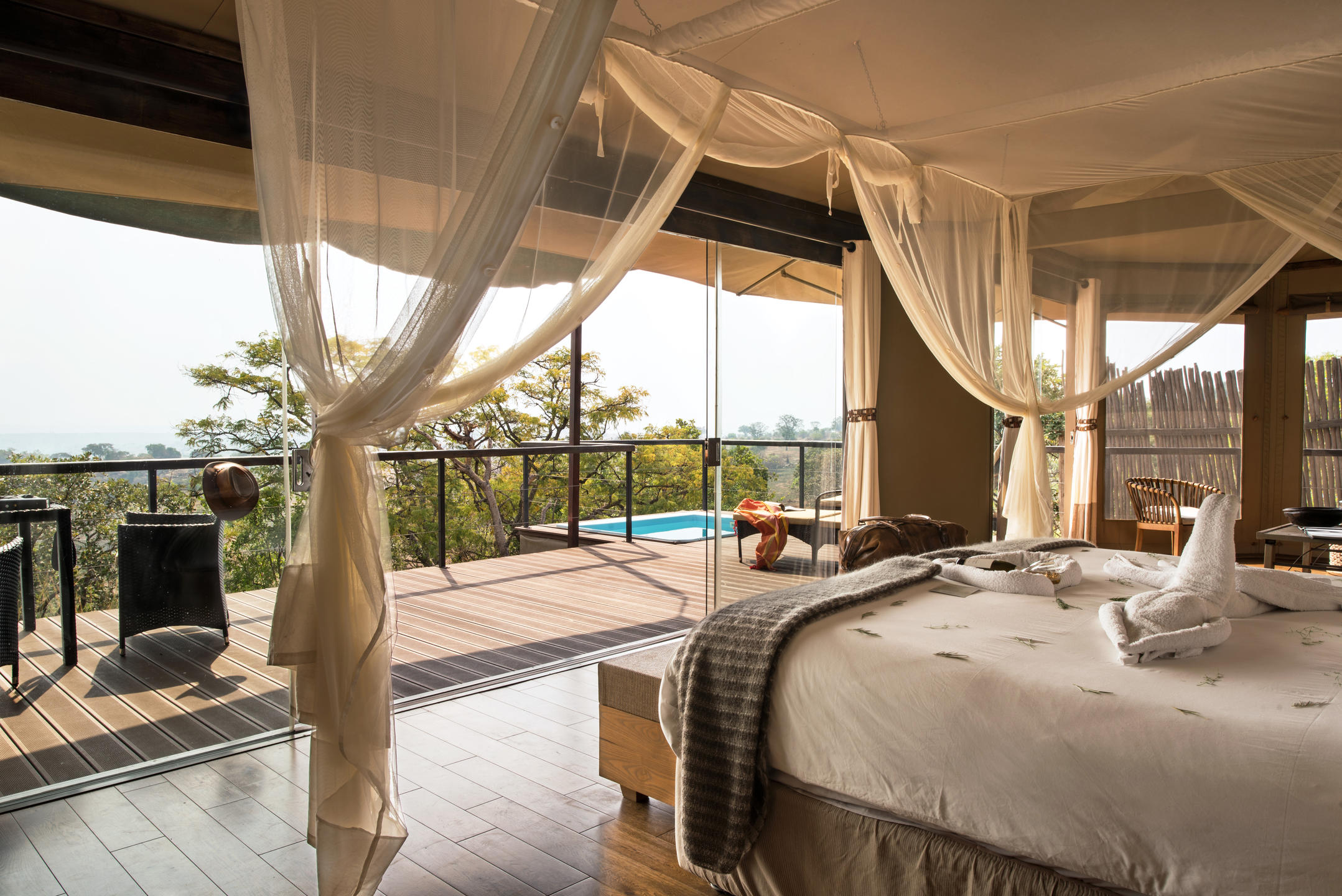 2) Encounter Mountain Gorillas
Ubuntu Travelers: Shawn and Tara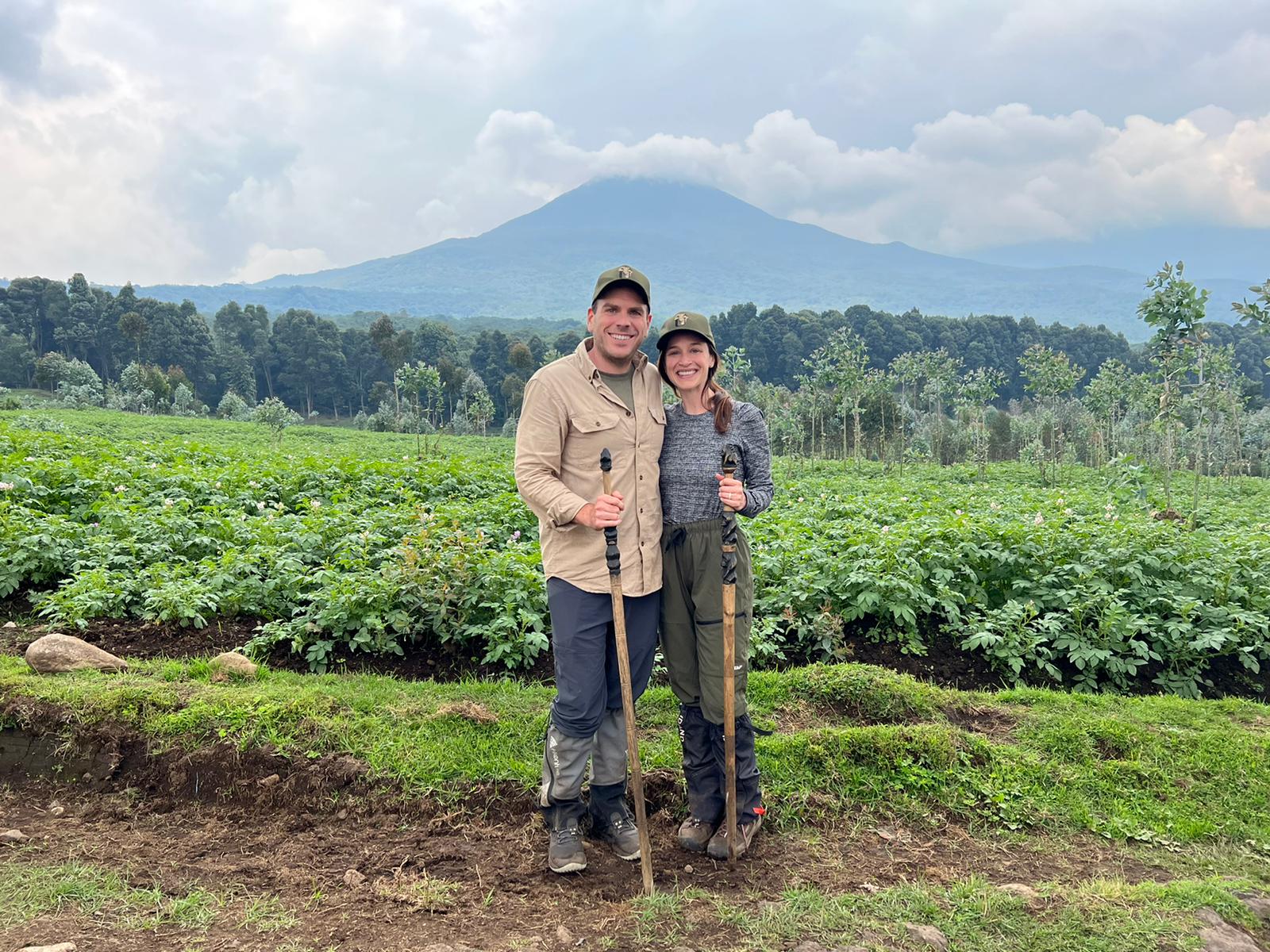 Gorilla trekking is arguably the most humbling wildlife encounter you can experience while traveling through Africa. Ubuntu Travelers, Shawn and Tara decided to make it part of their adventurous and luxury honeymoon. Before heading down to South Africa for a big five safari at Ngala Tented Camp in the Kruger National Park. Check out their video. One juvenile gorilla literally walks past them. Incredible.
Keen for this adventure, check out our 'Walking with Mountain Gorillas' suggested itinerary. 
Gorilla Trekking:
We had an incredible time in Rwanda, hiking through Volcanoes National Park and then seeing the gorillas in their natural habitat. It was amazing to see them moving around right in front of us- truly a once-in-a-lifetime experience. – Shawn and Tara
General trip:
Ubuntu planned an amazing 3-week honeymoon for us! As soon as we stepped off the plane, everything was taken care of, and we were truly able to just relax and enjoy ourselves. From our amazing resort in the Seychelles, to hiking with gorillas in Rwanda, to the safari, and finally Cape Town, Ubuntu planned an amazing trip for us and we already want to go back to Africa! – Shawn and Tara
Where did they stay: The Bishops House Rwanda 
Country: Rwanda 
Region: Volcanoes National Park 

3) A Helicopter Flip over the Delta
Ubuntu Traveler: Sean Messham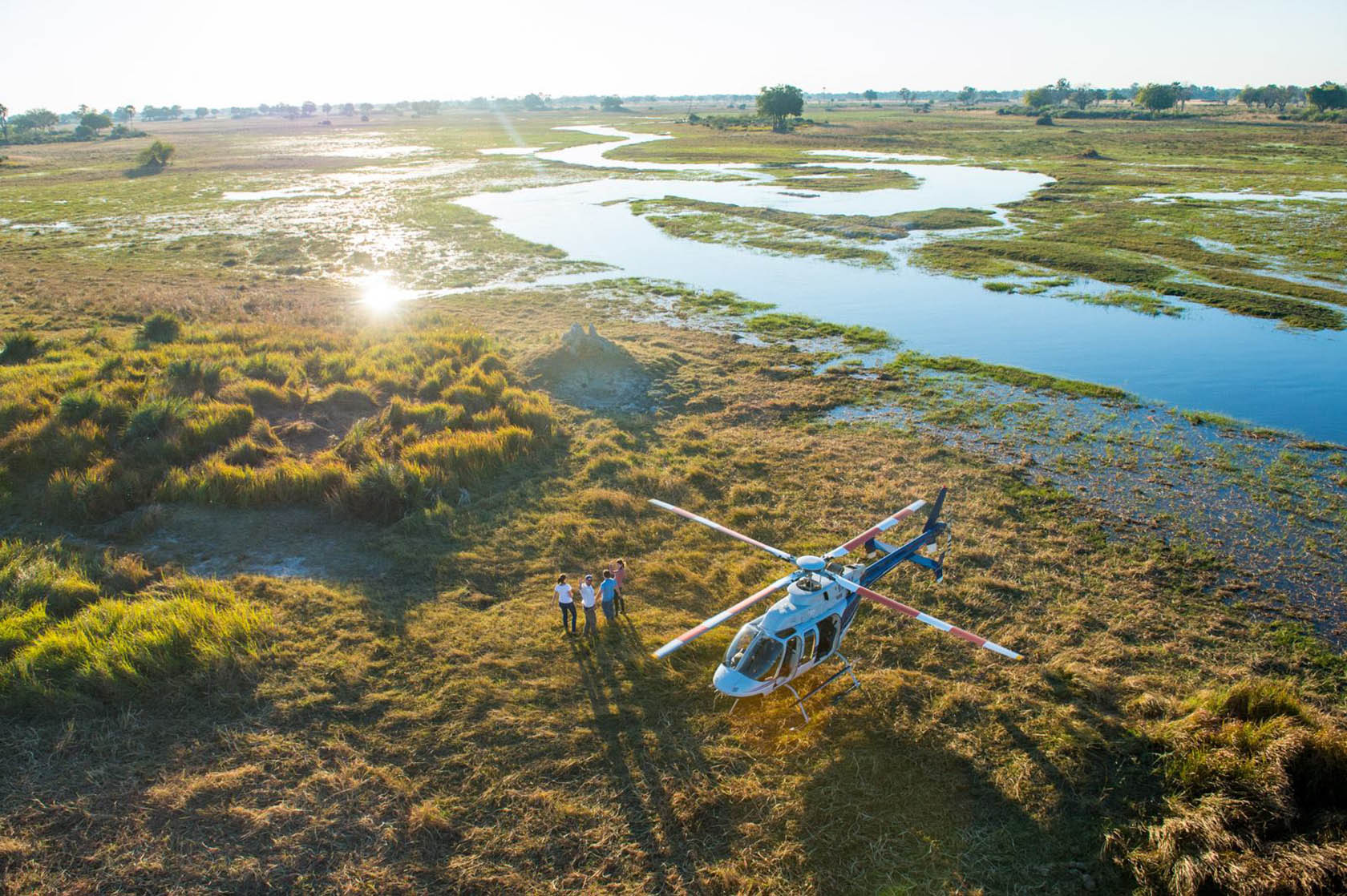 A scenic helicopter flight over the Okavango Delta provides a wonderful perspective to fully appreciate its network of water channels, islands, lagoons and open plains. As a photography enthusiast, you can have the doors removed, providing an unrestrictive opportunity to take those overhead shots of herds of elephants, red lechwes and giraffe.
But it's more than that! After his stay at Khwai Leadwood Tented Camp, Sean Messham, admitted to us that he was "childly excited" when he got the opportunity. It is a must-do experience for sure!
Where did Sean stay: African Bush Camps, Khwai Tented Camp 
Country: Botswana 
Region: Okavango Delta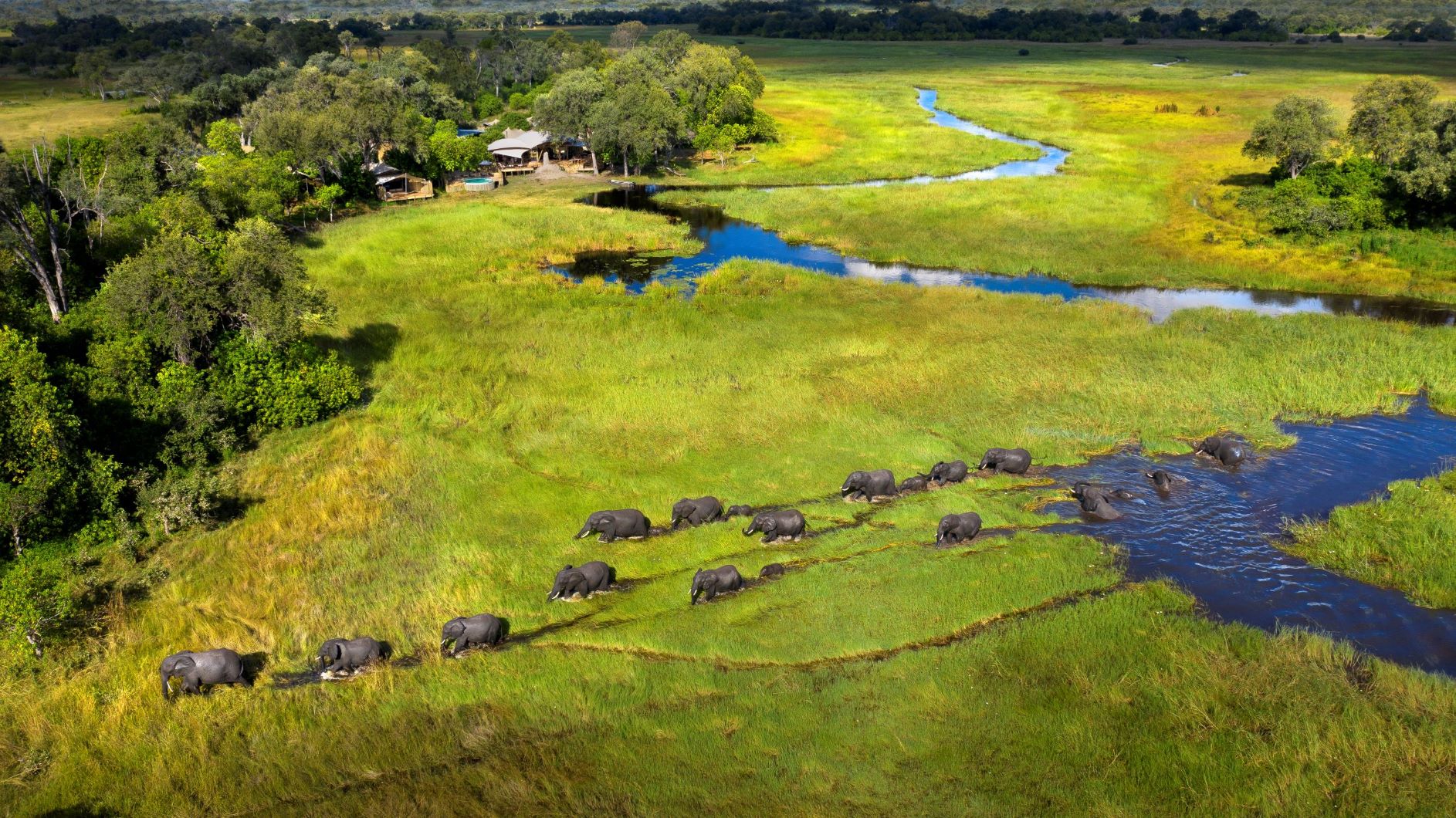 4) Spot (6) Leopards at Tengile River Lodge 
Ubuntu Traveler: Co-Founder, Kyle Green
Ubuntu Travel Co-Founder, Kyle Green, describes his experience quite simply,  "No matter how many different wildlife destinations you visit in Africa, there is really no place that consistently compares to the Sabi Sands when it comes to both the quality and quantity of leopard sightings. 
I was quickly reminded of that fact within just a few minutes of leaving Tengile River Lodge on our morning game drive – an incredible experience in which we would see six (yes six!) leopards within a few short hours." Read about this incredible "Morning of Leopards" in our Ubuntu Travel blog.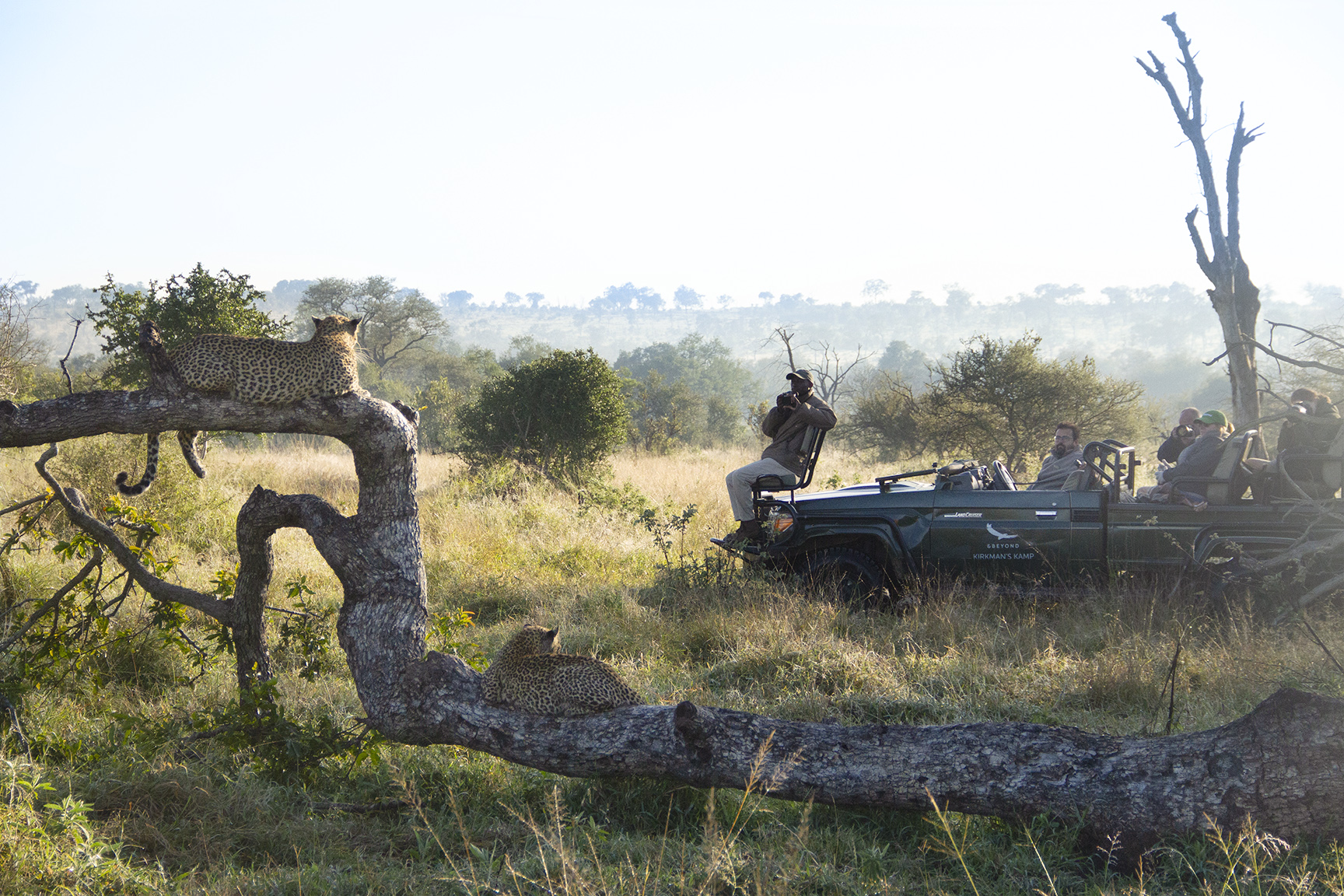 Where did Kyle stay: andBeyond Tengile River Lodge
Country: South Africa 
Region: Sabi Sand Game Reserve 
5) Witness
 a Great Migration Crossing 
Ubuntu Travelers: Brian Seymour
To experience the largest terrestrial mammal migration in the world needs to be on every one's bucket list. The estimated numbers are astounding; 1.5 million wildebeest, 200,000 gazelles and 400,000 zebras. Not to mention in calving season (January – March) over half a million calves are born in two to three weeks! Ubuntu Traveler, Brian Seymour, witnessed this remarkable river crossing during his stay at Lemala Ewanjan Tented Camp.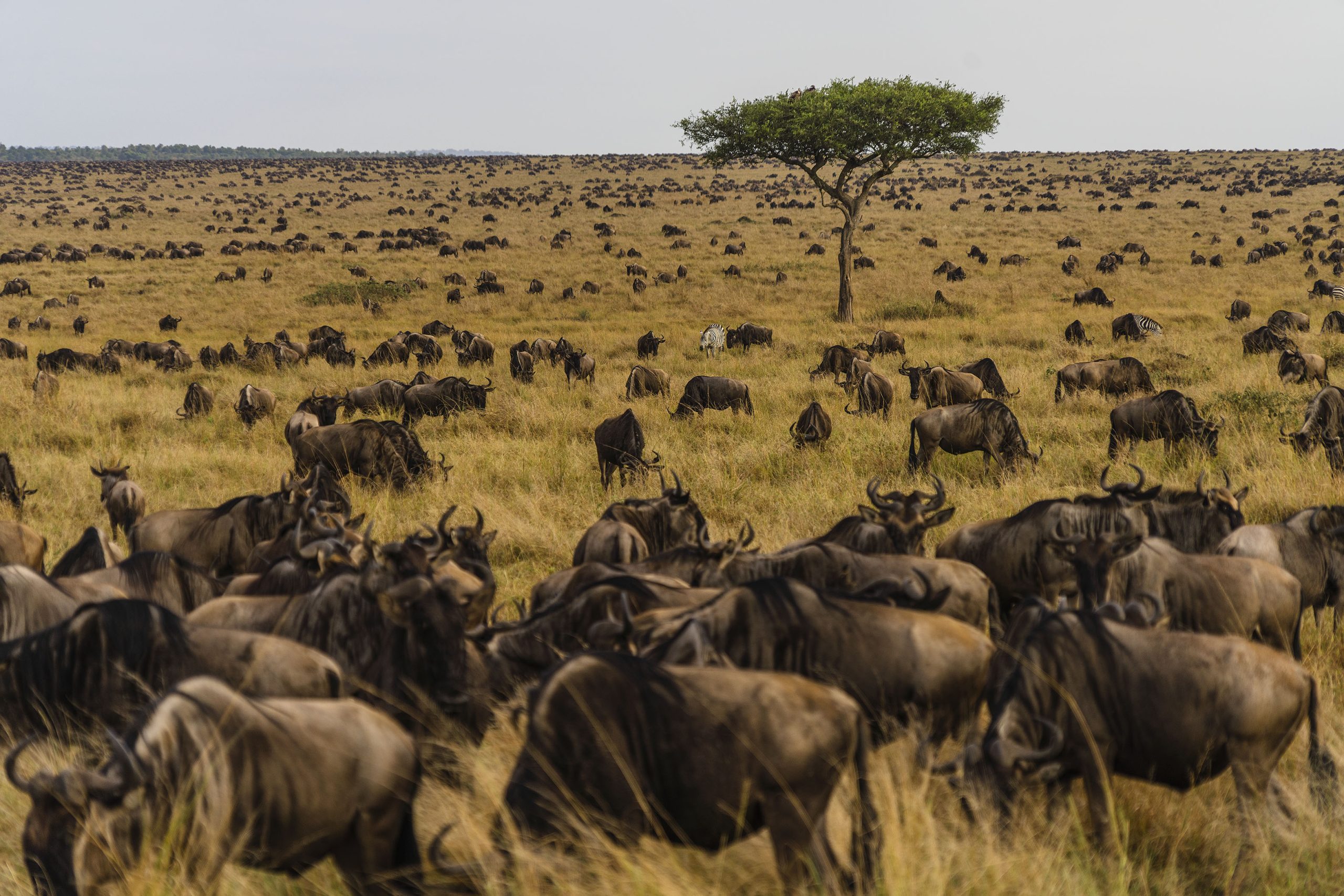 Below images: Ubuntu Traveler, Christina Messham, enjoying a morning breakfast in the middle of the Great Migration. During January to March, the Migration moves south to calve. In the southern regions of the Serengeti,  you are allowed to off road, providing this unique experience among the herds of zebra, thompsons gazelles, wildebeest and eland!  
When is the best time to witness the Great Wildebeest Migration? Checkout our Great Migration Guide to discover when it's best for you!
Where did they stay: Lemala Ewanjan Tented Camp
Country: Tanzania 
Region: Serengeti National Park
6) Participate in Pangolin Conservation 
Freelance Guide: Jarryd du Preez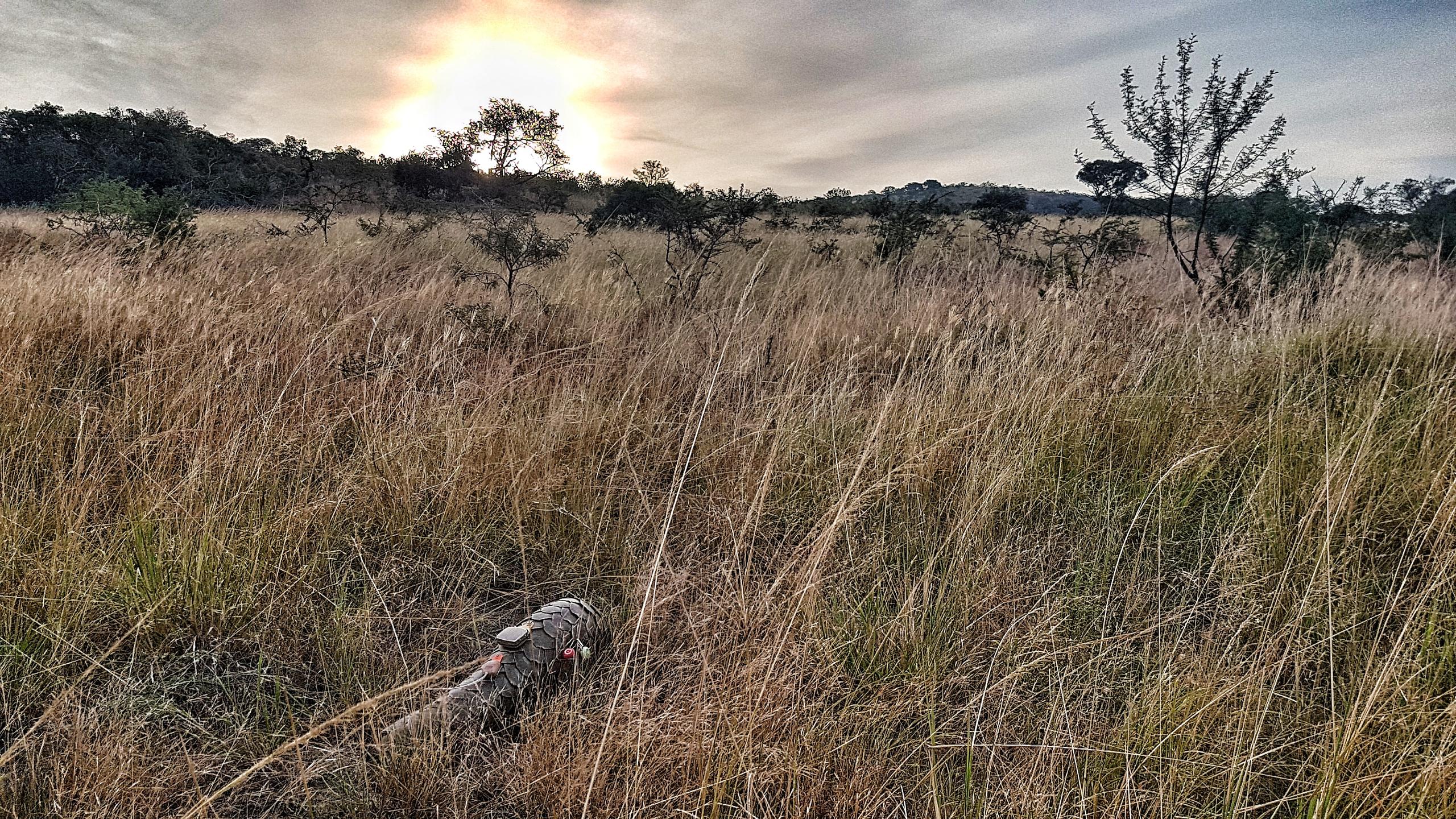 For those who do not know, a pangolin is a secretive and shy scaled mammal that feeds on ants and termites. And… it is the world's most trafficked mammal! The numbers are staggering, in 2019 alone over 8 tons of pangolin scales were seized, that's an estimated 100,000 pangolins. At Phinda Private Game Reserve, a grounding breaking  project was started in 2019 to reintroduce the Temminck's ground pangolin back to the region where it was locally extinct. The unique Pangolin Conservation Experience allows you to join the Phinda Conservation Team and actively participate in monitoring these elusive and endangered animals.
Freelance Guide, Jarryd du Preez, has been fortunate enough to work with the Phinda teams and guide guests through the Pangolin Conservation Experience. This is what he had to say about it:
"Over the eight years of guiding, nothing quite compares to the time I spent watching and following pangolins. Being able to watch such a prehistoric looking mammal, that doesn't quite seem to fit the mold of an african animal, is always a breathtaking sighting. Because pangolins are so rare and very seldom seen, I've always believed we don't find them, they find us. 
Of all the extra activities one can do on safari, being able to follow a pangolin with the conservation team is most certainly the most surreal experience I could give my guests. Watching them walk around foraging for ants completely unperturbed by our presence is one of the best experiences a true wildlife enthusiast could dream of." – Jarryd du Preez. 
Where can you stay: Phinda Private Game Reserve
Country: South Africa 
7) Cruise With Bathing Elephants
Ubuntu Traveler: Co-Founder, Leah Green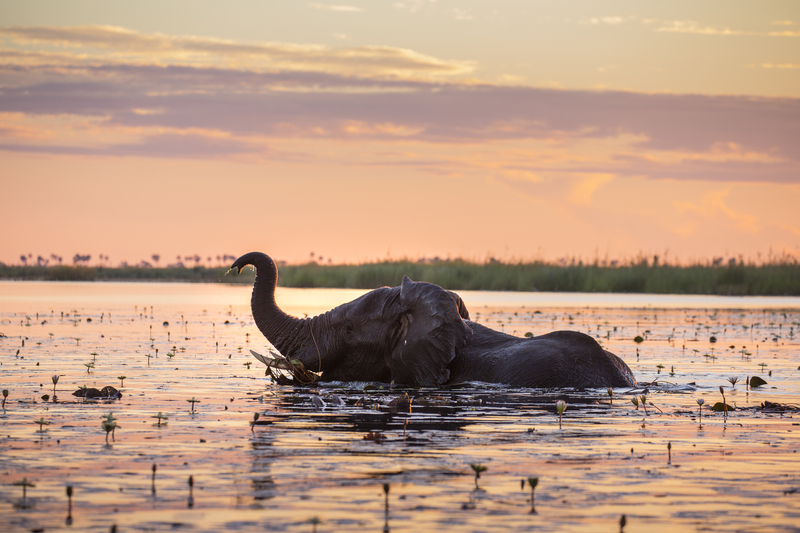 Ubuntu Travel Co-Founder, Leah Green, quite literally still speaks about her stay at Wilderness Destinations DumaTau, in the Linyanti Wildlife Reserve, Botswana. It was here while during a river cruise down the Linyanti River, Kyle and Leah came face-to-face with an elephant bull feeding on softened roots of water lilies. This tranquil moment is still one of Leah's favorite experiences  during her last trip to Botswana.
Where did Kyle and Leah stay: Wilderness Destinations, DumaTau
Country: Botswana 
Region: Linyanti Wildlife Reserve
8) Mingle with Wild Chimpanzees 
Ubuntu Traveler: Sean Messham  
"Chimpanzee trekking is an informative, loud and riveting experience. If one had to compare it to a gorilla encounter. I would describe gorilla trekking as a "humbling" wildlife experience, and the viewing of a group of wild chimpanzees as a "reflective" one. 
Chimps share 98.6% of our DNA. In fact, they are more closely related to us, than they are to gorillas. Understanding the potential risk of one over anthropomorphizing. I did find myself enjoying tranquil moments watching individuals as they paused to rest, and seemingly contemplate their position… Leading me to wonder 'what were they thinking'. And possibly, was it about the strange primate looking back at them"  – Marketing Manager, Sean Messham
Where did Sean stay:Primate Lodge Kibale
Country: Uganda 
Region: Kibale National Park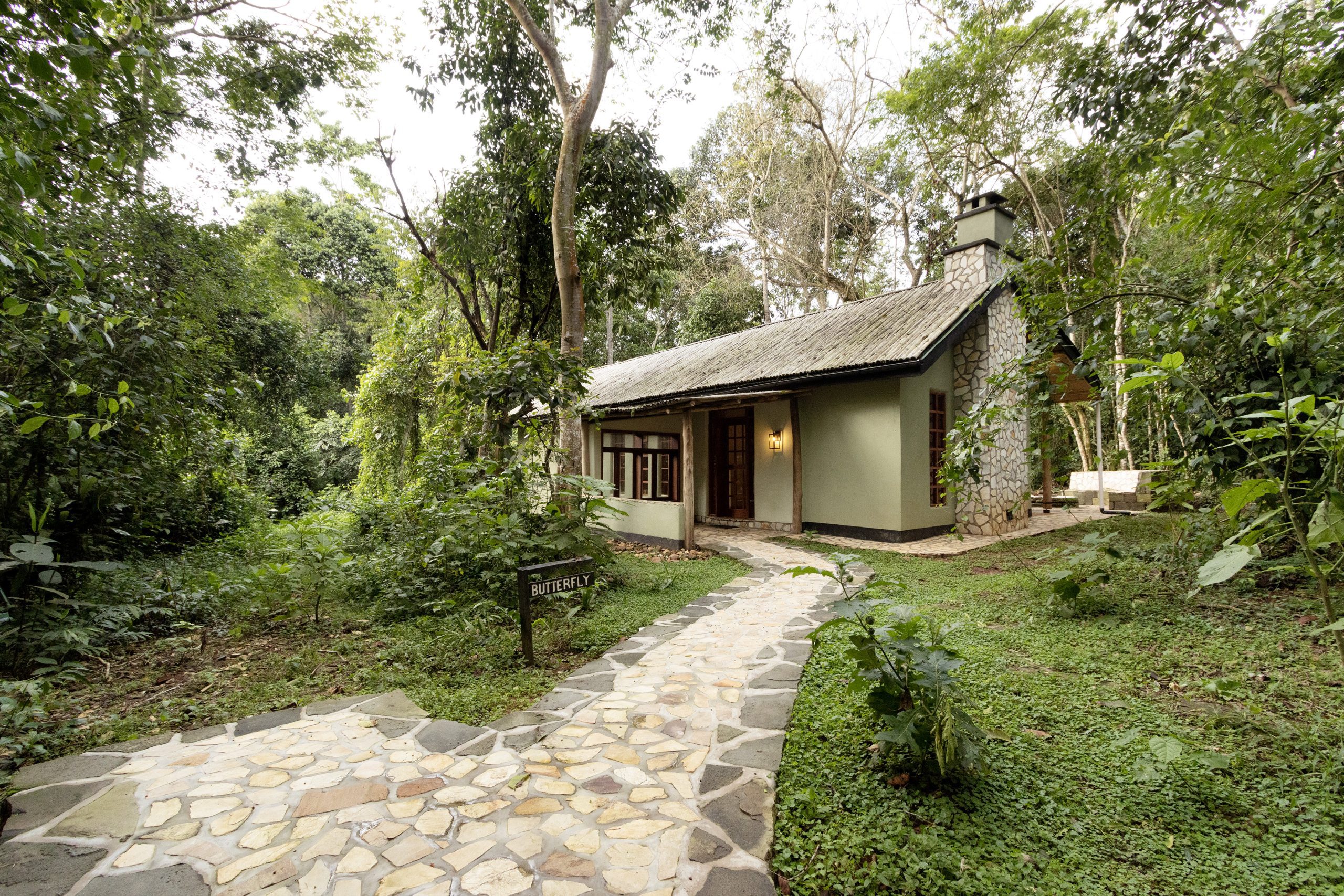 Are you ready for the trip of a lifetime?
If you're thinking of planning a trip, we're here to help! Our team of travel designers will create an itinerary just for you to create memories to last a lifetime and conquer your bucket list. Get in touch with us today to start planning your adventure in Africa.
Follow us on Instagram