The Maldives seems to be a hot topic of conversation these days, especially among honeymooners and vacation-goers seeking a pristine and unrivaled slice of paradise. This decadent 26-island archipelago is located in the Arabian Sea of the Indian Ocean and lies just southwest of India and Sri Lanka. So if you're planning your first visit to the Maldives, we have some great tips to help you make the most of your visit. Here is our complete guide to visiting the Maldives so you can make the most of it!
Dubbed the ultimate island getaway, the Maldives epitomize luxury, relaxation and utter remoteness, and offers the perfect blend of liveliness and peace. And while there's plenty of ways to explore the islands, we hope to make things a bit easier for you per the guide below.
A Guide to Visiting the Maldives
Time to Visit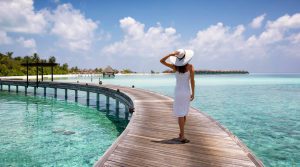 The Maldives experience hot temperatures in the mid to upper 80s year-round, and like many tropical locations, most travelers opt to strategically plan around monsoon season. Generally, this means avoiding heavy precipitation from late April to October, instead visiting during the dry season from January to April. As one would expect, room rates generally come at a higher price tag during dry season because weather conditions are ideal. However, if you do plan your visit during the wet season, you can expect to save some money in this department, as room rates reflect a decrease in tourism and are reduced in price.
It's also crucial to note that weather is extremely variable across the archipelago and its 26 atolls, which stretch across 500 miles. The northern atolls frequently see more sunshine and less rainfall compared to their central and southern counterparts. Take into consideration why you're visiting and what you'd like to see and do while in the Maldives, and you'll be able to best determine what time of year you should pay a visit. We hope you enjoyed this guide to the Maldives! 
Places to Stay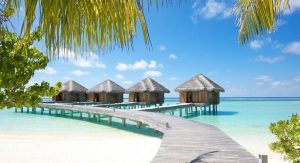 There's certainly no shortage of gorgeous and accommodating resorts ready to cater to your every need while vacationing in the Maldives, wherein the typical length of stay is 5-7 days. Many couples and families opt for private bungalows, villas, resorts, cottages, and apartments, all of which are surrounded by dreamy turquoise waters, stunning lagoons, and elaborate coral reef structures. Resorts in the Maldives are known for being competitive with one another, as they all seek to provide exceptional hospitality and unsurpassed opulence. Rest assured, you will have an incredible stay wherever you decide to lay your head at night.  For help selecting the perfect property for you, reach out to one of our travel designers today!
Things to Do and Places to Go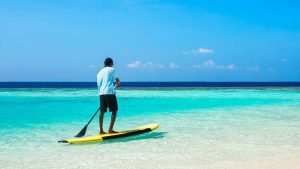 The Maldives boast a wide range of activities, some of which people base their entire trip around, like diving and snorkeling. While these world-class offerings are part of what makes the destination popular, we also suggest swimming with sharks and manta rays, learning about the local marine life, having a romantic meal, getting pampered at the spa, or taking a sunset tour. Other highly-sought-after activities include water sports like windsurfing, water-skiing, and surfing, chartering an air taxi, or exploring the National Museum and Addu City. Of course, any adventure you take in the Maldives, given its unparalleled beauty, is guaranteed to fully captivate you.
Food to Try in the Maldives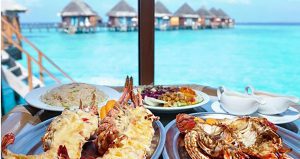 Your taste buds will want to join in on the fun, too! Traditional Maldivian food draws inspiration from South Asian cuisine and features the three main ingredients of coconut, fish, and starches such as grains and vegetables. Prepared via ancient cooking techniques, Maldivian food is known for being spicy, sweet, and overall exotic in taste. Common dishes include curry, tuna salad, fish soup and cakes, sticky rice, and pastries. The Maldives' capital city of Malé is lined with markets and roadside eateries that serve local delicacies and delicious traditional fare.
Other Highlights in the Maldives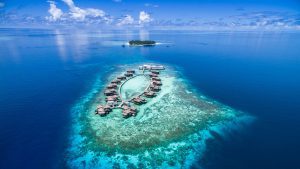 A true postcard destination, the Maldives supply endless adventure, culturally-immersive thrills, tasty bites, and memory-making experiences by the dozen. This once-in-a-lifetime destination certainly leaves nothing to be desired. 
Start Planning Your Dream Trip
Reach out and let's start talking. We'll listen and begin to tailor an experiential, private, luxury vacation based on exactly how you want to experience Africa. From adventure to relaxation—and everything in between—let us handle every detail of your unforgettable journey.