This time of year many of us are dreaming up ways to express gratitude and love to our significant others. Whether it's a romantic dinner, a thoughtful gift or even planning up your next vacation together. We believe that romance can (always) be in the air, especially when it comes to experiencing the magic of an African safari! 
For those couples sipping a glass of wine and dreaming up the next ultimate couples escape or honeymoon in Africa. We have a few romantic ideas to add to your safari bucket-list! Explore our new guide to "Romance Under the African Night Sky" and discover the most romantic moments to add (or make sure you don't miss)  to your safari experience.
A candlelit dinner floating on the Zambezi 
Victoria Falls, Zambia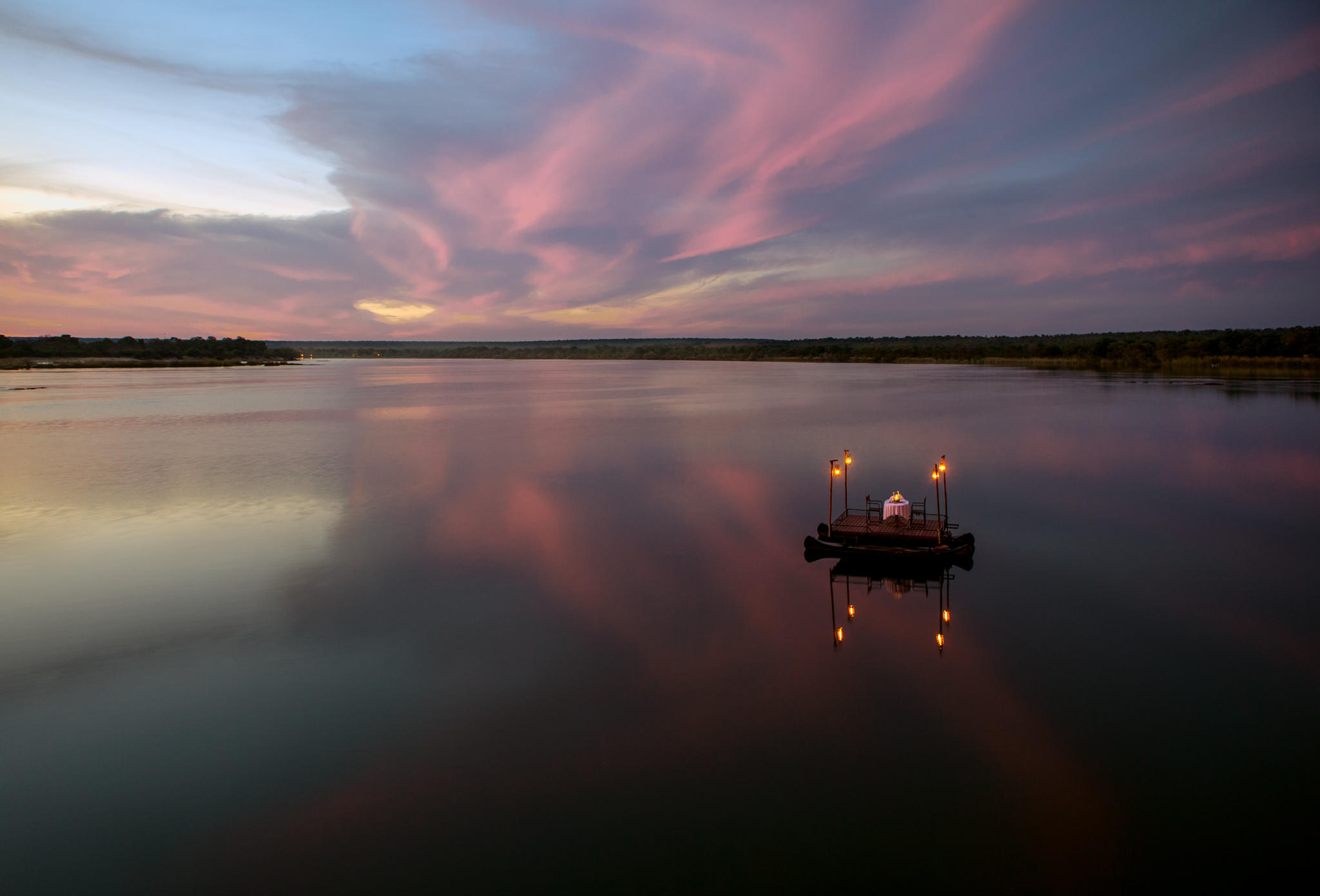 When we first learnt about Tongabezi's unique Sampan dining experience – we had to do a double take! It's honestly one of the most unique and romantic dinning experiences in Africa for sure! With the perfect mixture of simple fun and romance. The Sampan dining experience allows you to float on the mighty Zambezi enjoying the sunset, all while drinking good wines and indulging in delicious foods (both local and familiar comforts).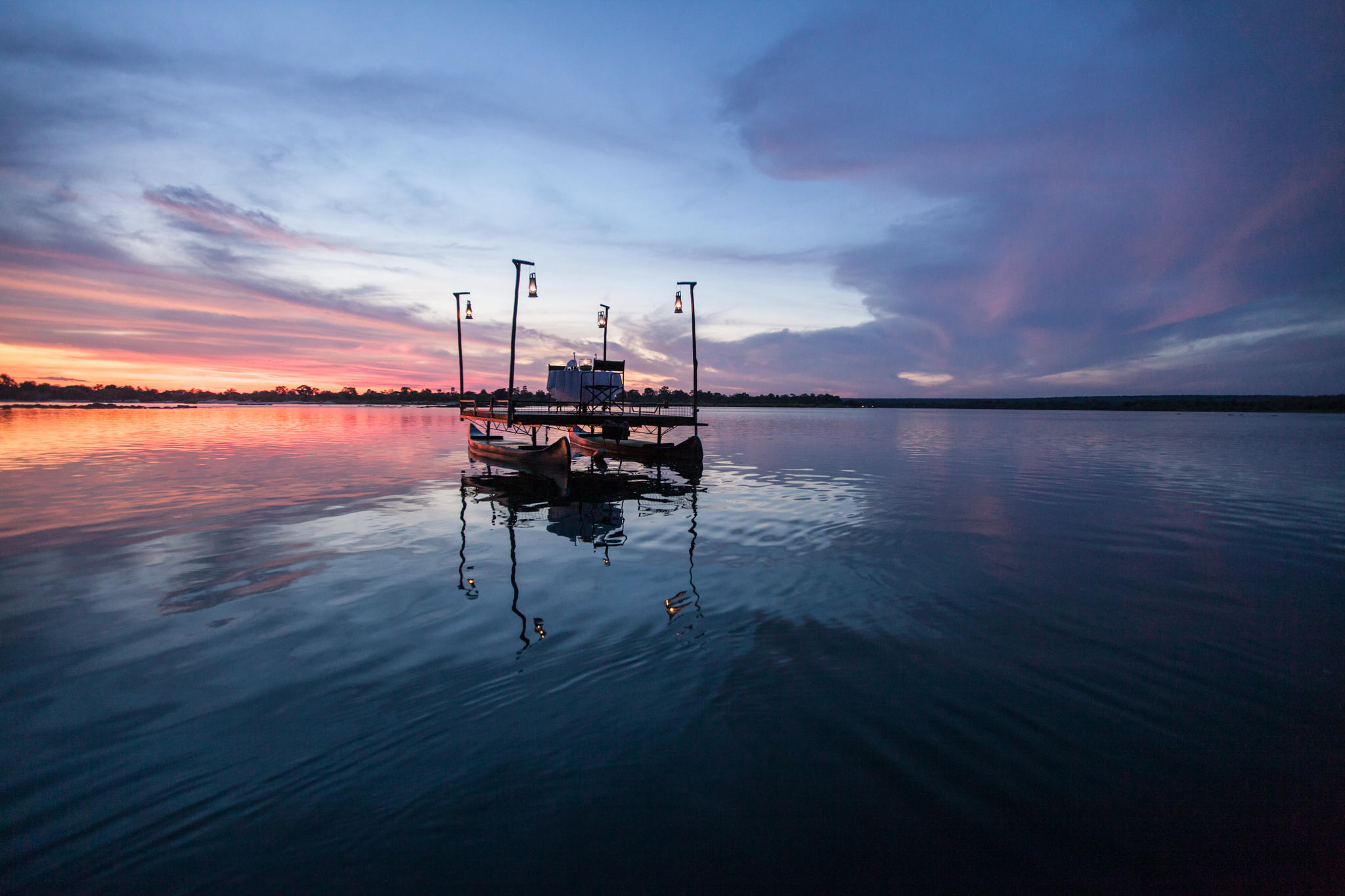 A little bit on the Tongabezi eco-lodge. It is located on the banks of the Zambezi River,  just 20 mins from the majestic Victoria Falls. The eco-lodge is known for its romantic suites that make it quite difficult to leave. However, for the active adventurous types, with so many experiences like, boat cruises, fishing, whitewater rafting, Victoria Falls excursion, rhino tracking, community visits and helicopter flights. You have plenty of reasons to get out and explore this vibrant region of Southern Africa. And it is this wonderful balance between relaxation and adventures that makes Tongabezi the perfect place to begin or end your romantic escape through Southern Africa. 
Suggested Itinerary – Honeymoon in Southern Africa
(Dining) Sandcastles on a private Island
Mnemba Island, Zanzibar

We are pretty confident you have seen our images of andBeyond's sandcastle dinners on Mnemba Island? If not, we will allow you a moment to grab your partner to show them what's a must-do activity on your island vacation with us!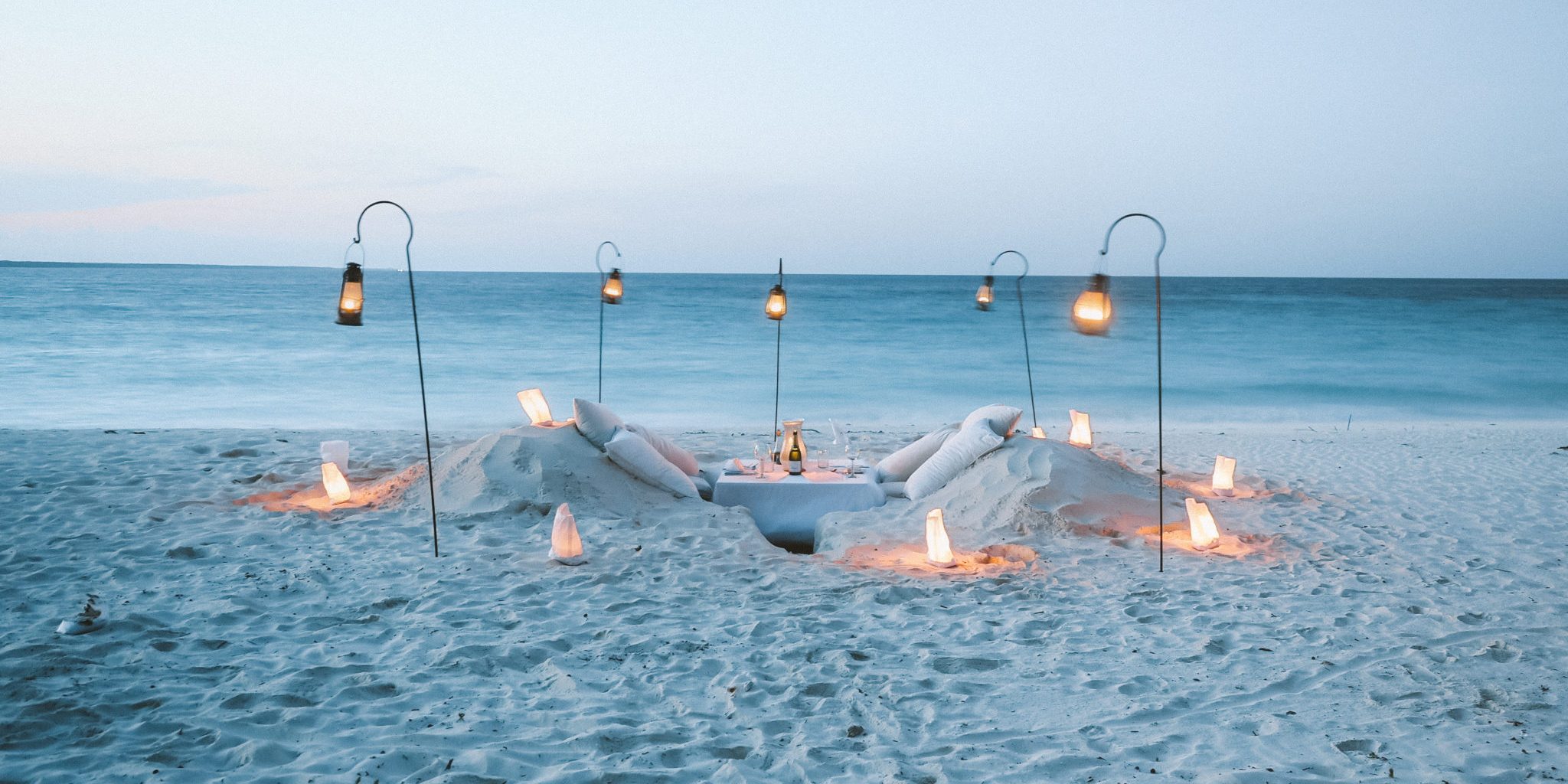 Let's quickly orientate you. Mnemba Island is a private island off the north-east coast of Zanzibar. It is small, ok tiny, and as a result it is only inhabited by the andBeyond staff and guests. This provides an intimate and personalized experience throughout your stay. And besides soaking up the sun and diving into the warm Indian Ocean, there are plenty of island activities to indulge in like, traditional dhow cruises, snorkeling and scuba diving. 
Back to the sandcastle dining experience. Besides the quirky fun of the experience, the fresh food will also be locally sourced and prepared to your specific tastes. And the dedicated staff will make sure it's absolutely perfect for your stay! Ubuntu Travel Co-founders, Leah and Kyle, love an island experience after a safari, as it's the perfect way to slow down and absorb the magic of the continent. Check out their Suggested Itinerary quite simply called "Tanzania and Zanzibar" to help you get an idea of what's possible. 
Suggested Itinerary – "Tanzania and Zanzibar"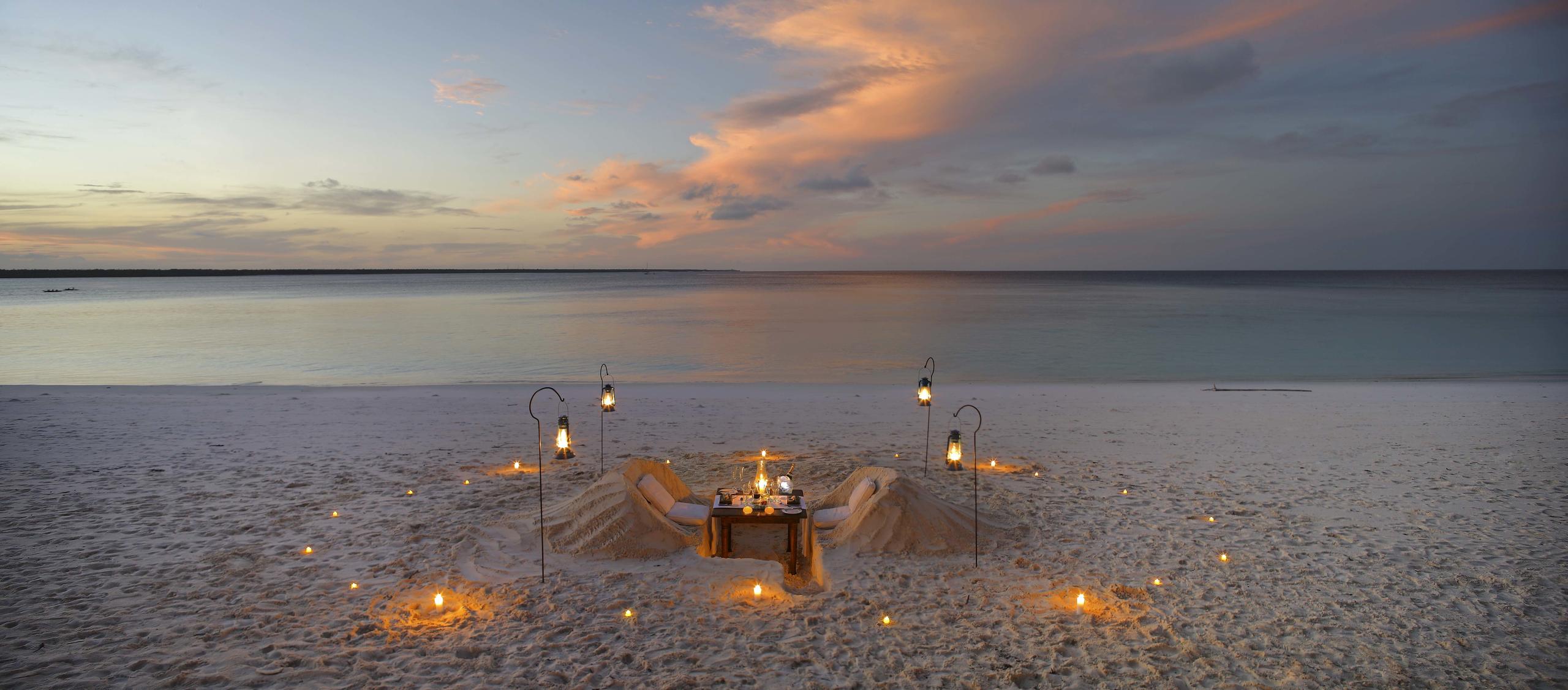 A sleep-out under the stars 
Hwange National Park, Zimbabwe 
Moving away from food and champagne for a little bit. Star beds are an experience all adventurous romantics should ask more about. It is not for everyone, but for those looking for a more remote and secluded experience away from the lodge, then this is for you! There are quite a few star beds to choose from, and all of them are in the most incredible safari destinations. But for this romance list, we chose to highlight Wilderness Destination's Linkwasha star bed in the Hwange National Park, Zimbabwe.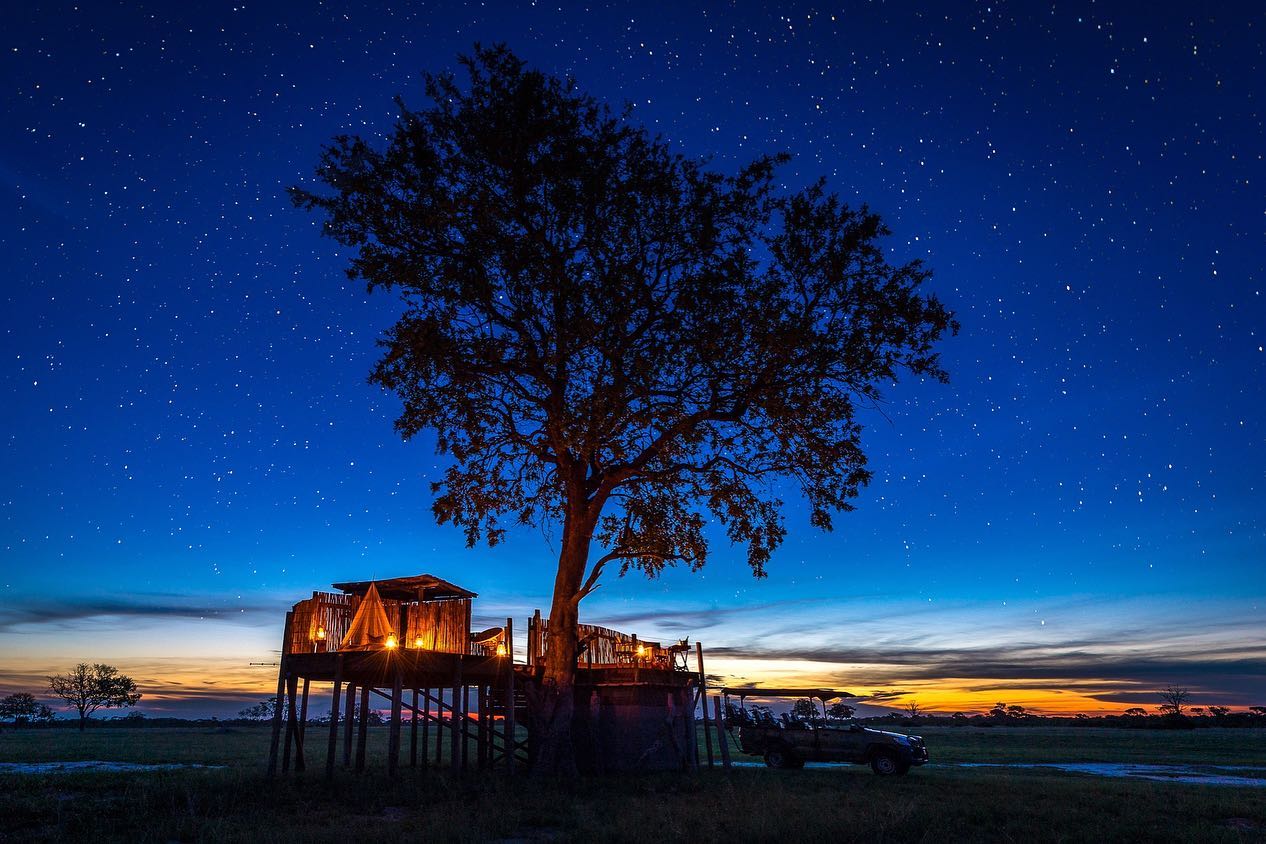 Overlooking an active waterhole in a remote corner of the wildlife rich Hwange National Park. The Linkwasha star bed is quite simply the ultimate way to spend a night while on your couples safari escape. Positioned on a raised deck, fall asleep to a chorus whooping hyenas, rumbling herds of elephants or even a rasping leopard under a blanket of stars! Natural luxury at its best!
Soak up some bubbles 
Zambezi River,  Zambia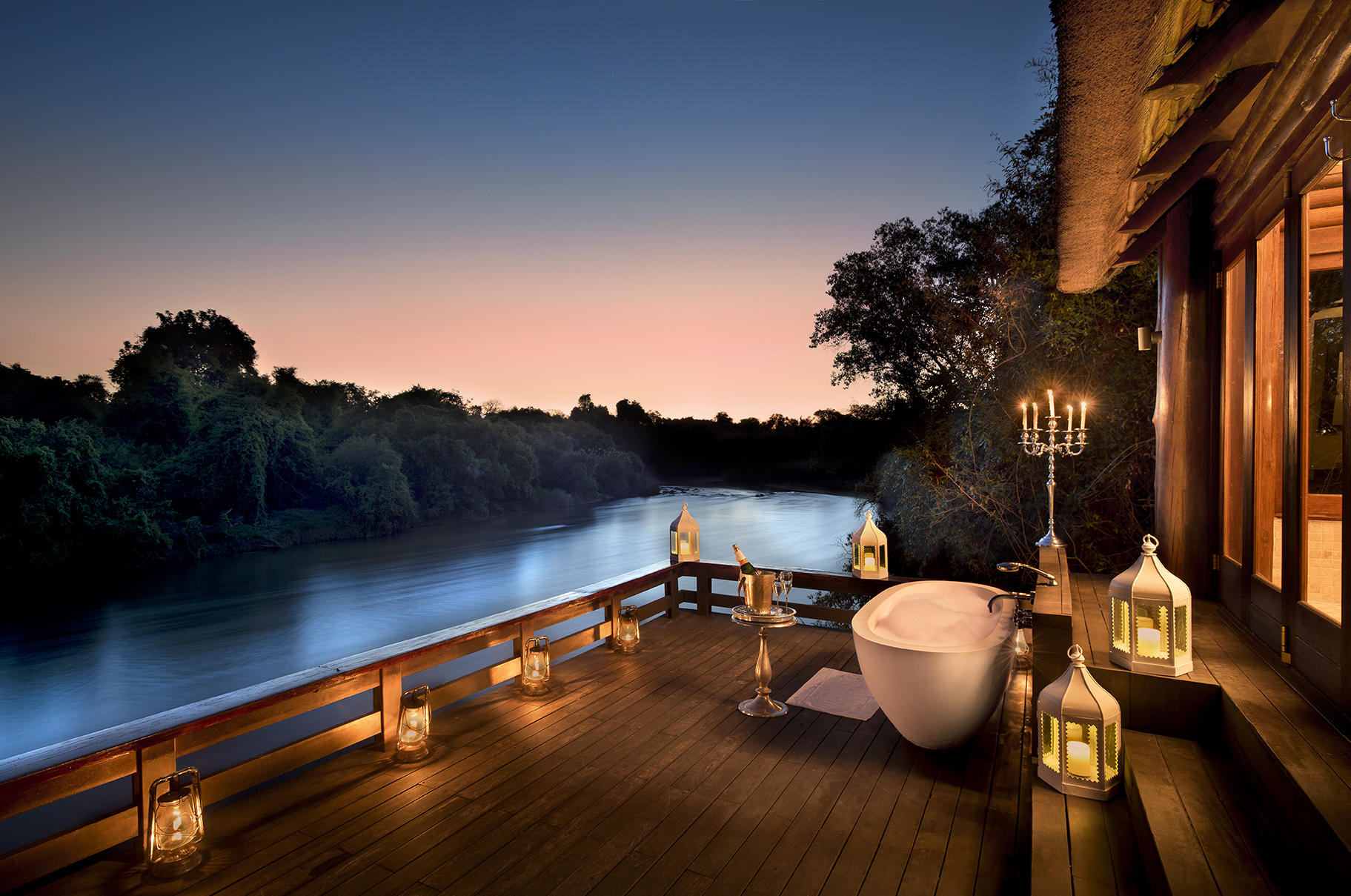 For a slightly more "tame" experience than the adventurous and remote star beds. Back at the lodges, a "killer bathtub" with some sparkling wine is most definitely a must-do for any romantic safari. The bathtub positioning at Royal Chundu Zambezi is one of our favorites, and I am sure you can see why! Set on the banks of the Zambezi River, the Royal Chundu Island Lodge has only four spacious villas on the private Katombora Island. Just 30 km upstream from the majestic Victoria Falls!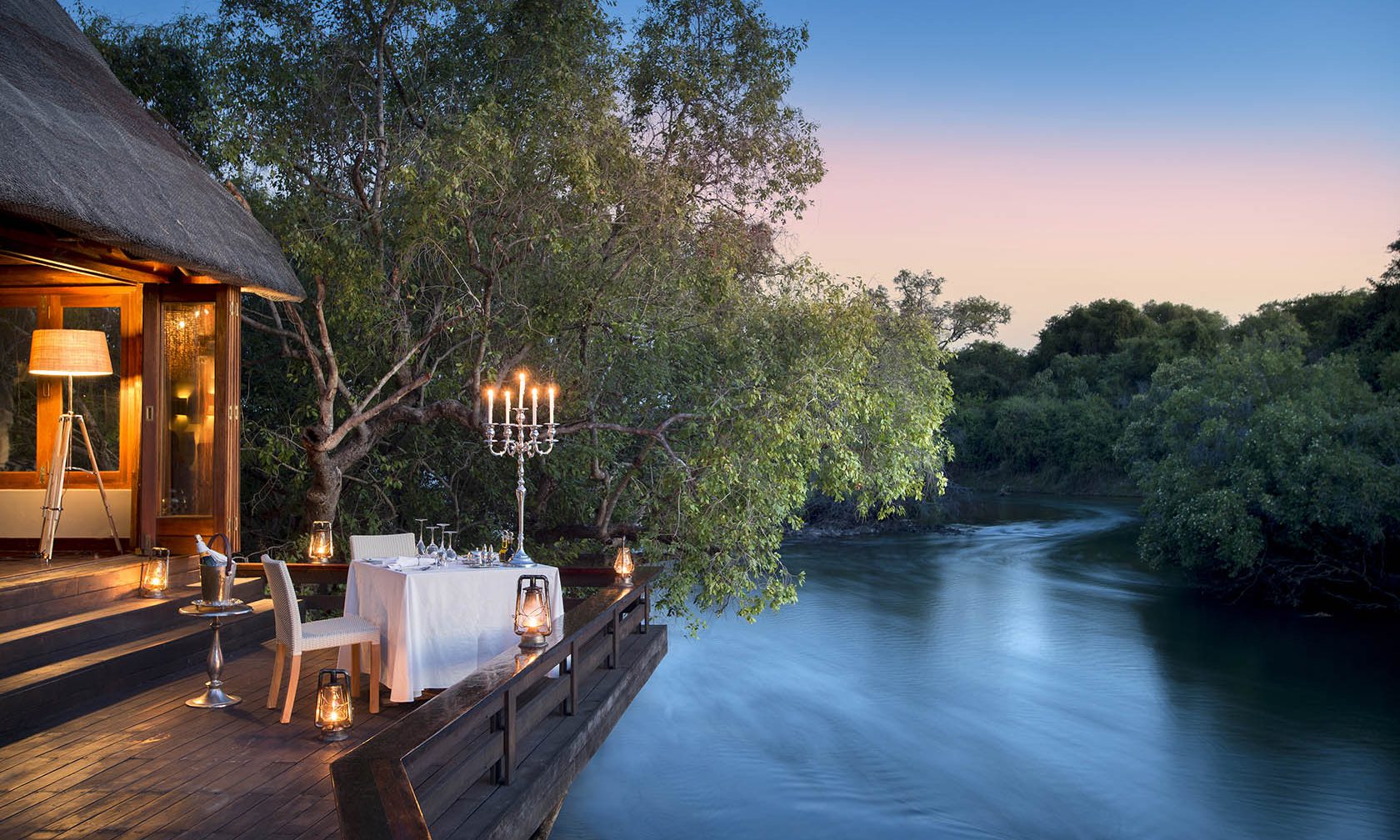 After your safari game drive, we highly recommend you take a moment and absorb some time in the bathtubs around these exquisite safari destinations. We believe in this so much, we created a blog last year. Take a look at our guide to the "Best Luxury Bathtubs in Africa."  *NOTE. But please, some areas might be experiencing a drought. Although the lodge staff should make you aware of this in your orientation, it's always a good idea to ask. If this is the case, perhaps an outdoor shower is best.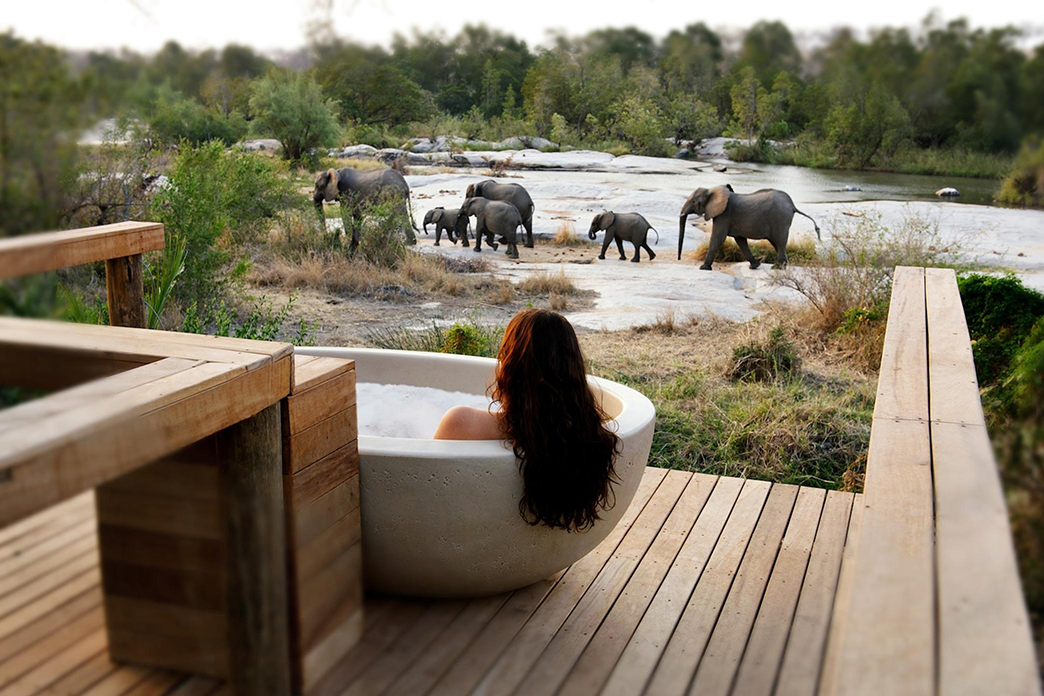 Loving this bathtub above? Discover our guide to the "Best Luxury Bathtubs in Africa."
The Ngala Treehouse experience
Kruger National Park, South Africa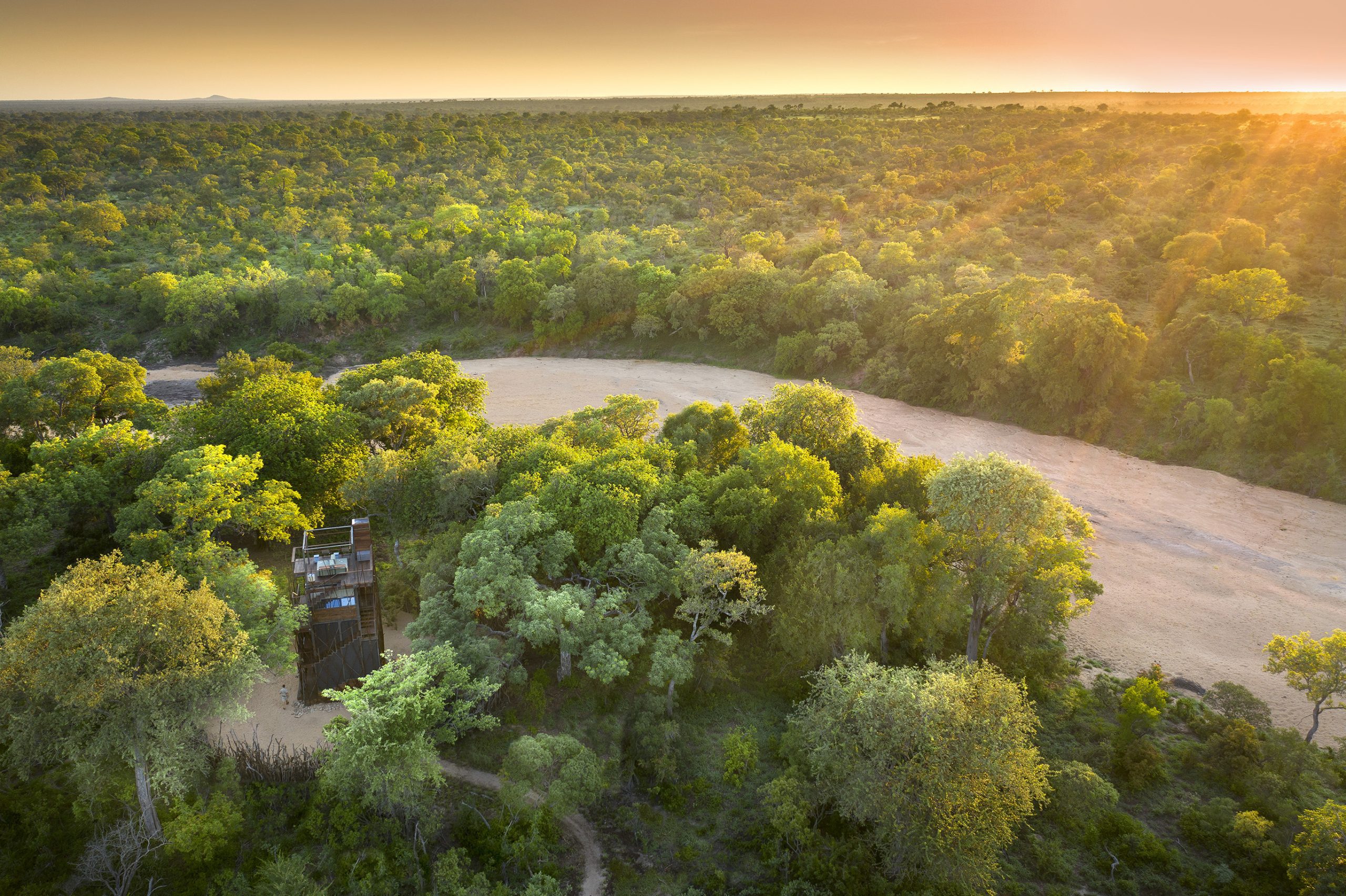 Let's get past the obvious here, it's not exactly a treehouse. However, with its four levels, it does put you above the canopies of ancient jackalberry trees. So one can understand where the inspiration of the name has come from.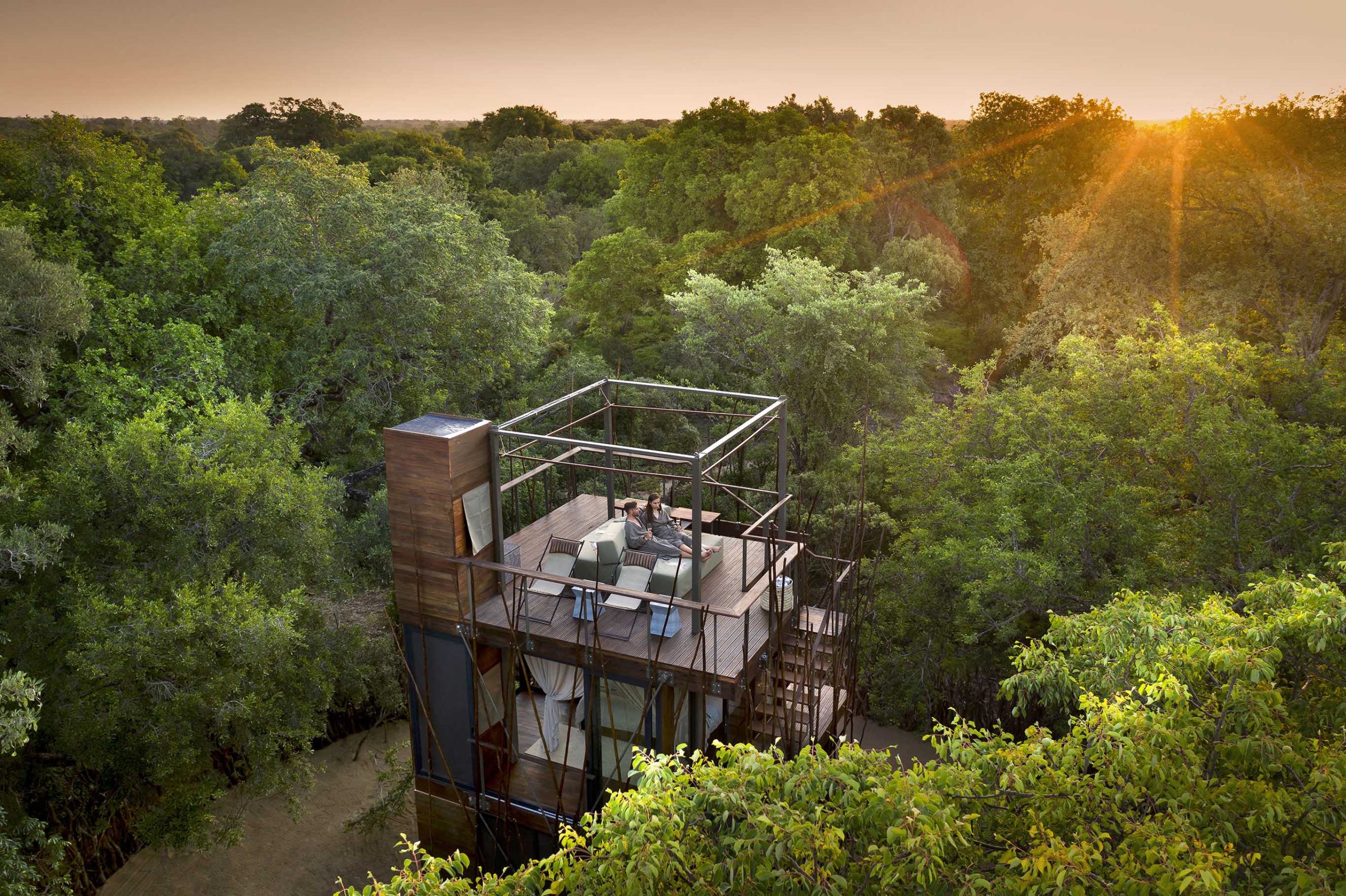 Situated in a private corner of andBeyond's Ngala Private Game Reserve, away from wifi and artificial lights, you will enjoy an exclusive and remote night under a blanket of stars. The treehouse has two sleeping levels, with hot water and flushing toilets (just in case you were worried). On the upper deck, you have a sleepout platform that provides you with a panoramic view of the world famous Kruger National Park.
How do you get there? While, during your evening game drive, your guide will simply drop you off. You will be welcomed with a fully stocked bar, and selection of snacks and of course your dinner will be delivered to you by your butler. All that's left for you to do is toast to the sunset while listening to the pride of lions roaring in the distance.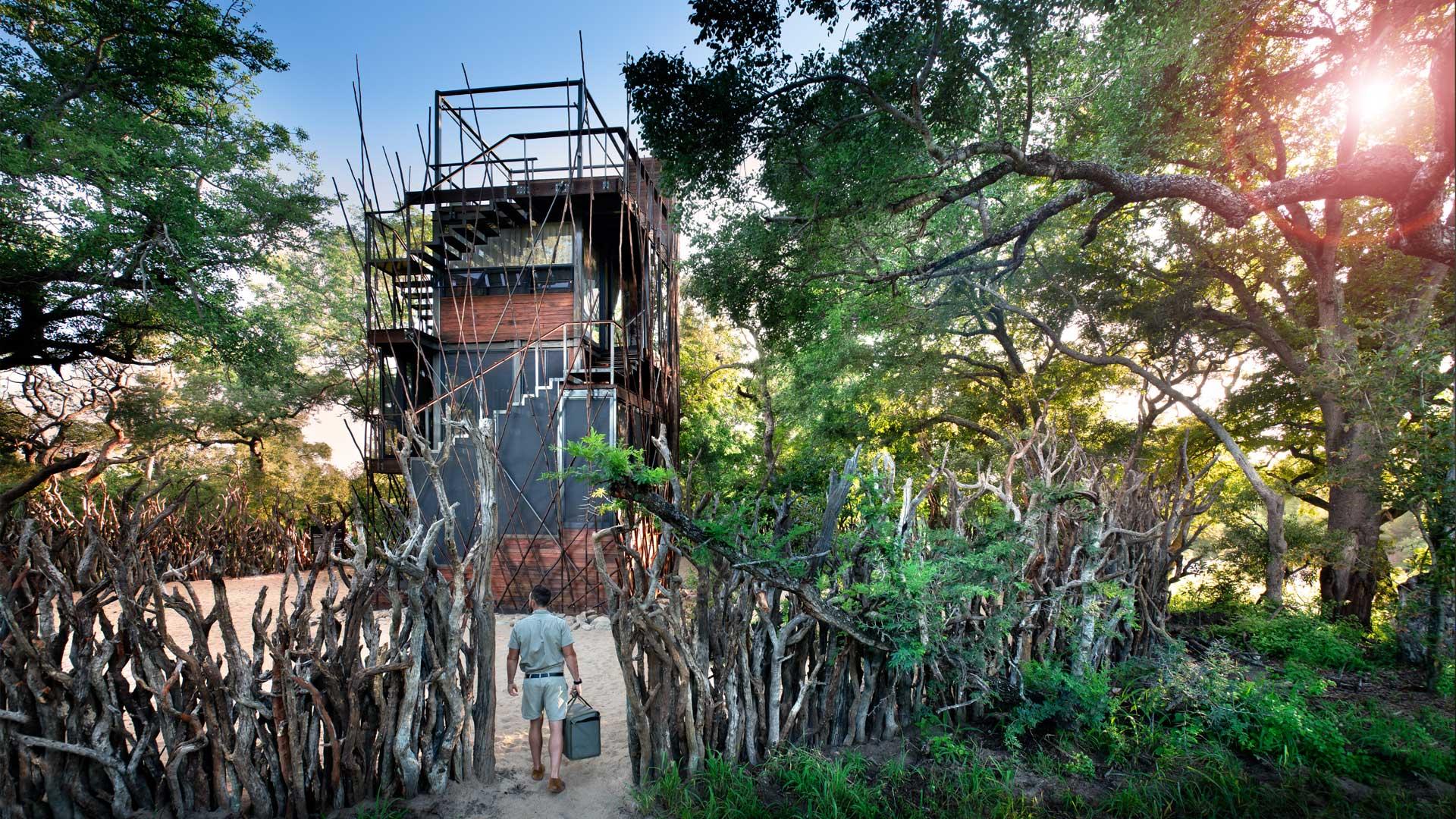 Look up at the stars! 
Sossusvlei Desert Lodge, Namibia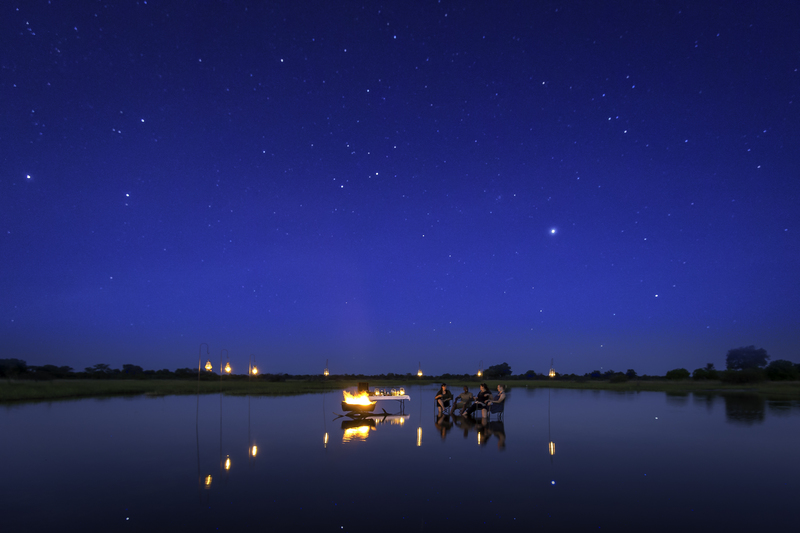 During your night game drive, ask your guide to stop and take a few moments to gaze at the stars. Wonder at the magnificence milky way, and identify star constellations or planets you might not have seen before. It is also a great time to learn just a little more about the local interpretations of the night sky. Oh, and please don't take out your phone to use an app. The white light will literally take away the moment (trust us, do that back at the lodge).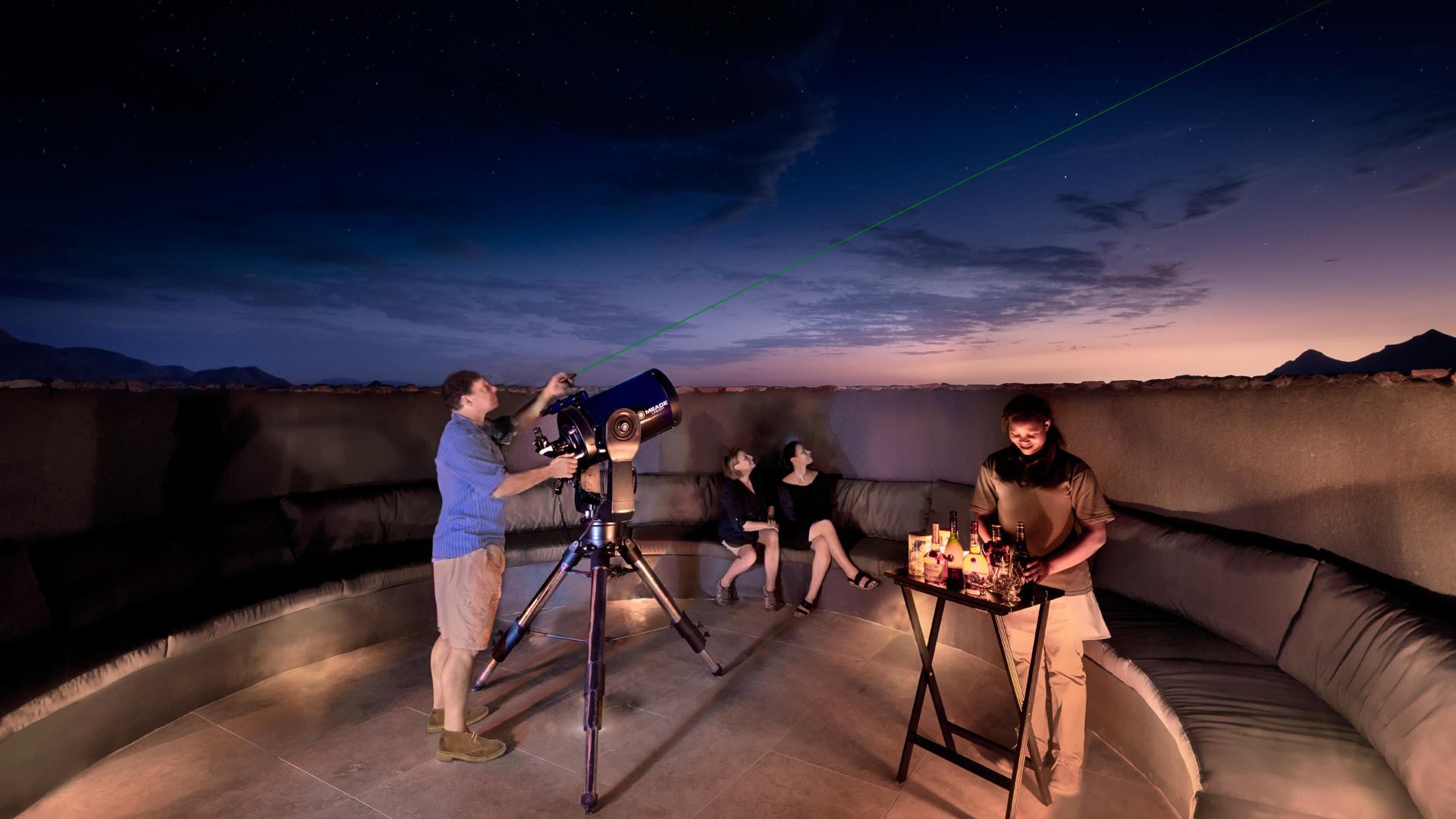 Sossusvlei Desert Lodge, situated in the Namib Desert, takes this to a whole new level. Bordering an International Dark Sky Reserve of the NamibRand Nature Reserve, you can enjoy an evening of stargazing with a resident astronomer and a state-of-the-art computerized telescope. 
The Sossusvlei Desert Lodge itself is extraordinary and also lends itself to a romantic escape like no other. The spacious suites, with a private plunge pool overlooking the Namib Desert, also have a large skylight above the kingsize bed. Check out their video, we know it's quite dreamy right! 
Request a Private Dinner in your room
Luxury Safari Lodges, Africa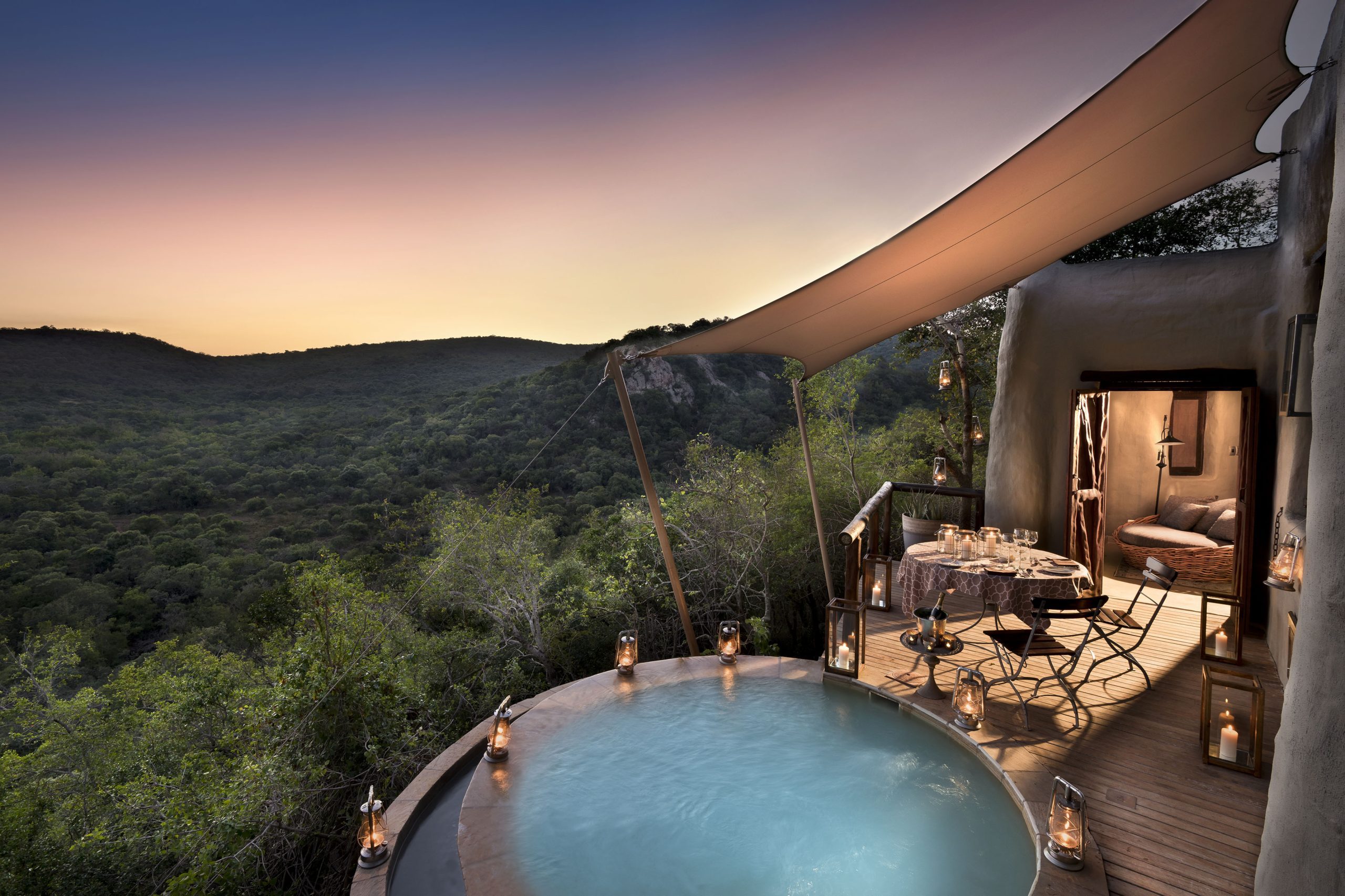 Quite naturally, Co-founders Kyle and Leah, will always look for the perfect luxury lodges that compliments the experiences you wish to have while on an African Safari. You will stay at some of the most incredible destinations, with the lodges perfectly designed and uniquely positioned for you to enjoy every romantic moment. From traditional boma dinners (like the one below) to perhaps even private bush dinners and romantic drink stops, the lodge staff will work tirelessly to guarantee your time with them is absolutely perfect.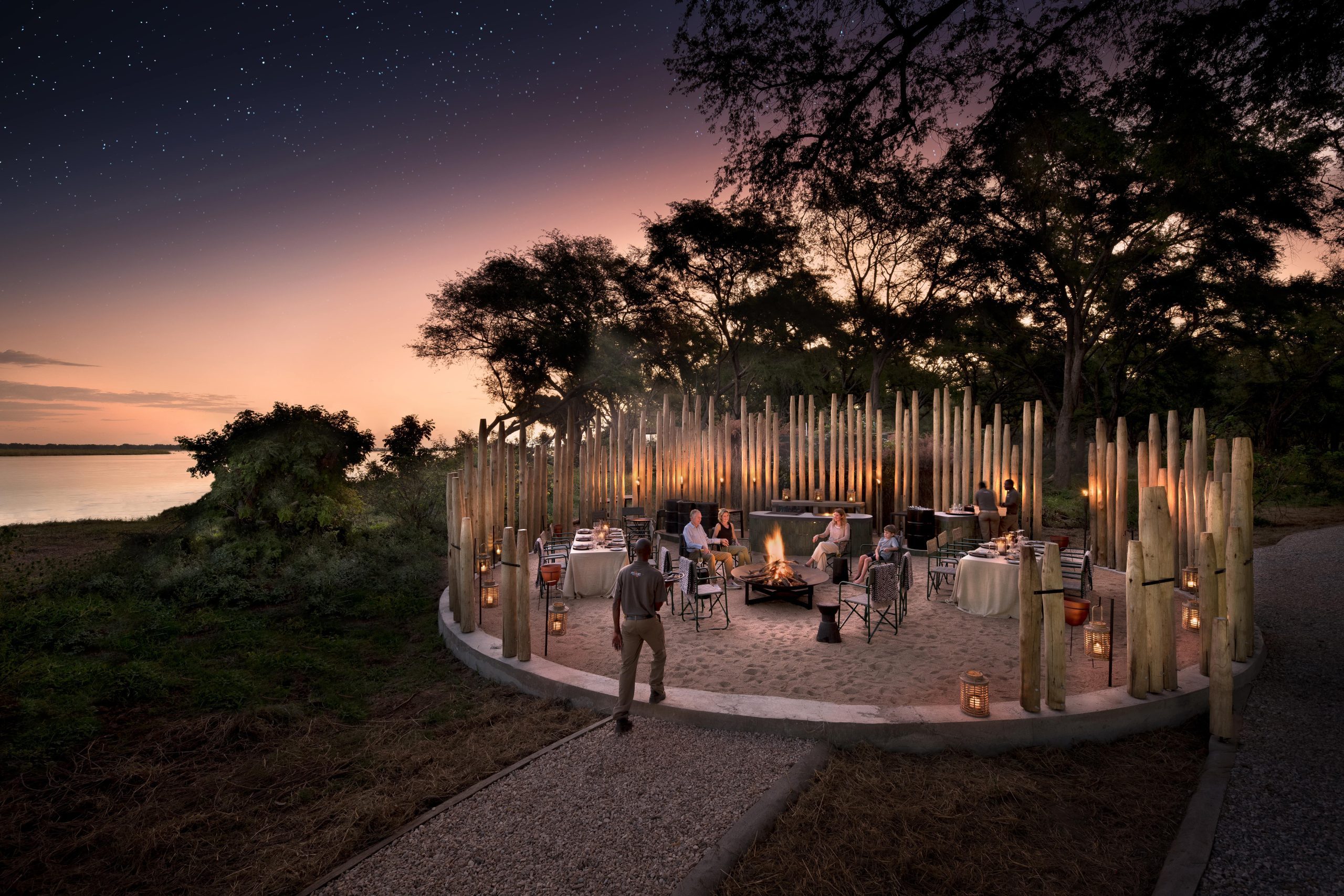 With so much to experience and see, sometimes guests can spend precious little time in their actual rooms. This is why we suggest, perhaps on your final night at the lodge, to enjoy a private dinner on your balcony or patio, as it is the perfect way to indulge in a little more time away from the main areas. Allowing you to reflect on the time spent together, the amazing sightings and experiences, while enjoying a little bubbles and private service. Sometimes, keeping it simple is just better.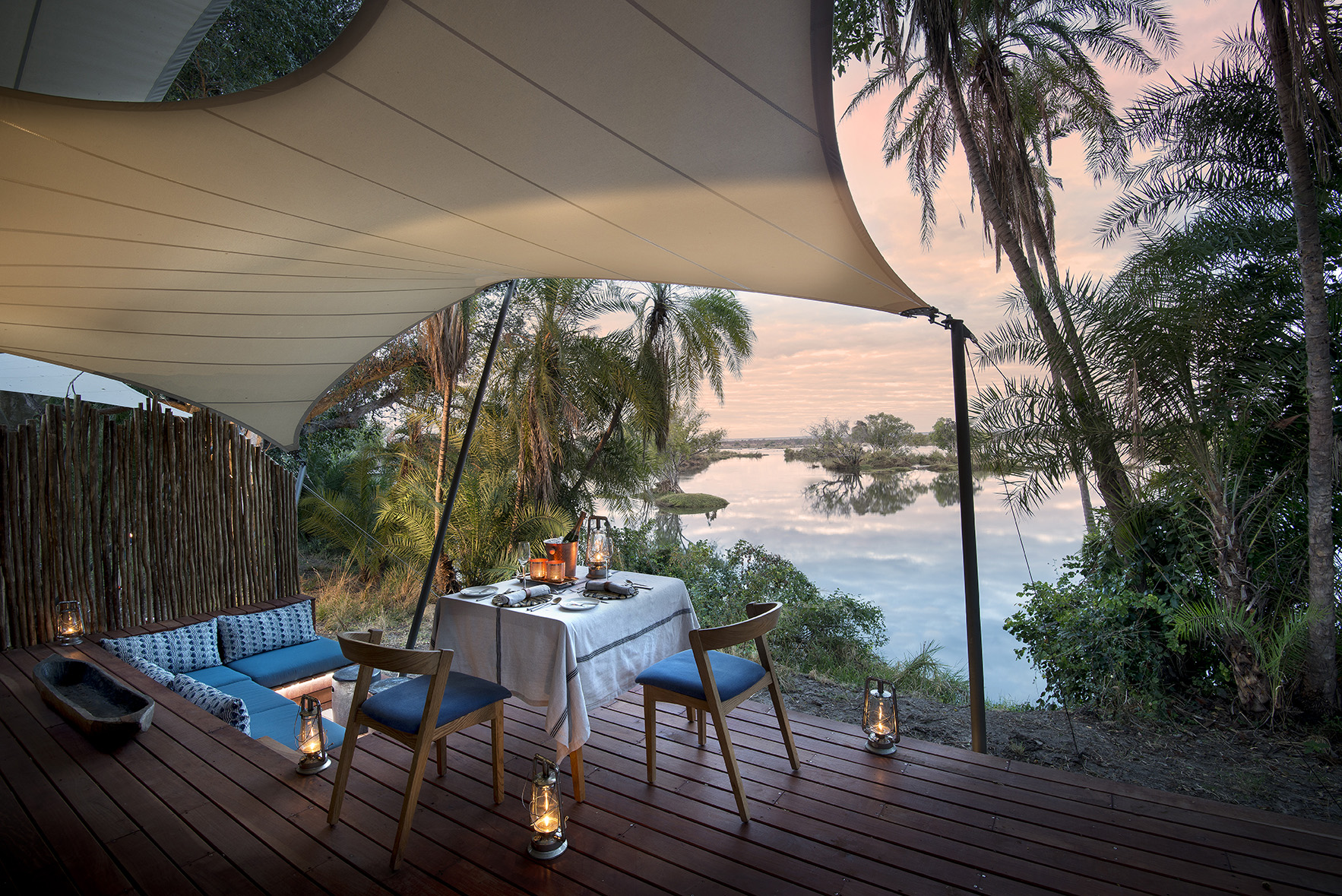 Above image: A private dinner along the Zambezi River at Thorntree River Lodge, Zambia
Don't forget the sundowner drink stop
Luxury Safari Lodges, Africa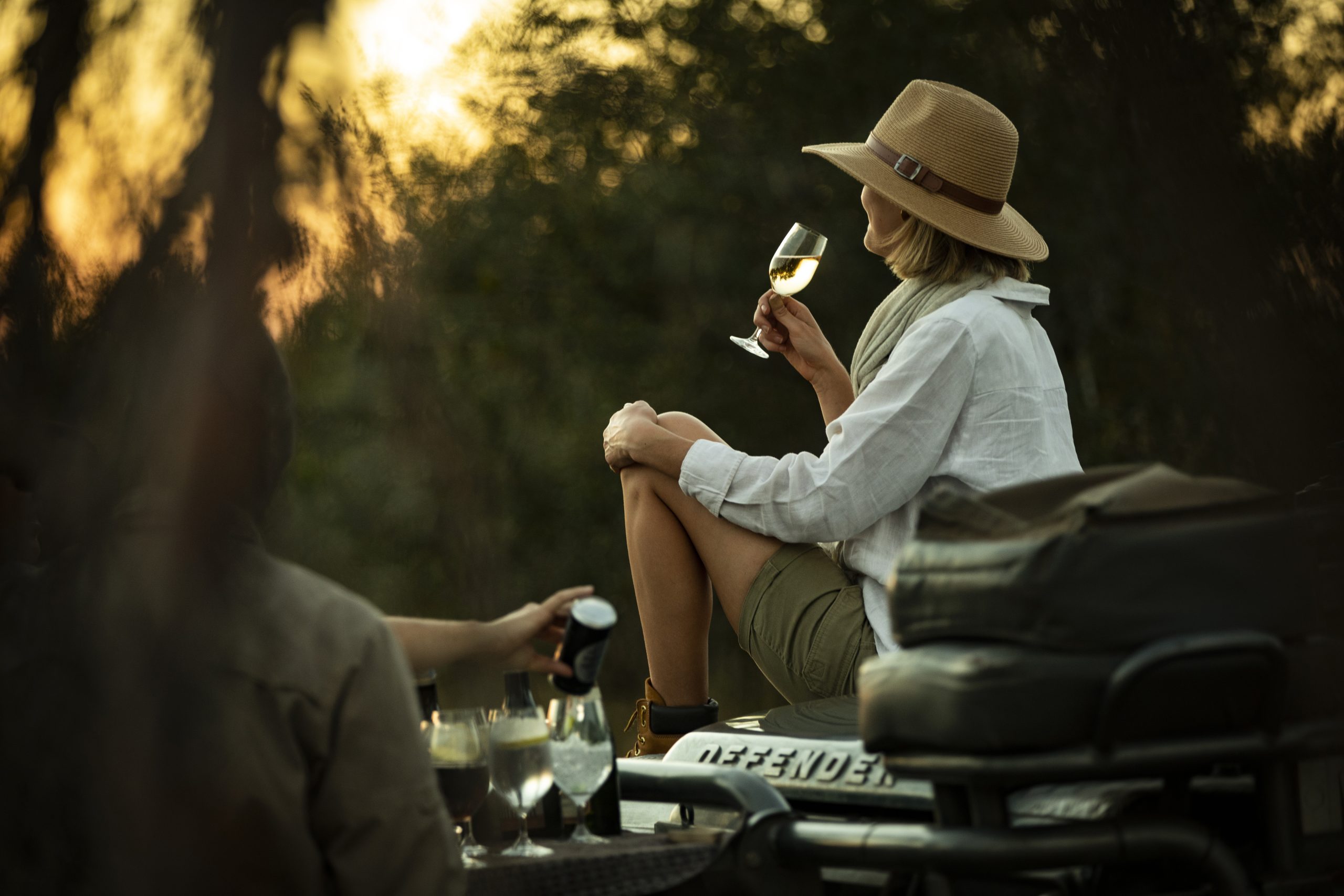 This is a tough balance to get right sometimes. Trust me, as a previous guide in the Sabi Sands and Kruger National Park, I know game drives can get "wild", but don't allow yourself to miss a sundowner drink stop while on safari. An evening drink stop is another great opportunity to get off the vehicle to absorb the wilderness around you and reflect on the day's experiences. Your guide will likely also find an incredible spot with an amazing view.  Trust us, it's important.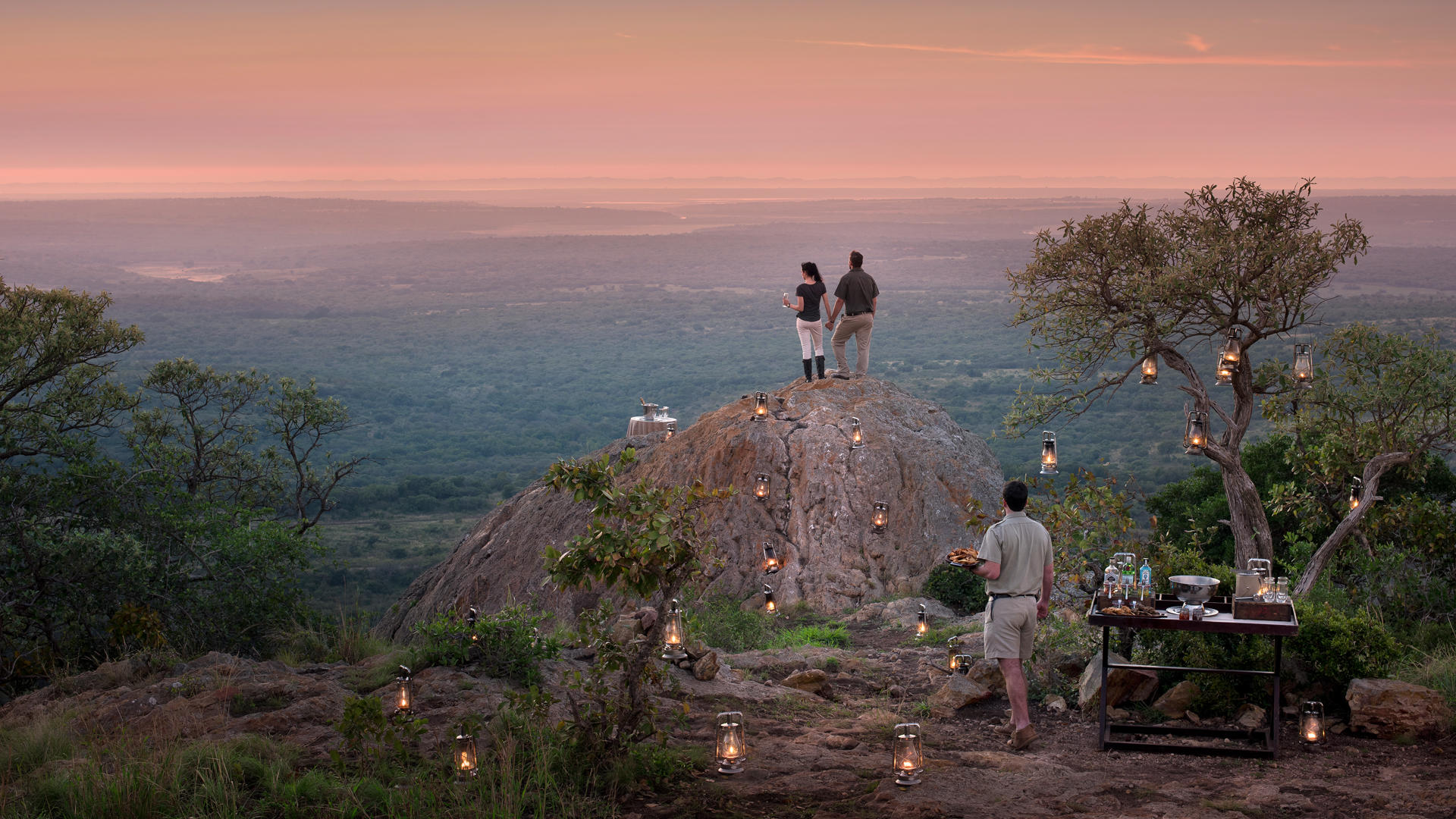 And yes, predators move at night, so there is always a chance of watching lions or a leopard on patrol afterwards. Other nocturnal animals will also start to become active, so a brief sundowner is the perfect break to allow the night drive to stir-up just a little. But, for those night drives that are just "too active" and exciting with one thing leading to the next – I suggest a cold beverage for the road!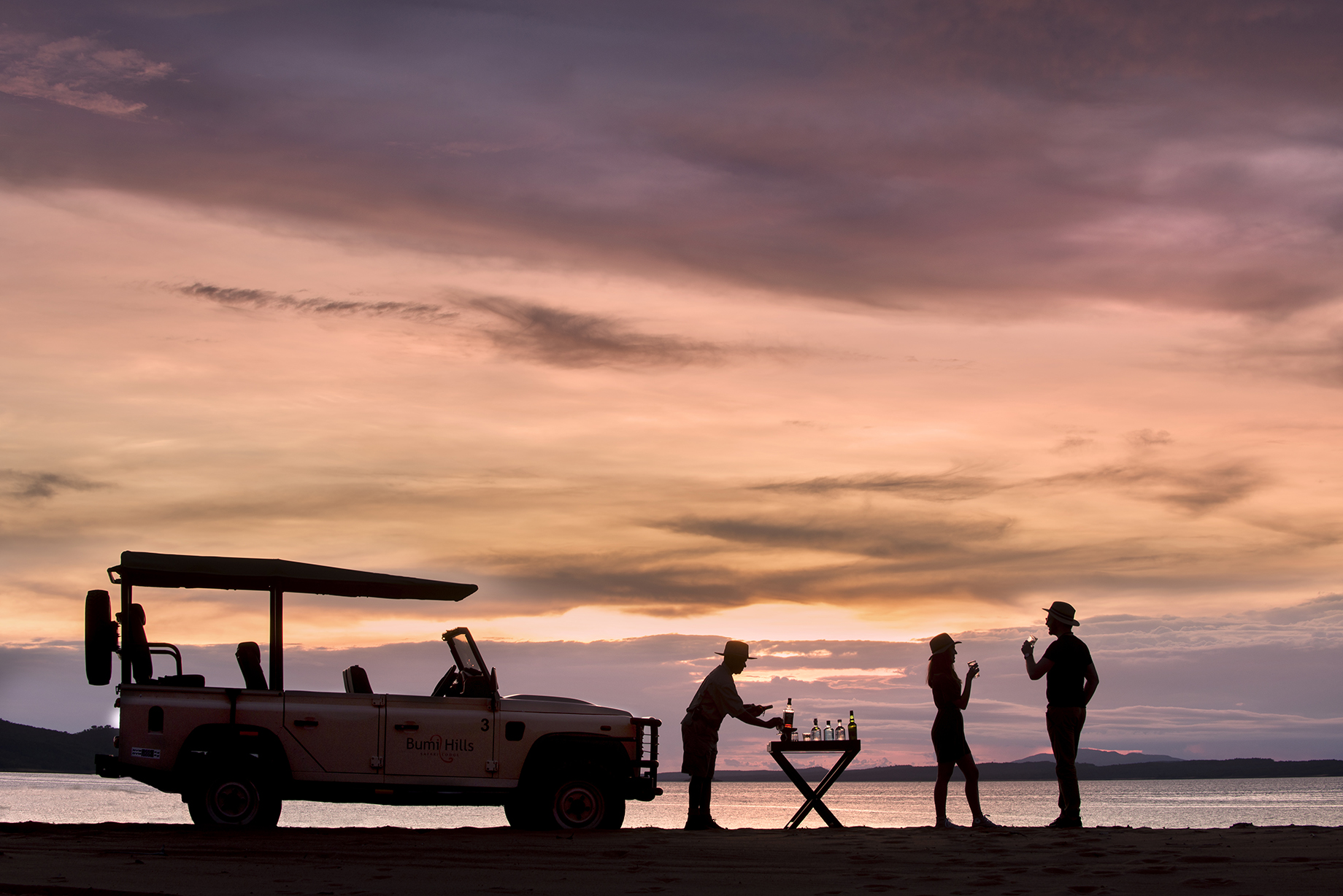 Wine and Dine overlooking Cape Town
The Silo Hotel, Cape Town, South Africa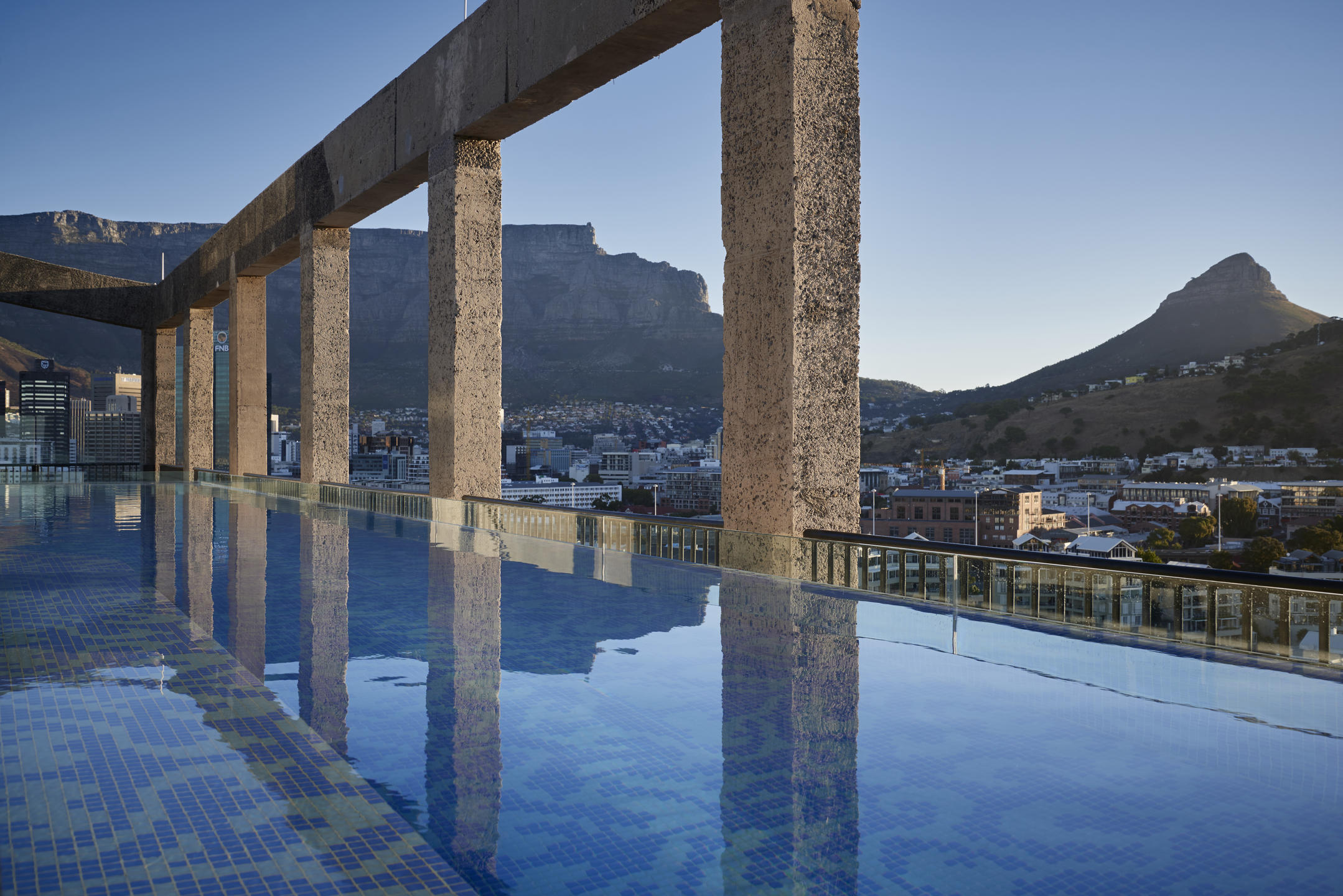 The city of Cape Town features in so many tourism awards, it's actually tough to keep up. But with its iconic mountain, framed beautifully by the Atlantic Ocean, you can easily see why it is openly one of the most picturesque cities in the world. So a drink on arguably the most scenic rooftop bar in Cape Town must surely make it on this list! The Silo Hotel rooftop bar is in the V&A Waterfront and with its iconic location boasts one of the best views in Cape Town. With Table Mountain in the background and the city of Cape Town sprawling around you. This rooftop features an impressive infinity pool, adding to the summer fun. 
But you are not staying at The Silo Hotel? Don't stress, while their magical pool is only open to hotel guests, the entire rooftop bar is open to anyone. So be sure to stop by for a spritz and summer sun! Loving the idea of enjoying a rooftop bar while sting in Cape Town? Check out our guide to "The Best Rooftop Bars in Cape Town."
Are you ready for the trip of a lifetime?
If you're thinking of planning a trip, we're here to help! Our team of travel designers will create an itinerary just for you to create memories to last a lifetime and conquer your bucket list. Get in touch with us today to start planning your adventure in Africa.
Follow us on Instagram