Formally known as the Masai Mara National Reserve, this protected wilderness needs no real introduction to many safari (wildlife) enthusiast. Located in the southwest of Kenya, the Masai Mara spans across 583 square miles! The Mara provides a classic safari experience with exceptional Big Five and cheetah viewing all year round, over 500 recorded bird species, breathtaking landscapes and authentic community visits with the respected and renowned Maasai.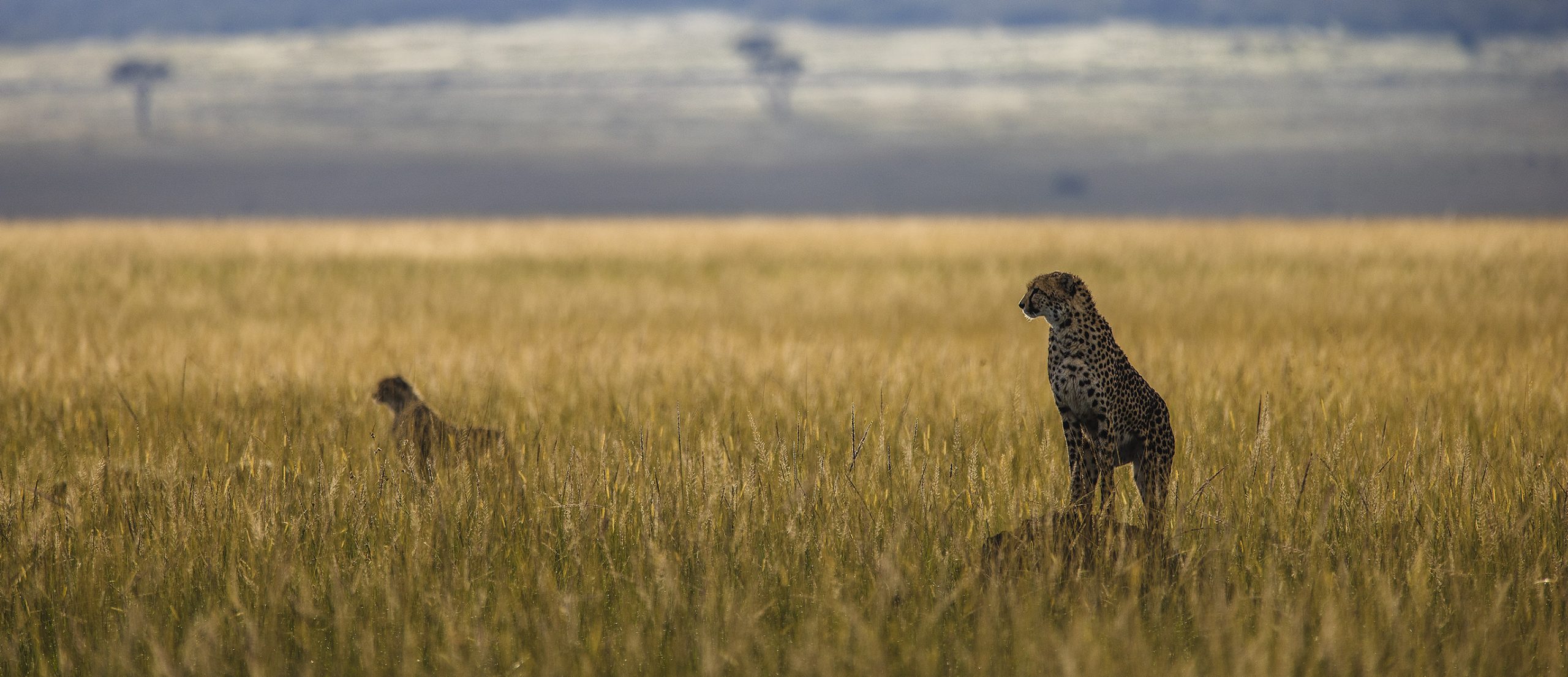 It is likely best known for hosting one of nature's most incredible spectacles, the Great Wildebeest Migration, between July and October. During this time, over 1,5 million wildebeest, 400,000 zebra and 200,000 Thomson gazelle cross in from the Serengeti National Park. Due to the network of large rivers, guests can expect multiple river crossing with around 10 common (or regularly used) crossing points.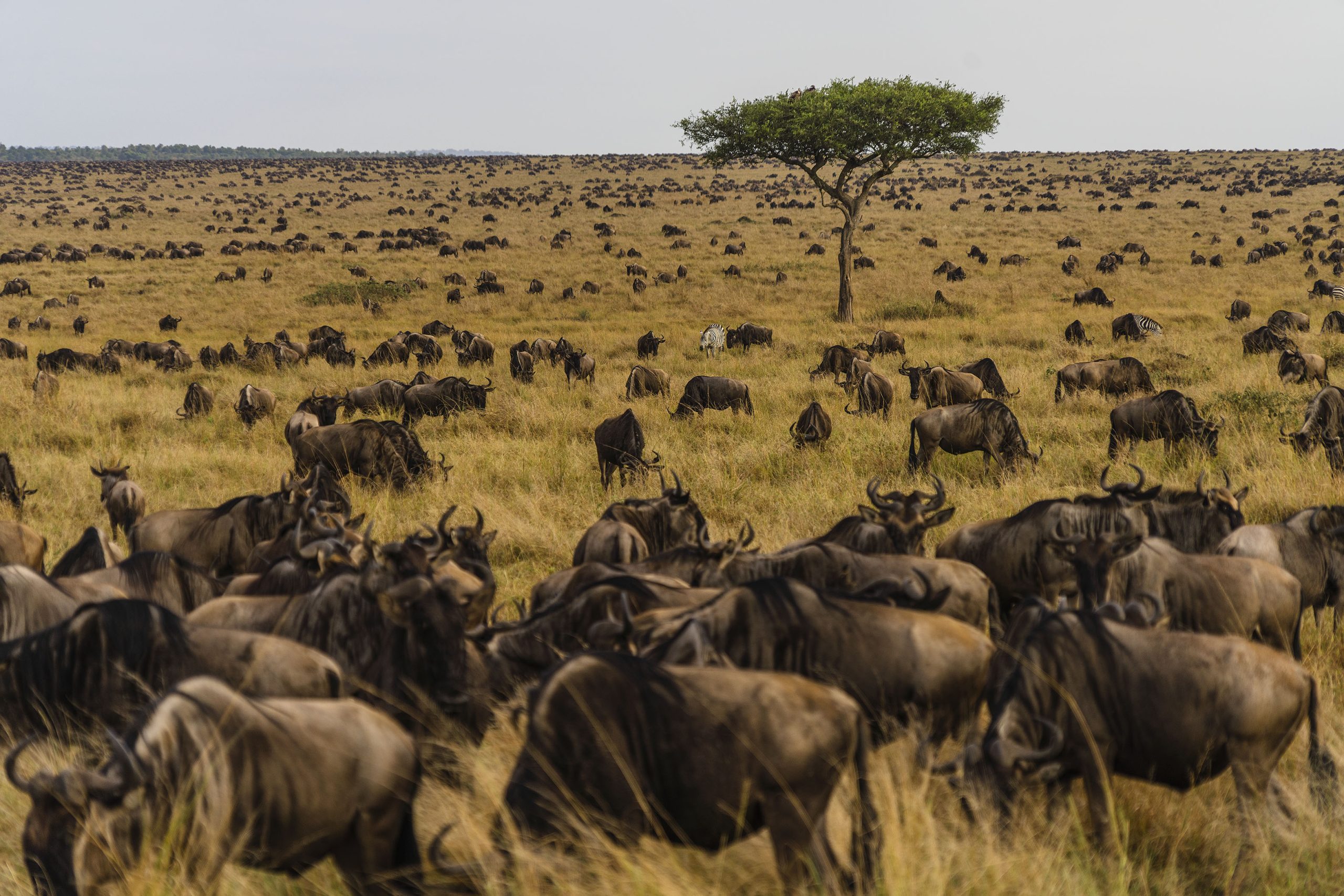 Without a doubt, the Masai Mara holds its own unique safari footprint. For the romantics, it's a classic safari with champagne before breakfast. While for private groups and families, it's an intimate experience of firsts and ever growing anticipation of what's over the next horizon! But where should you stay? Quite naturally, with such an incredible wilderness area comes a variety of  luxury accommodation options. To help you navigate them and find the one best for you,  we have selected our best luxury lodges for you to discover.
Angama Mara
Best for: families and couples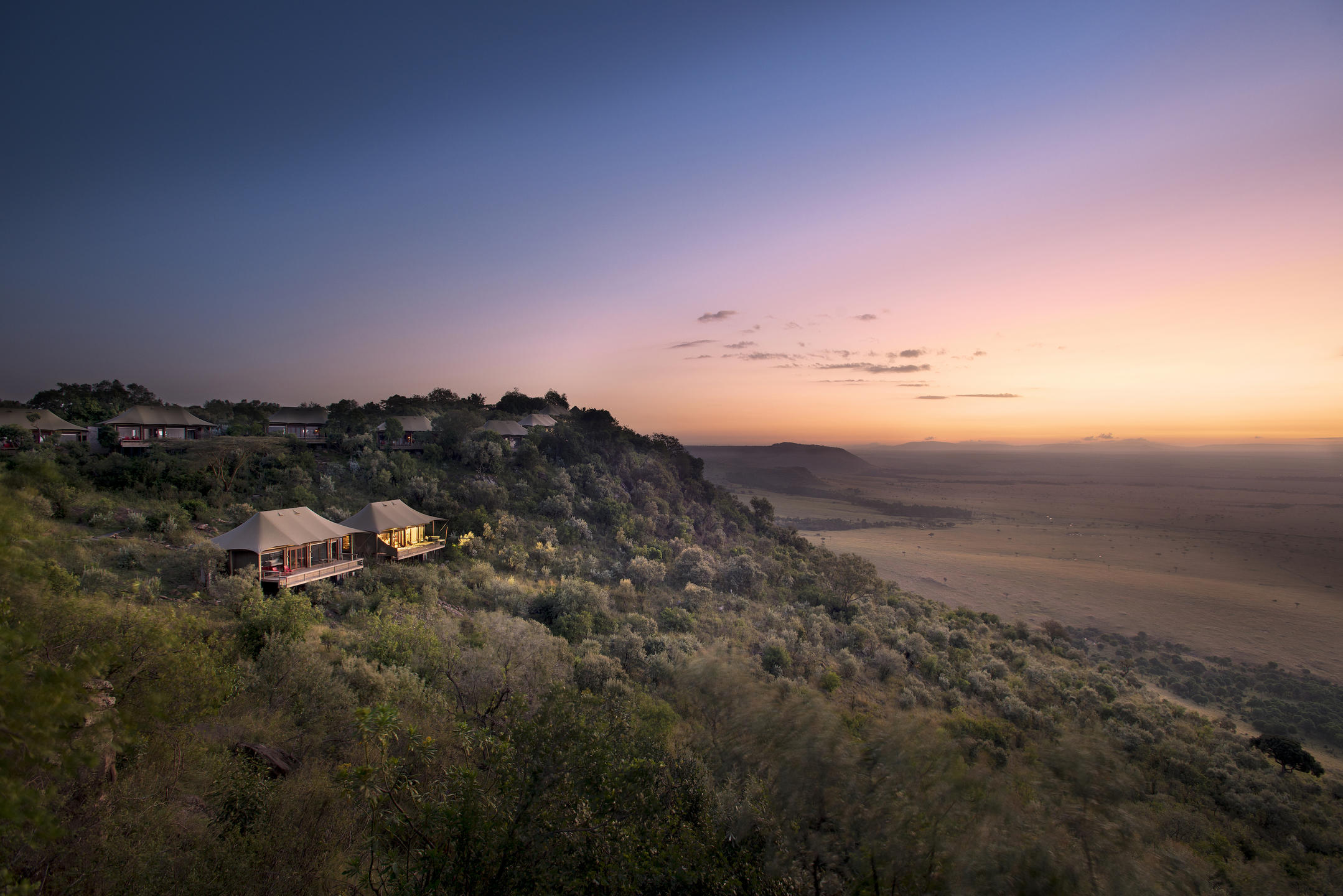 The lodge comprises of two camps with just 15 suites each. Each luxury suite is perched on the edge of the escarpment with a private viewing deck overlooking the Masai Mara! The perfect opportunity to take out your Swarovski Optik binoculars and scan the wilderness below! 
For those with families, Angama Mara accommodates you with interconnected family suites. These are identical to the other tented suites, except with a safe enclosed walkway to connect the two rooms. Angama Mara is all about soaring panoramic views, helping to showcase the natural wonder of this remarkable wilderness. And with the Masai Mara just a 30min drive down the escarpment. It's Perfect!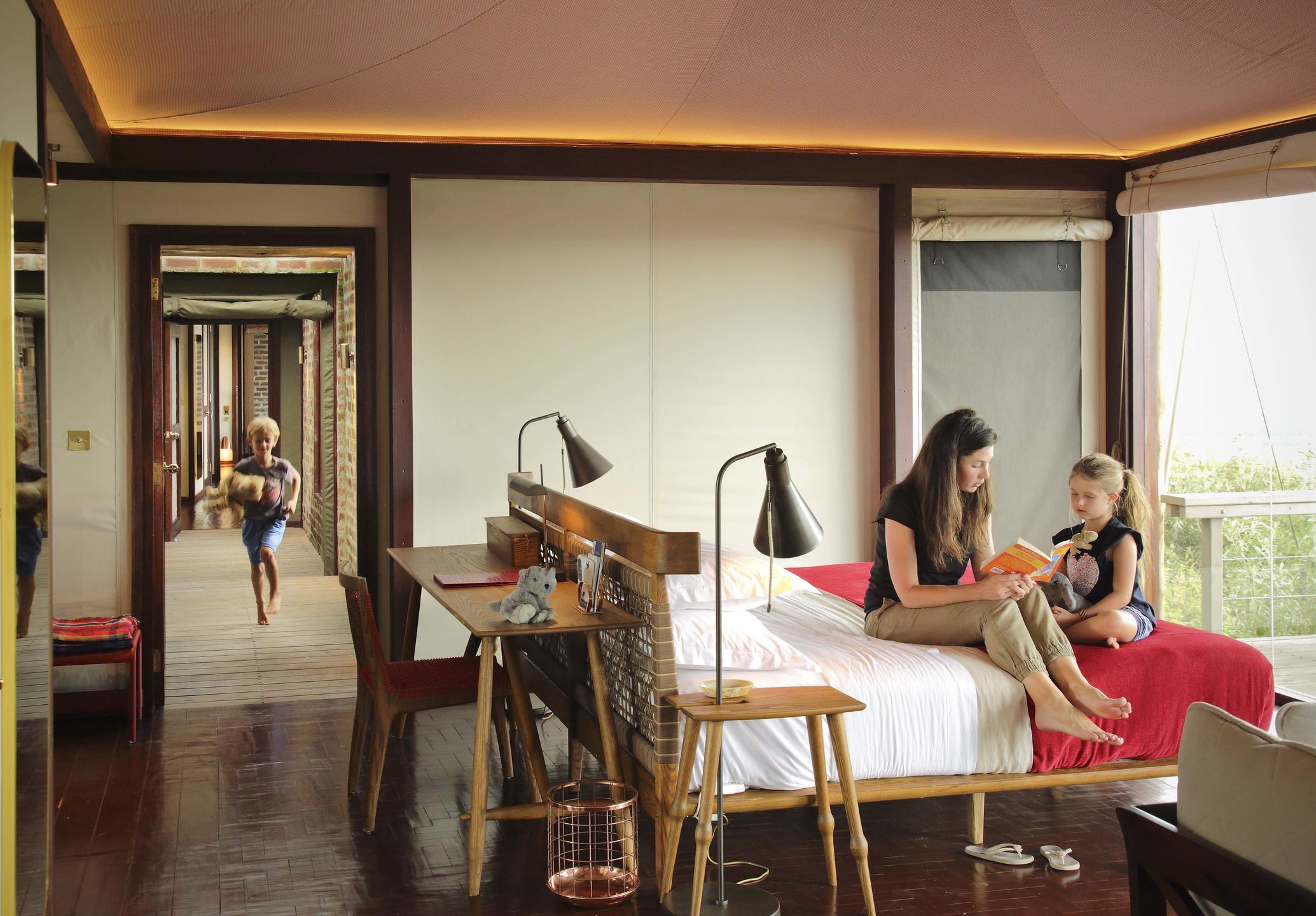 Why do we love it! 
Soaring panoramic views of the Masai Mara 

In the path of the Great Migration (July to October)

Romantic picnics on the escarpment with Masai Mara views 

A dedicated photography editing and printing studio 

Patty's Tent – for the elderly or guest with restricted mobility 
Suggested Itinerary – The Masai Mara and Serengeti
Cottar's 1920s Camp 
Best for: couples, families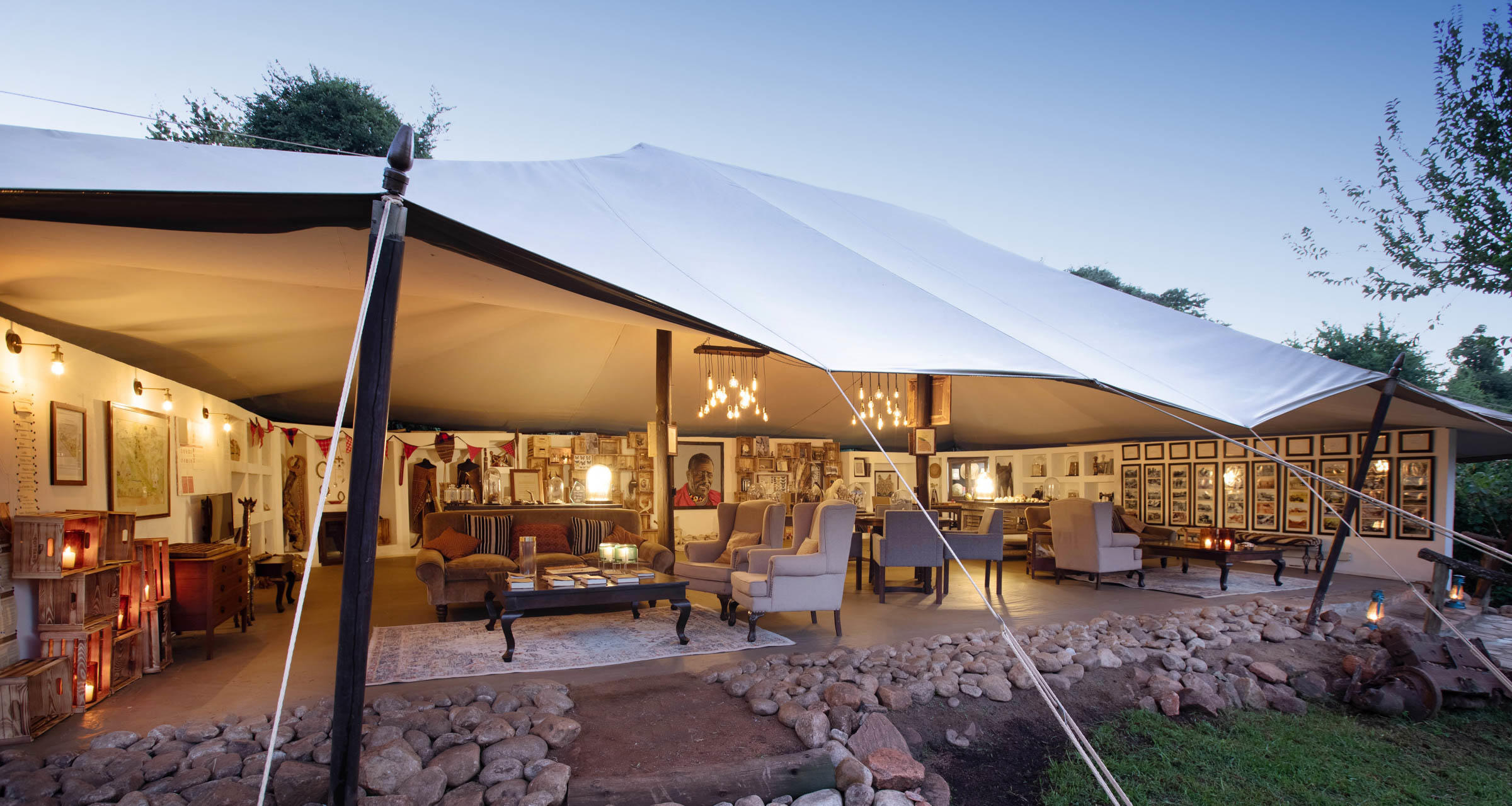 As the name suggests, Cottar's 1920s Camp takes you back in time to experience vintage safari luxury. The Cottar family have been providing authentic and individualized safaris for over 100 years. And they have not lost their touch, in 2022 they were voted into the 'Best 15 luxury Resorts in East Africa" in the prestigious Conde Nast Traveller Readers' Choice awards! 
Situated on a 7,608 acre private Olderkesi Conservancy, bordering the Masai Mara and Serengeti National Park, Cottar's Camp provides easy access to the Masai Mara while having the opportunity for a more intimate experience on their private concession.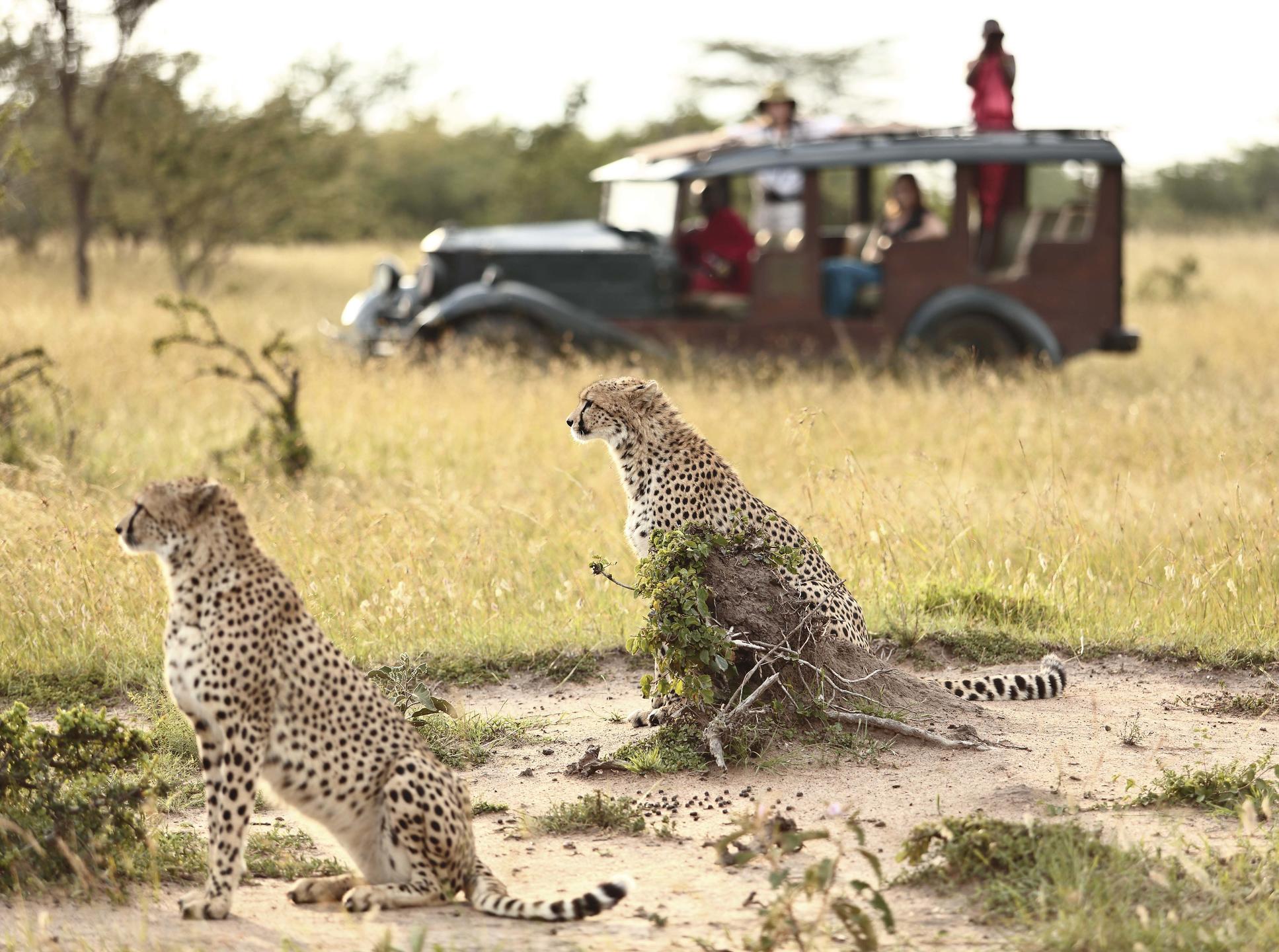 With just nine creamed canvas suites spread across 1.5 miles, two dedicated honeymoon suites and three family tents.  Intimate. Private. And accommodating is what best describes the atmosphere and service of the Cottar's Family camp. 
Why do we love it! 
Over 100 years of safari experience – still winning awards! 

The Budding Conservation family experience 

Those canvas baths for the fun romantics 

Easy access to the Masai Mara 

Guided safari walks inside

private Olderkesi Conservancy
Is relaxing in a bathtub a secret indulgent of yours? Check out our famous "Best Luxury Bathtubs in Africa".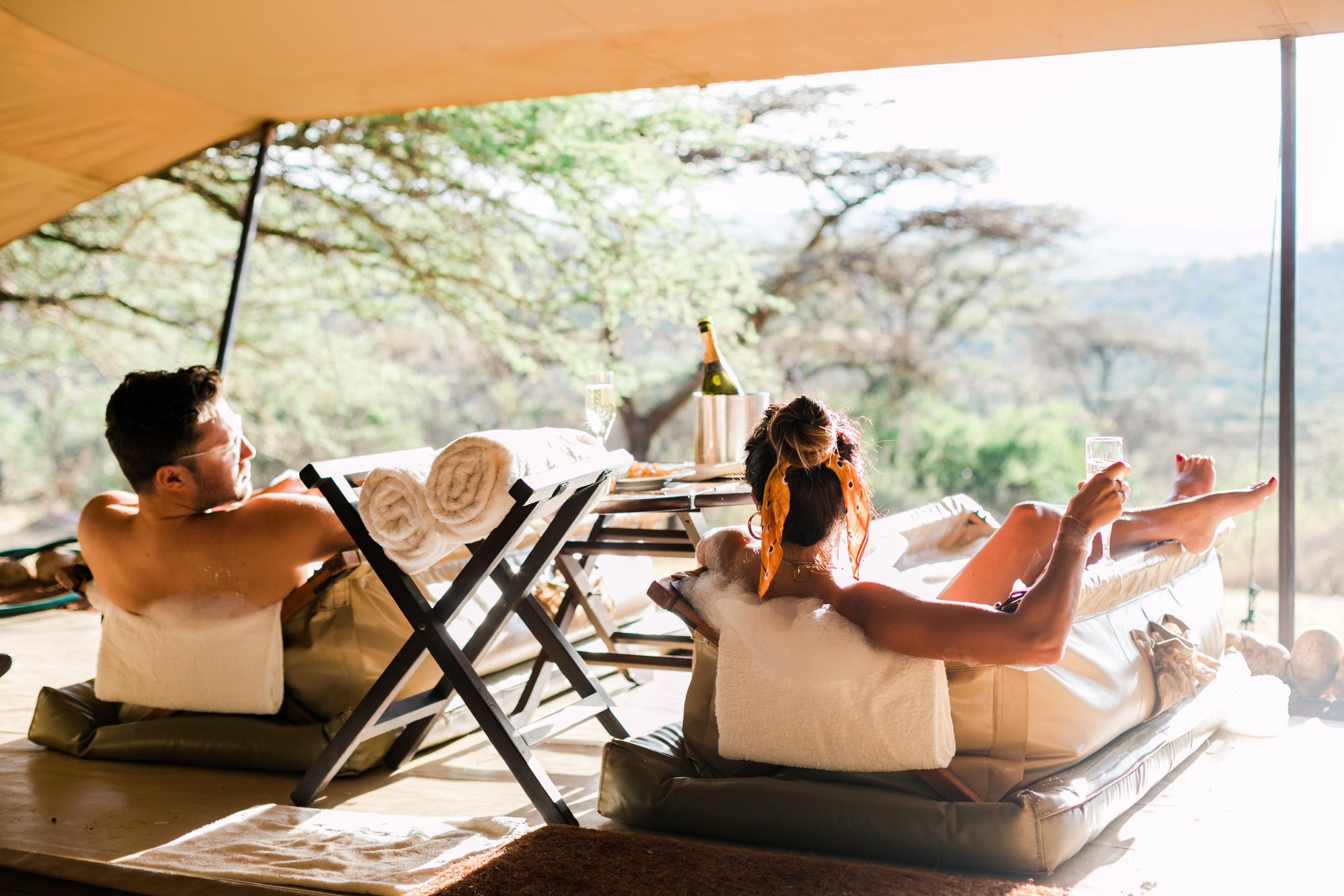 andBeyond Bateleur Camp 
Best for: honeymooners and couples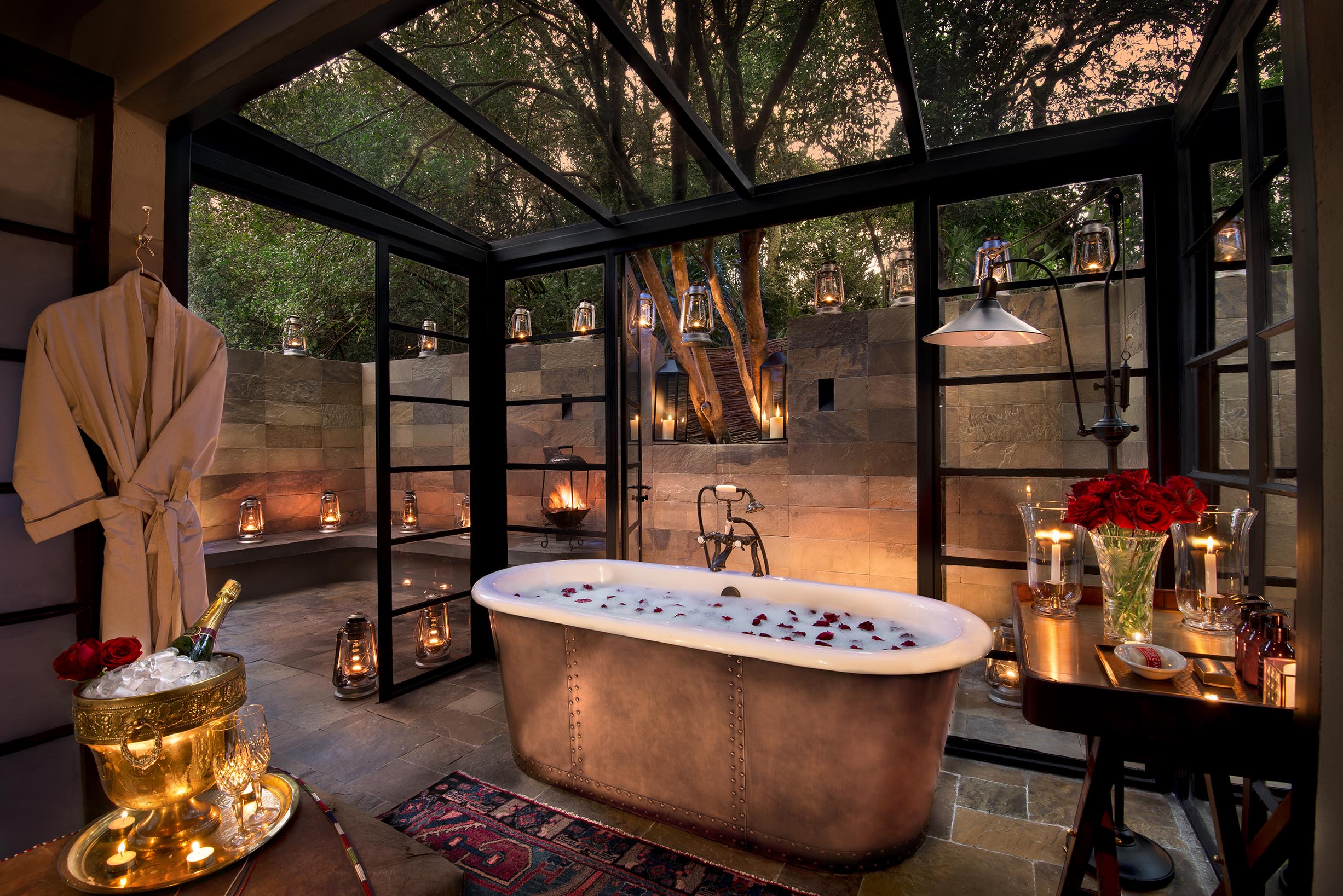 We definitely have a crush on andBeyond's Bateleur Camp! And I think you will agree, who wouldn't! Situated on a private concession within the Masai Mara, you are romantically involved in a more exclusive Mara experience. 
Comprising of two intimate camps with just nine luxury tented suites – each with its own private viewing deck – game viewing is quite literally just outside your door (perhaps with a glass of champagne?). The interior is decorated with a balance of antiques  and modern finishes to provide a classic Masai Mara safari feel. The camp's refreshing lap pools also deserve a special mention, just look at that view! The absolutely perfect place to cool off between your game drives!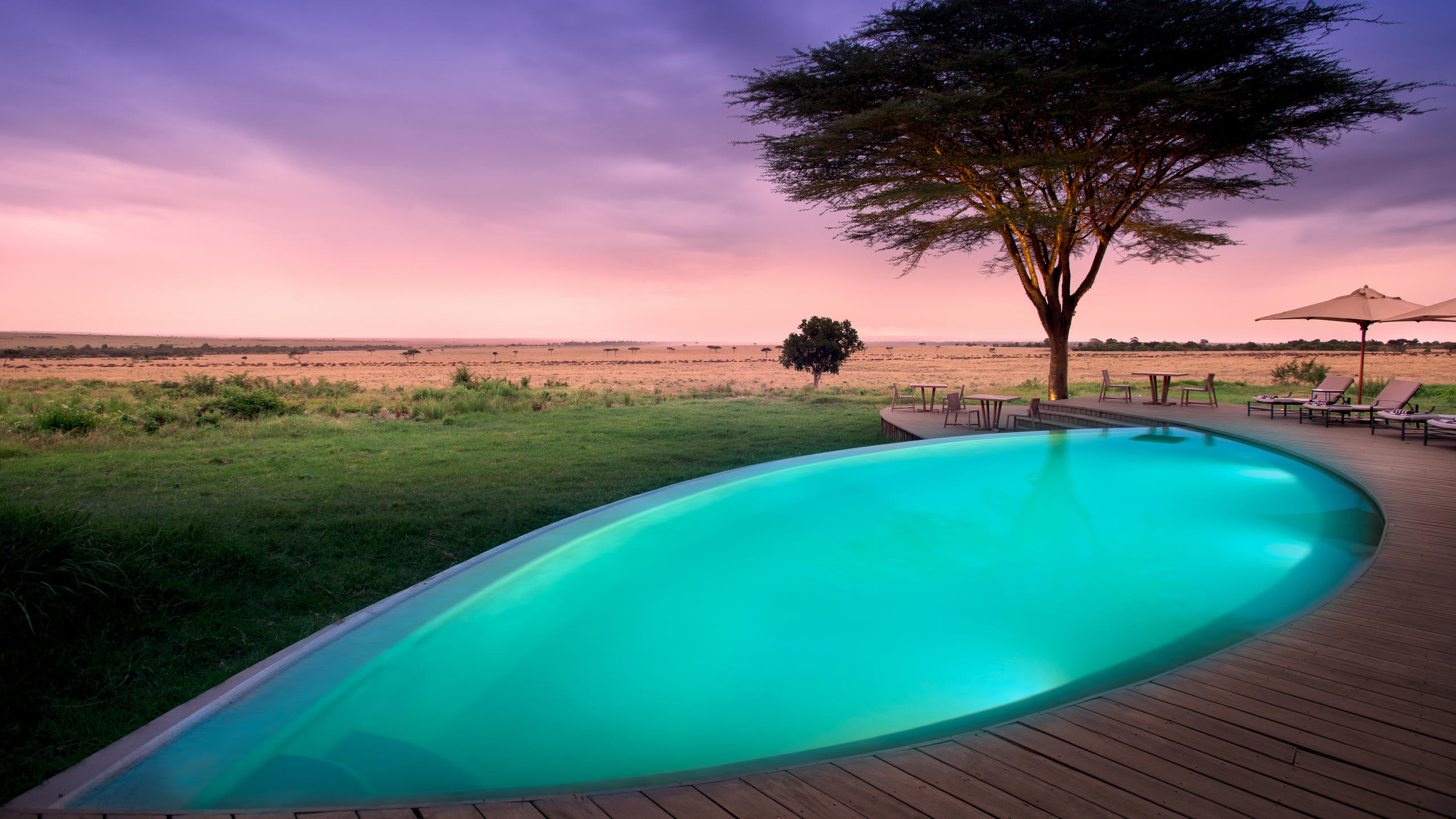 Why do we love it! 
Its private concession within the Masai Mara 

An interpretive guiding experience with twice daily game drives 

Private viewing decks of the Masai Mara 

Access to guided walking and hot air balloon safaris 

Great Migration (July to October) 
Searching for a safari honeymoon worth toasting? Check out our Suggested Itinerary – Honeymoon in East Africa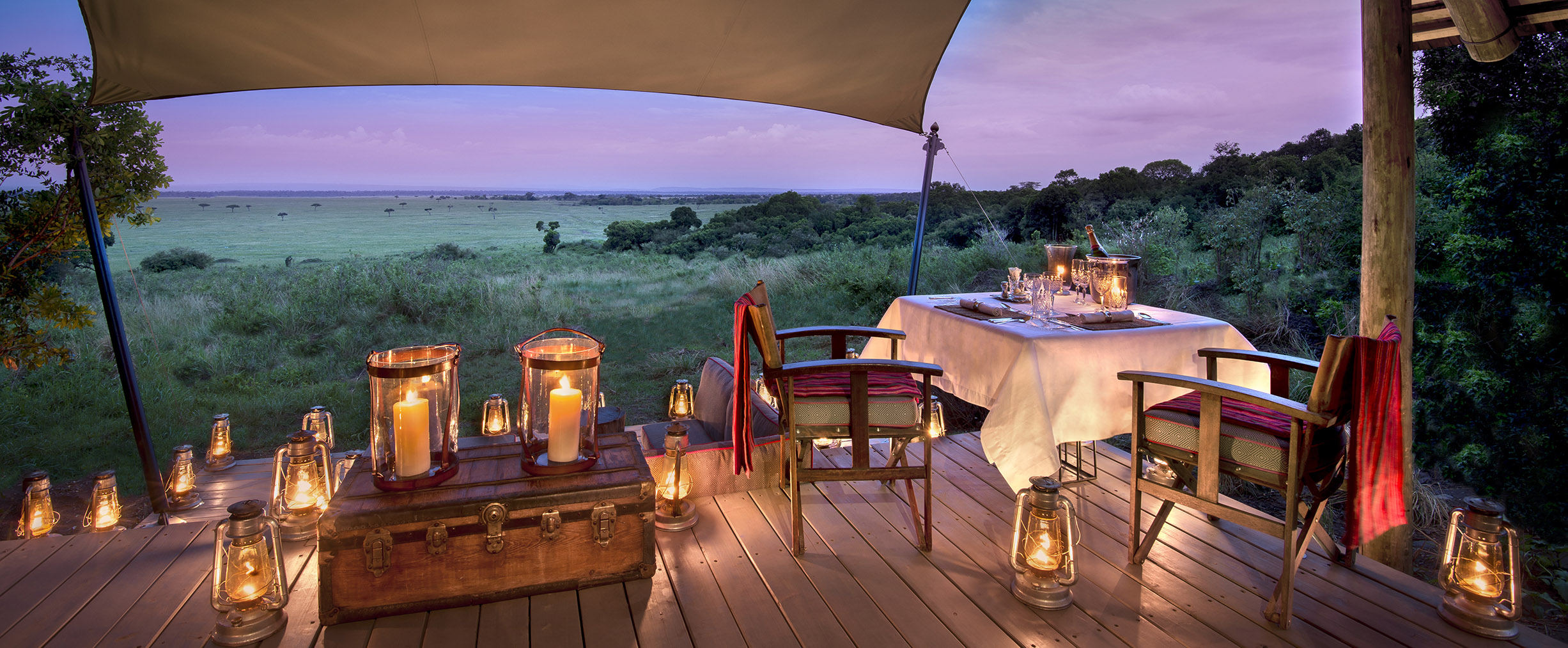 Mara Plains
Best for: couples and private groups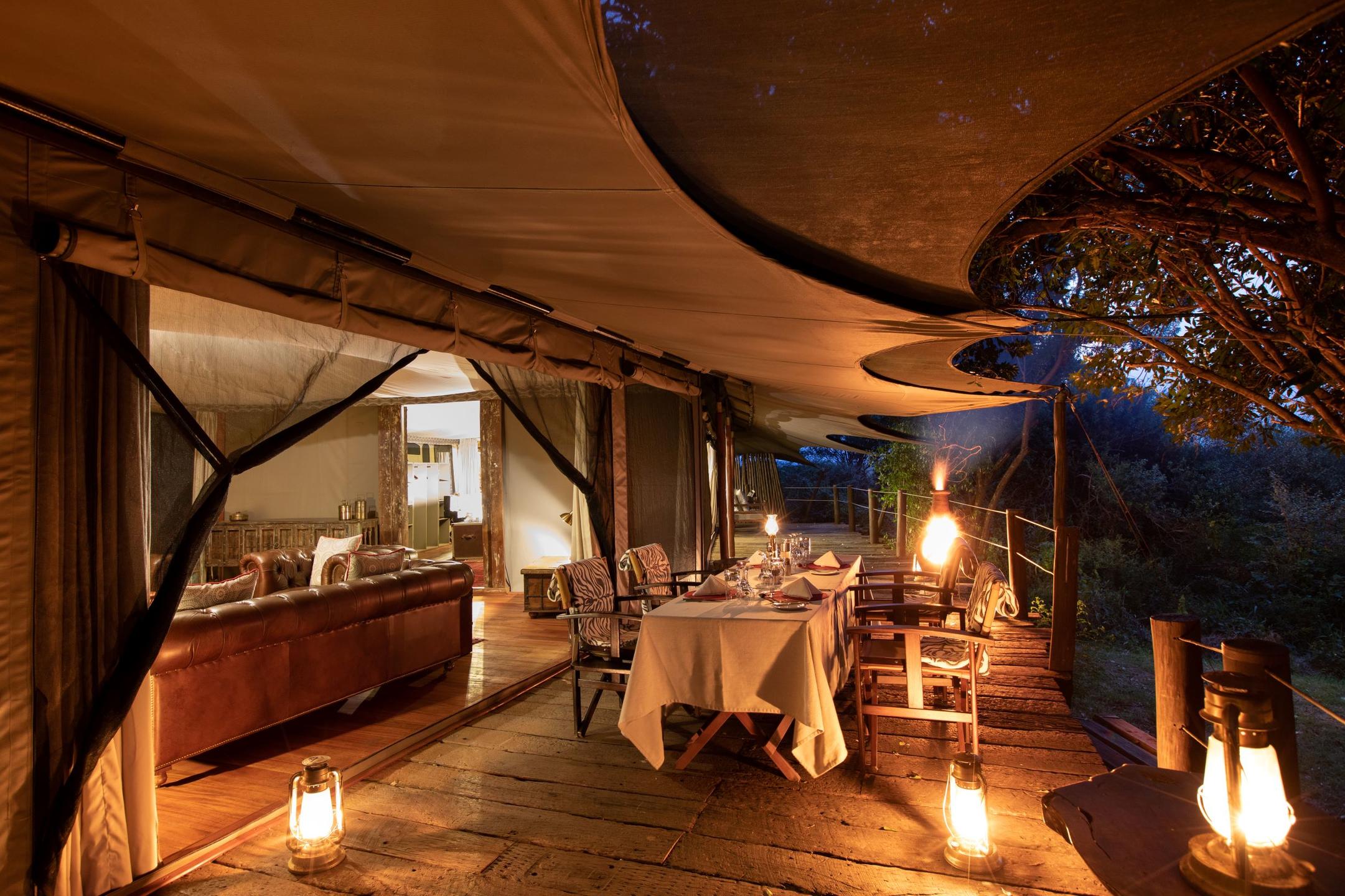 Mara Plains is located within the 32,000 acre Olare Motorogi Conservancy,  just on the northern border of the Masai Mara National Reserve. With only 7 luxury canvas suites, this Relais & Chateaux  property provides an unparalleled intimate wildlife experience. During the Great Migration, the Masai Mara can, at times, be faulted for the amount of vehicles in sightings.  But at Mara Plains you will enjoy a Masai Mara experience in an open game drive vehicle, crowded only by the high concentration of animals and predators on their concession.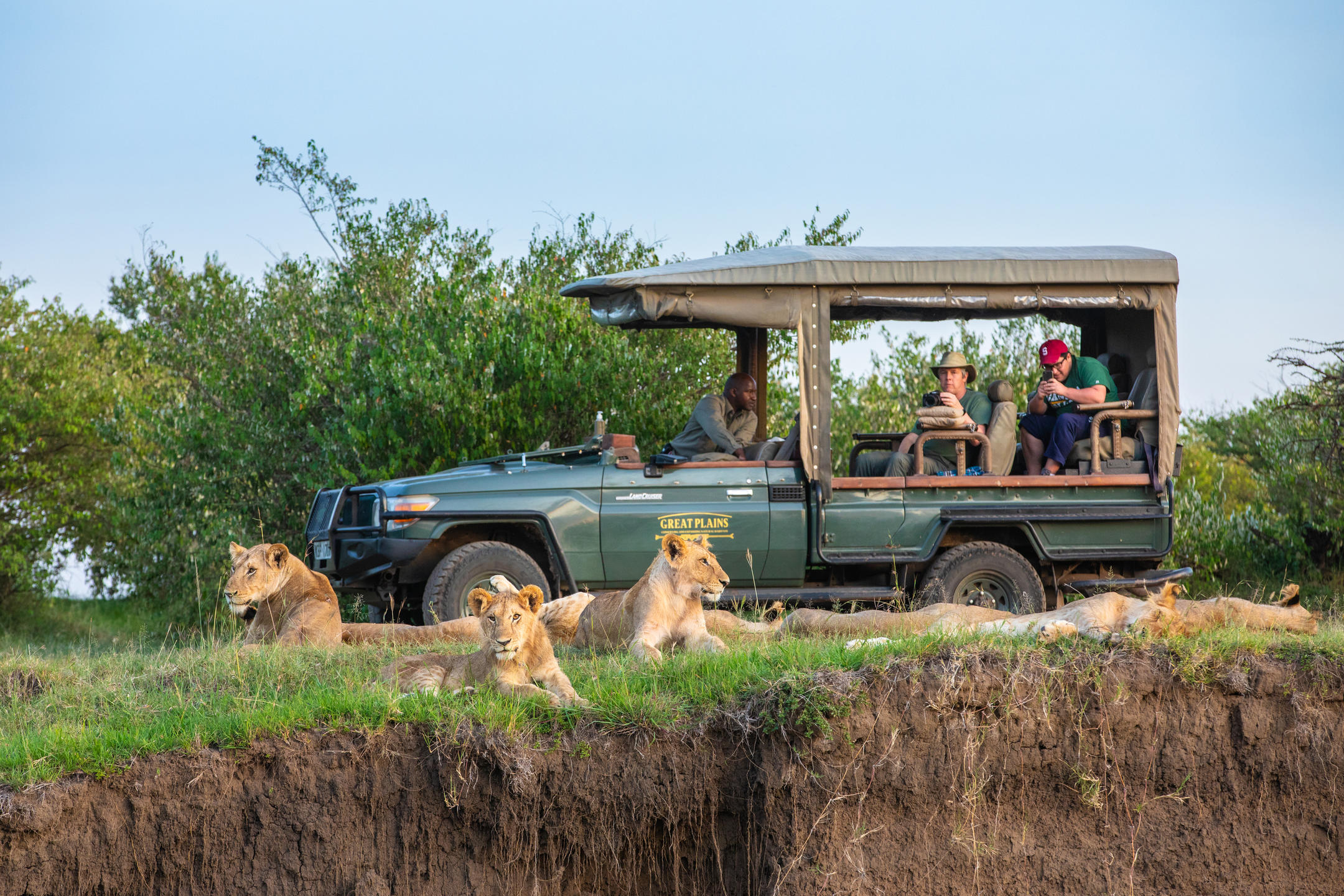 The camp blends and compliments the riverine forest with its light canvas footprint, nestled on recycled railway sleepers. The style elements include a tasteful balance of rough hewn wood floors with touches of East Africa's rich cultures. Coupled with a private verandah and luxury en-suite facilities – like the deep copper bath.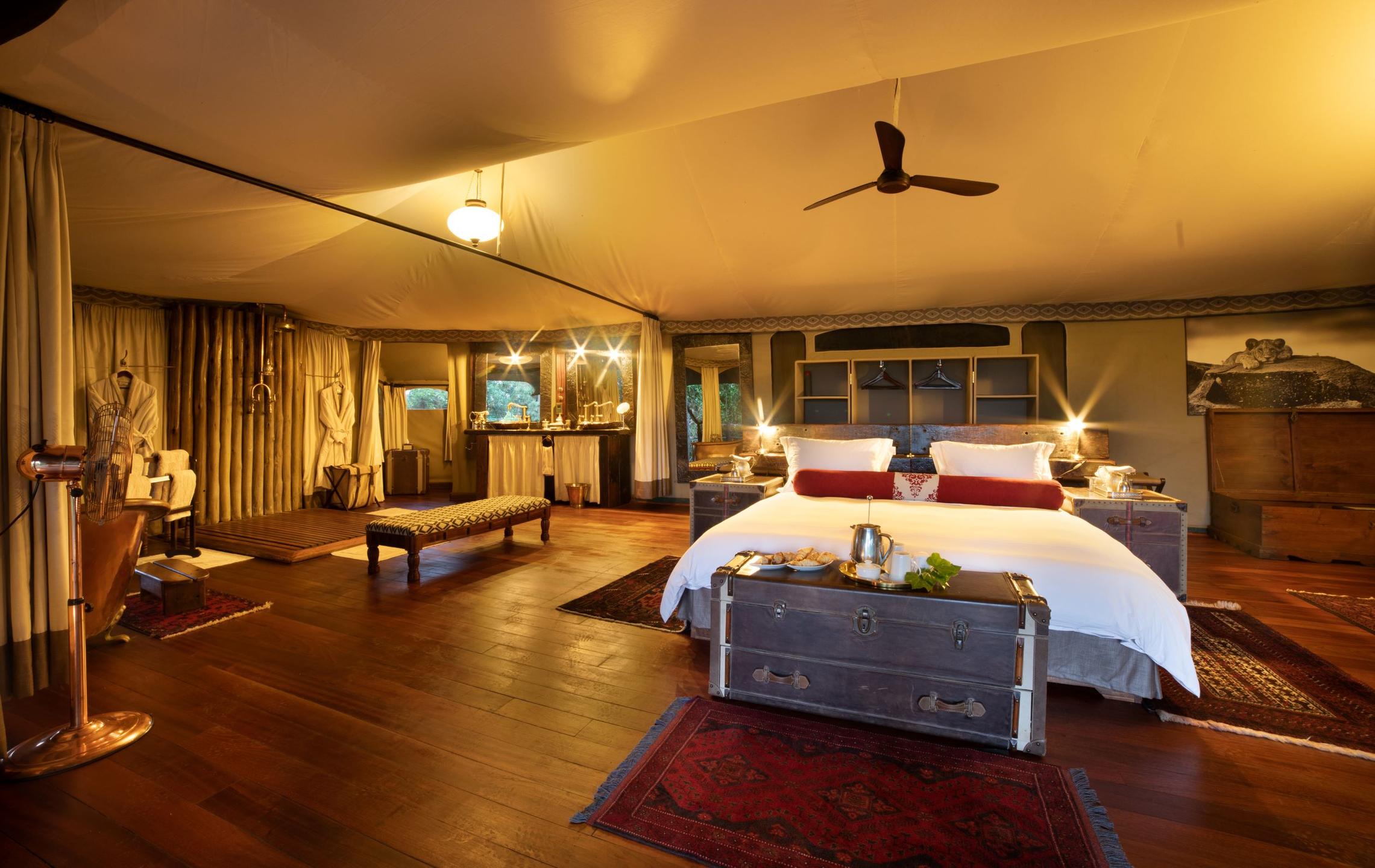 Why do we love it! 
The camp's eco-friendly conscious design  

 One of three

Relais & Chateaux properties in Kenya 

 Extensive traversing area of Mara Plains – over 98,000 acre

Open game drive vehicles – unique to the area

Great Migration (July to October)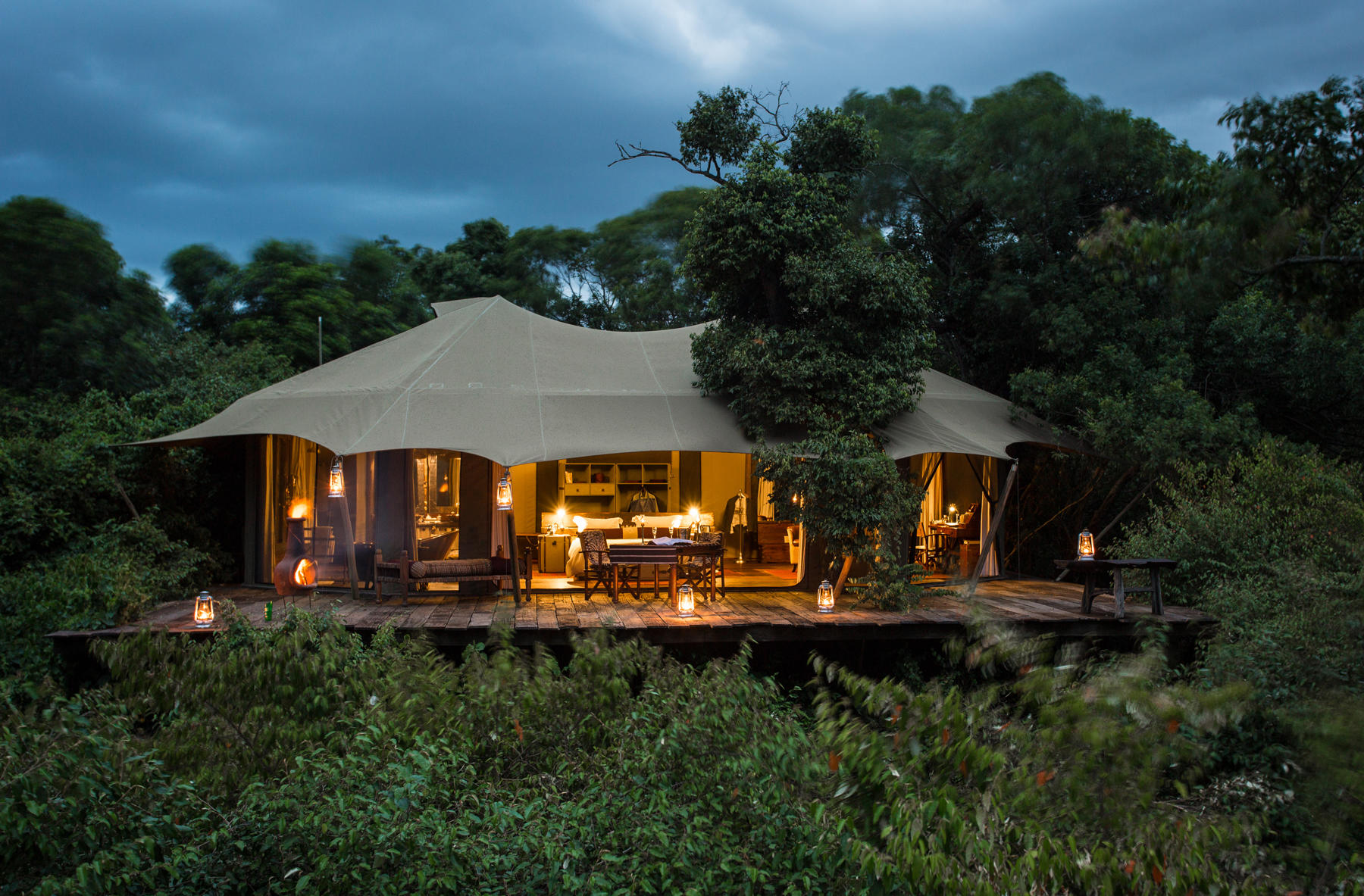 Sanctuary Olonana 
Best for: couples, families and private groups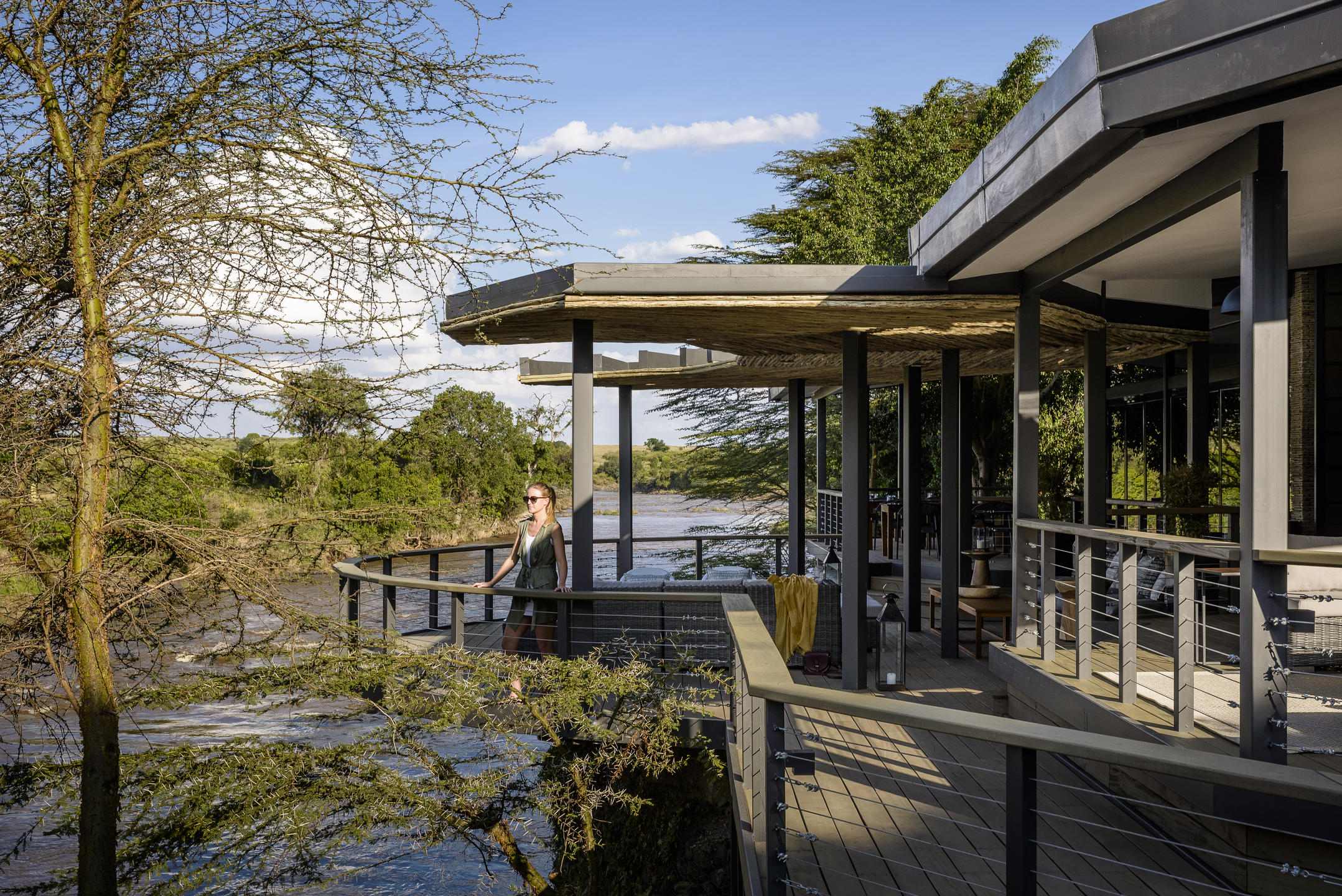 Not so keen on tented accommodation, no matter how luxurious they are? Then Sanctuary Olonana Safari Lodge is the lodge for you! Located on a private stretch of the Mara River, within the Masai Mara, Sanctuary Olonana is a lodge that balances contemporary architecture with "time-tested building practices such as Maasai mudding and stone walls." And just look at the results! 
Each of the 14 glass-walled suites have breathtaking views of the famous Mara river. The interior is complete with organic tones and hand crafted details like the Maasai spears on the walls. Three of the suites feature an extra bedroom, perfect for families who would prefer this style of accommodation.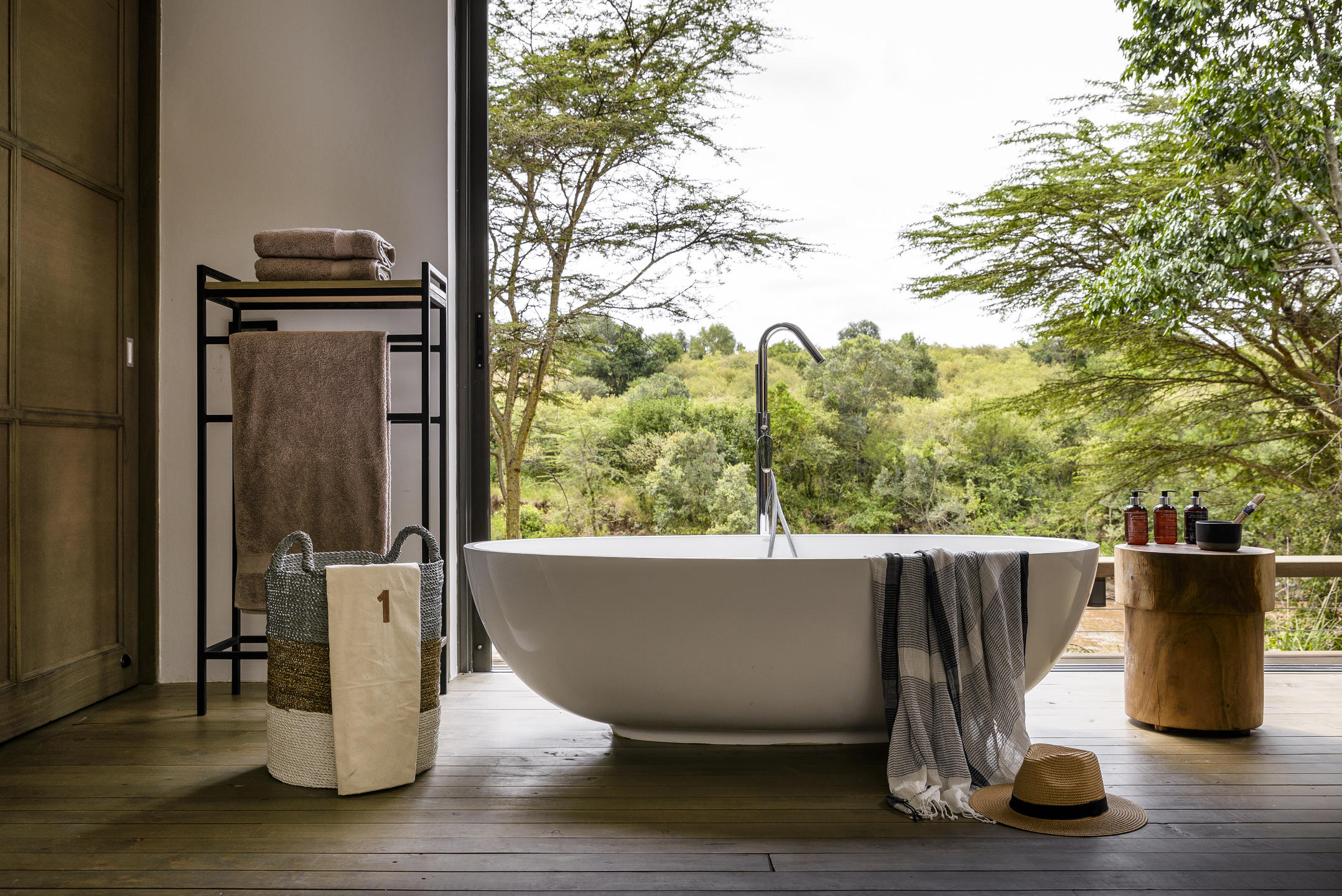 The fully exclusive Geoffrey Kent deserves a mention too, with its two private bedrooms, each fully ensuite, wrap-around decking and infinity pool. Complete with an in-suite chef and private safari guide, this ultra luxurious and exclusive suite is perfect for private groups and multi-generational families.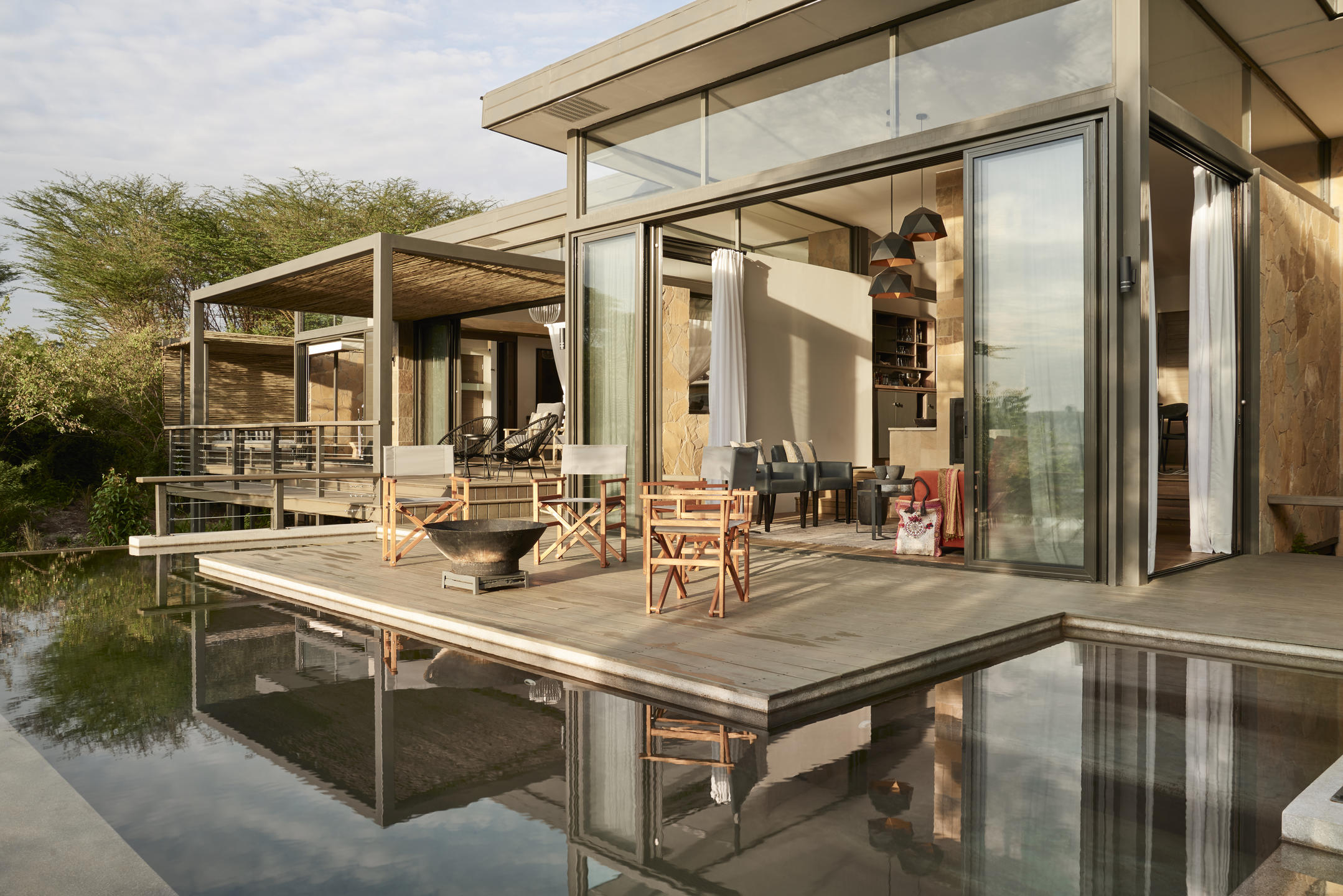 Why do we love it! 
Located on a private stretch on the Mara River.

14 Glass-sided suites with exquisite views 

A committed and sustainable philanthropic program

Mara River Great Migration Crossings *in season 

The ultra-luxurious and fully exclusive Geoffrey Kent suite
Ngare Serian 
Best for: Adventurous honeymooners and families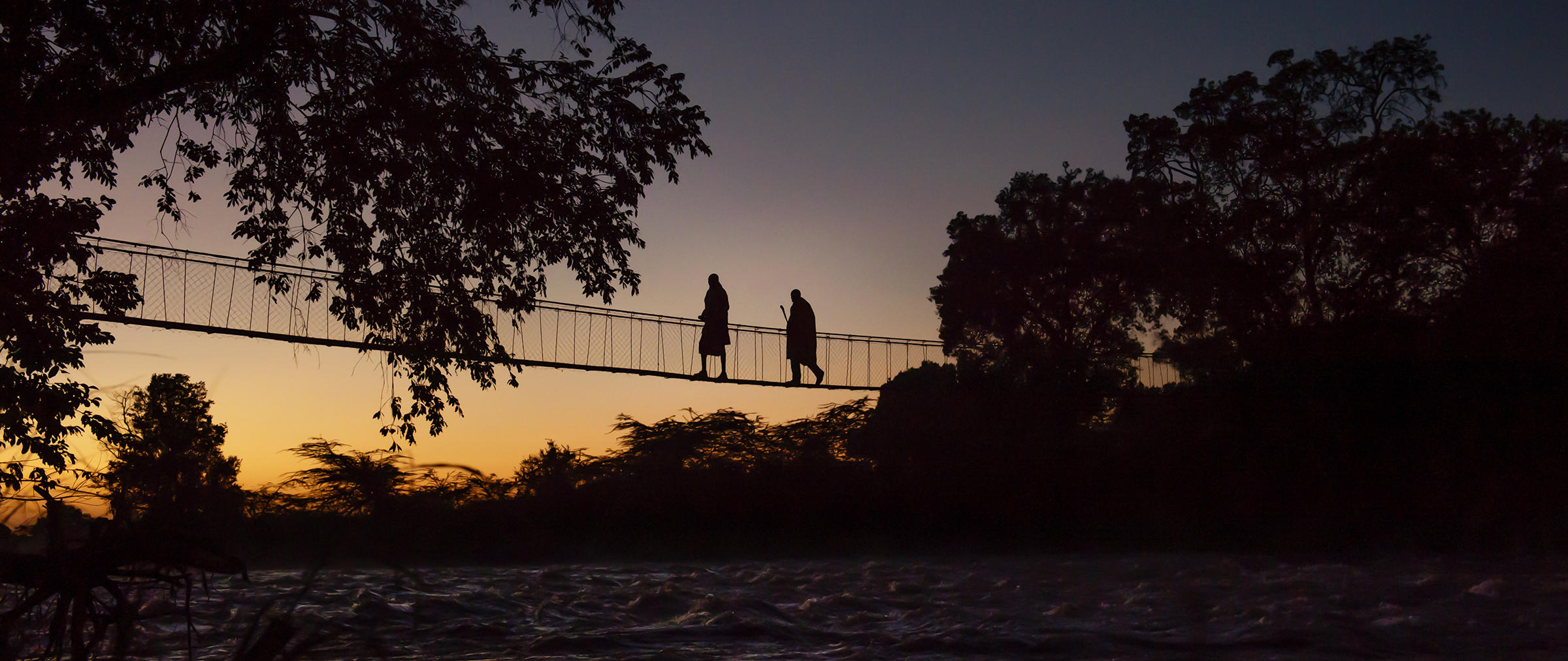 Possibly the most intimate camp in the Masai Mara. You can only access Ngare Serian on foot via a narrow rope bridge! We know, adventure abounds. Due to the camp having just four spacious tents overlooking the Mara River, it is perfect for multi-generational families or private groups looking to book the whole camp out.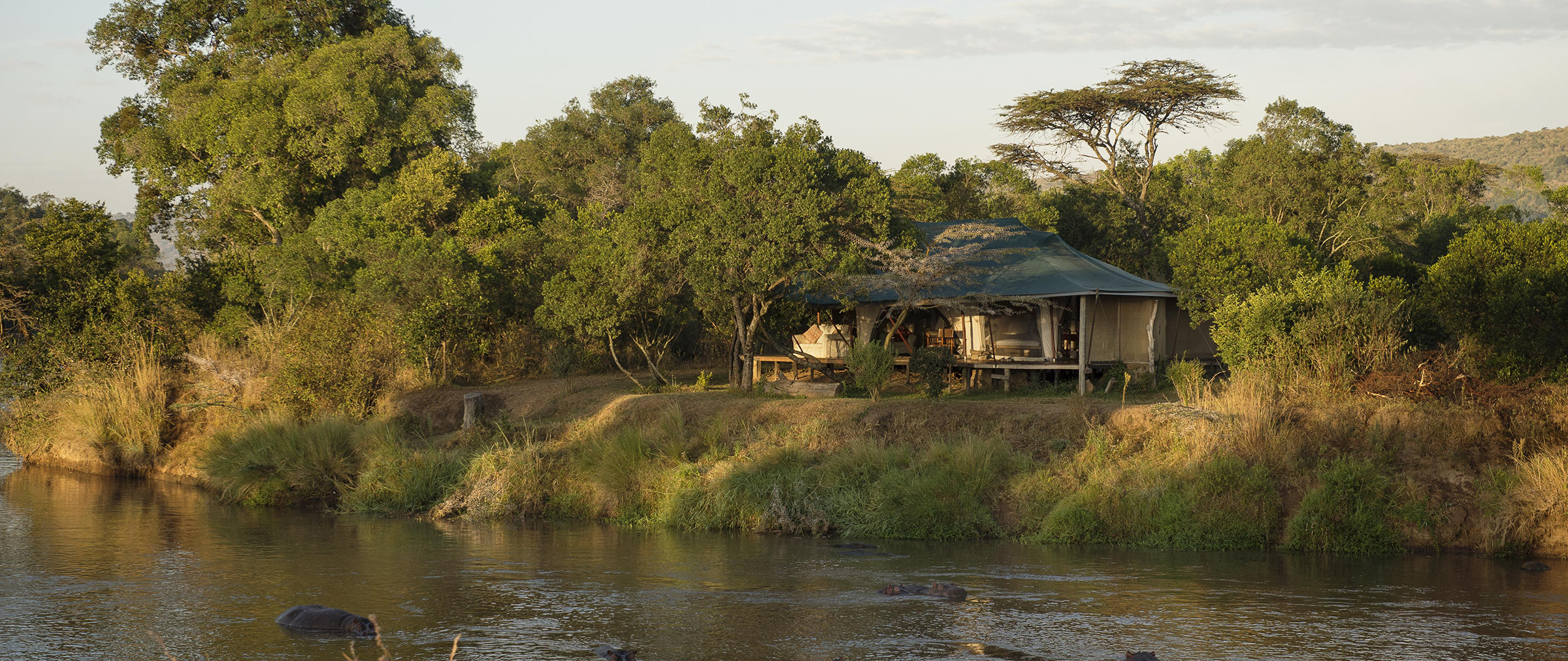 Each tent has beautiful wooden decking, Zanzibar four-poster beds and an open styled bathroom. But for us, it's the bathtub that's built into the verandah decking that makes this camp quite special. Imagine soaking up a bath, with a glass of bubbles while listening to grunting hippo pods in the river? A unique Masai Mara moment for sure!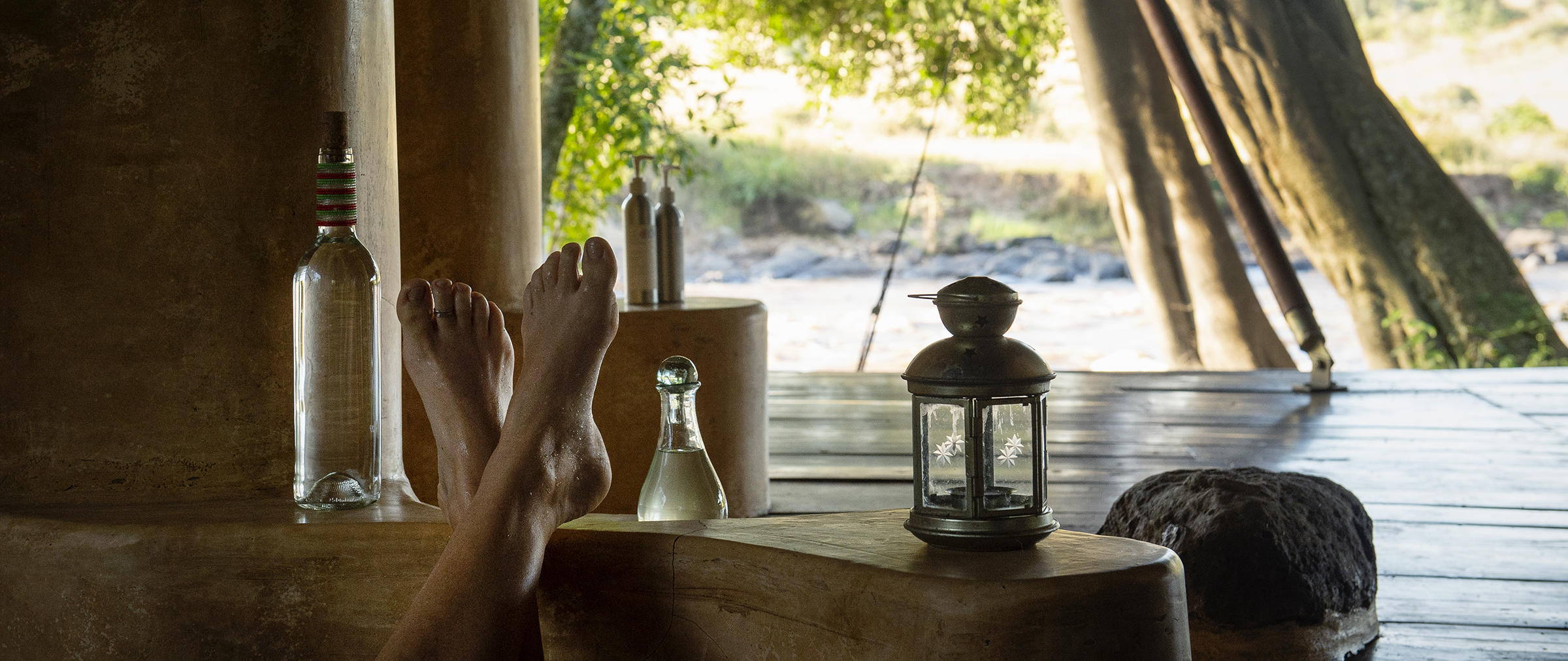 For the more romantic adventurers. A night in "The Nest" overlooking the Mara River is for you! This secluded treehouse is built in a 14ft Warburgia tree with two cozy nest-shaped double beds, flush toilets up the tree, and bucket shower down below. Kitted with an infrared spotlight and a night vision camera for spotting animals below, this is a wilderness experience like no other! 
Why do we love it! 
Intimate four tented luxury camp 

Mara River and Oloololo Escarpment views 

Luxurious bathtub built into the verandah  

A romantic treehouse experience at "The Nest"

No wifi – the ultimate escape to reconnect with nature

andBeyond Kichwa Tembo 
Best for: private groups, families and couples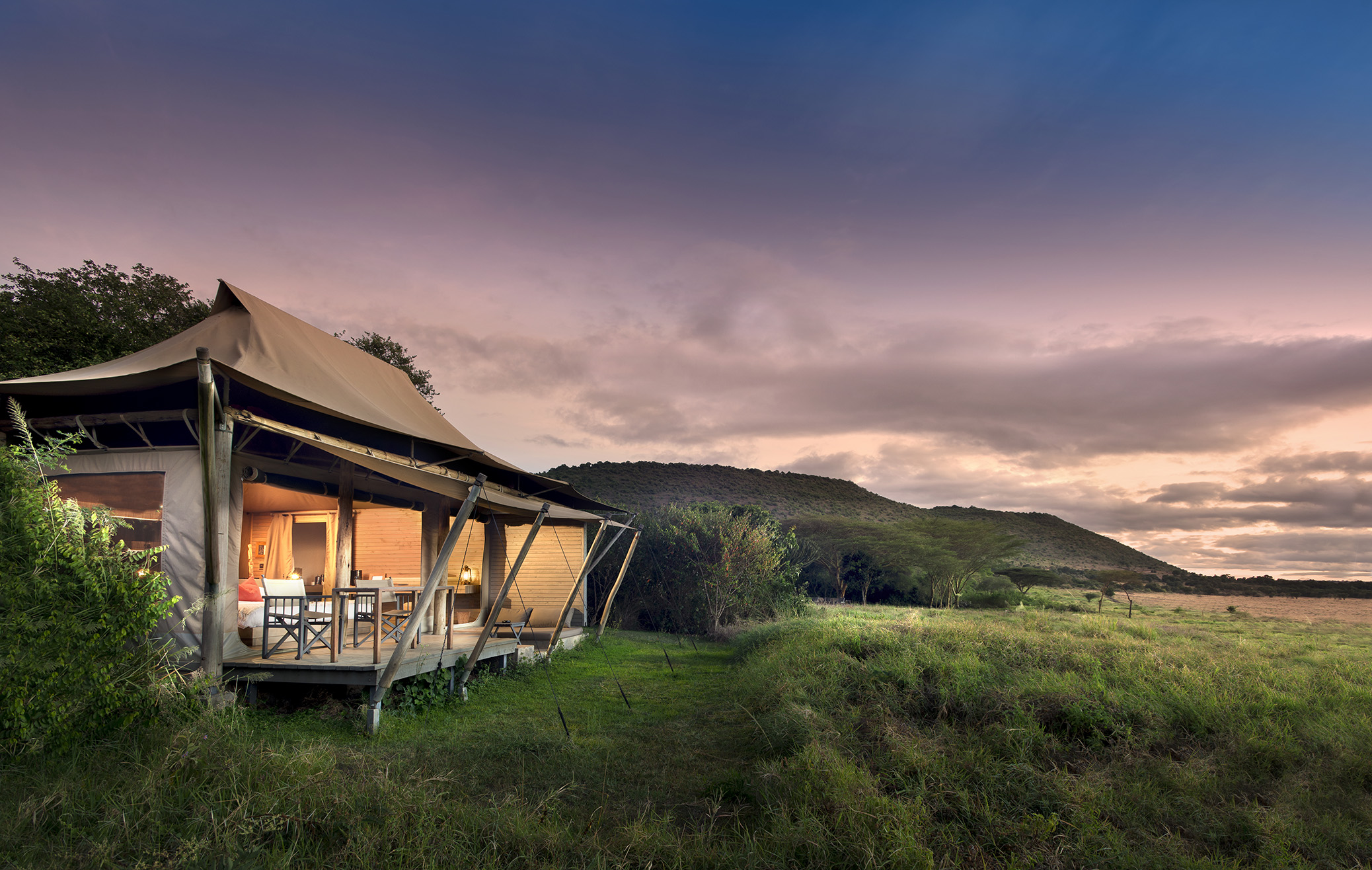 With 40 luxurious tented suites, andBeyond Kichwa Tembo Tented Camp is the largest of our selected luxury lodges in the Masai Mara. As a result to its size, it conveniently offers welcoming accommodation for all types of safari goers. From multi-generational families with dedicated family suites, to romantic couples enjoying a superior view of the Masai Mara open plains.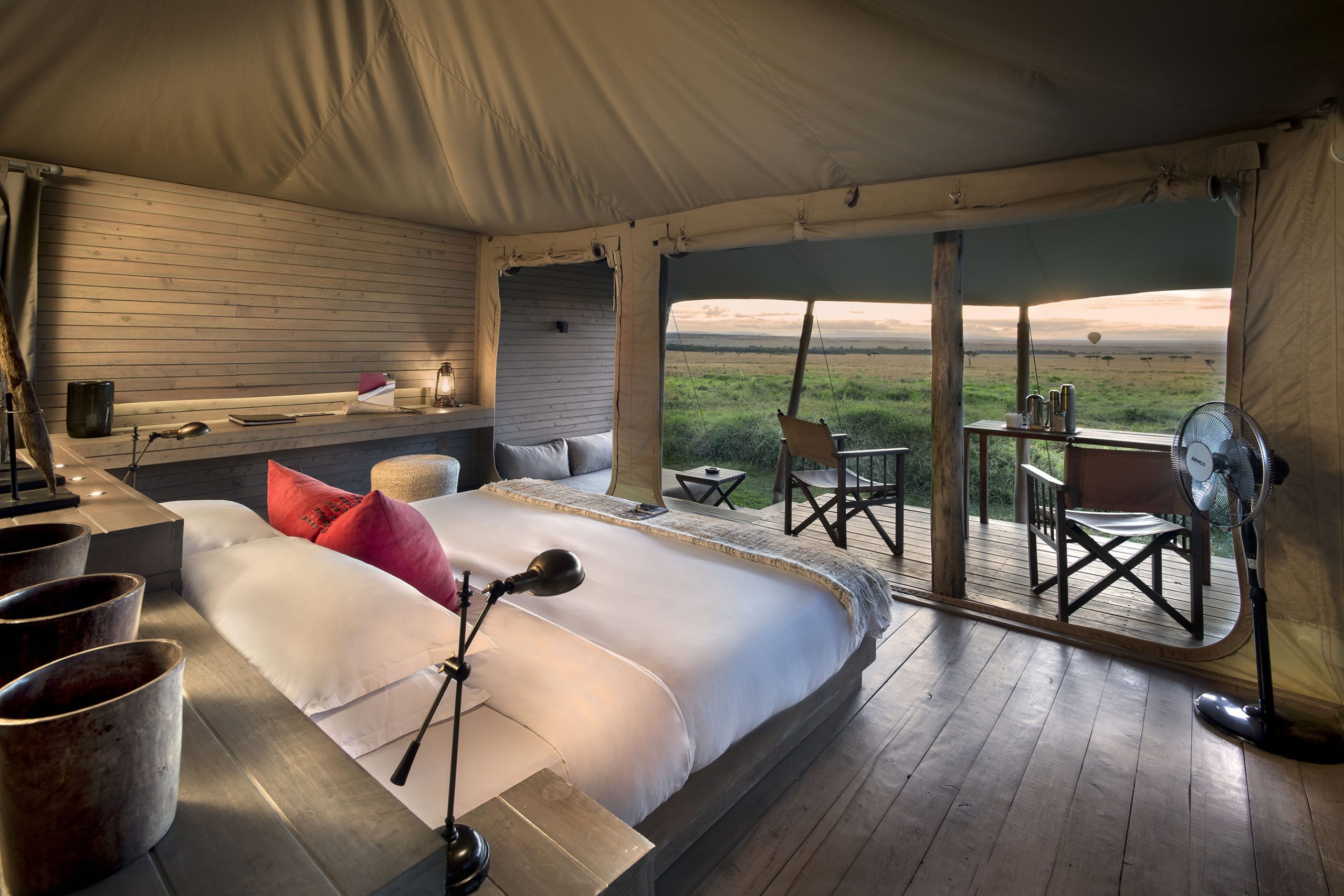 In true andBeyond style, the camp quite literally goes "beyond the expected". Firstly, even with its size, the camp layout provides a surprisingly private experience. And during your stay each room is supplied with a pair of Swarovski Optik Binoculars, giving you the best opportunity to get closer to the details of the Masai Mara!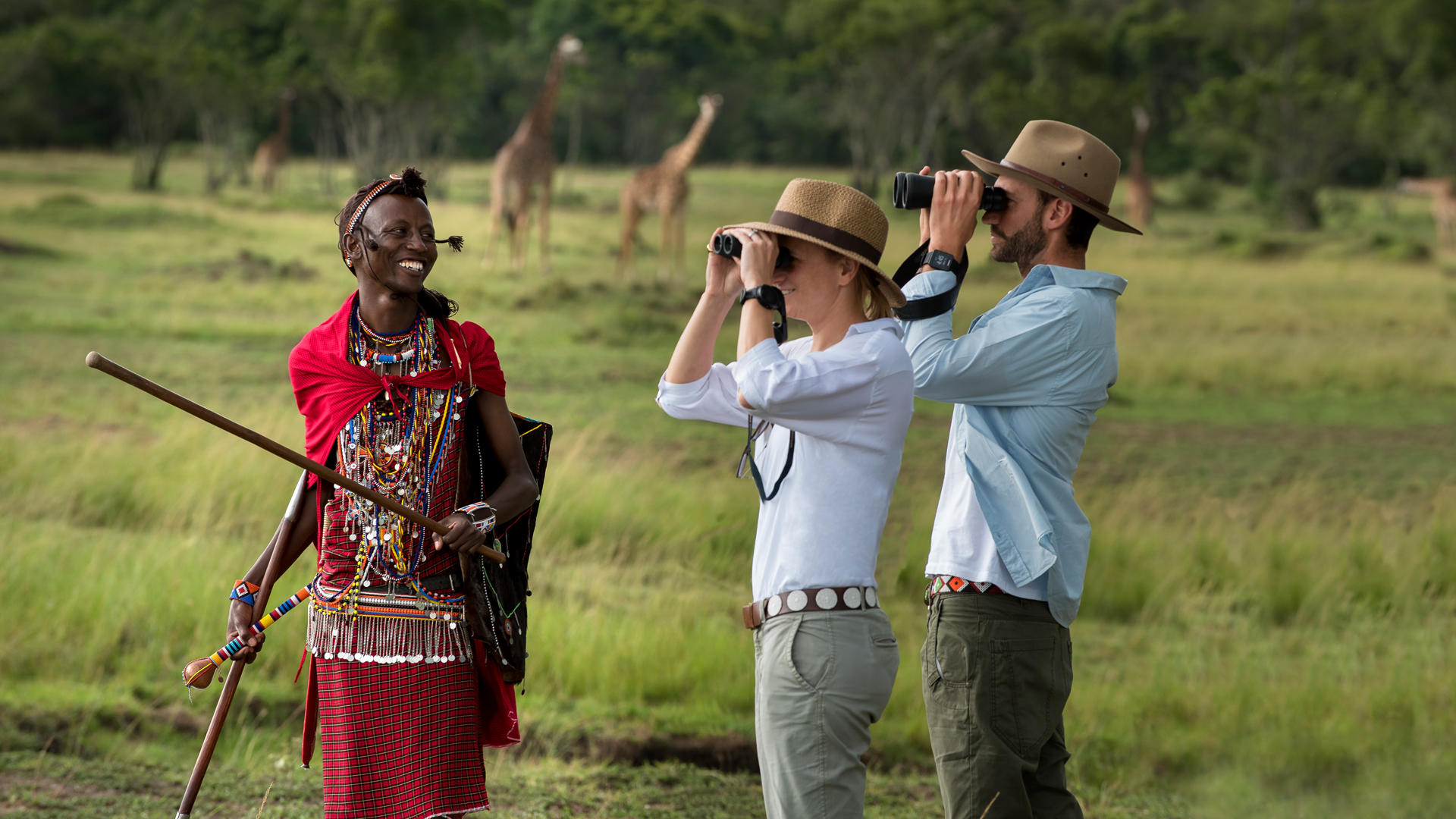 The lodge's famous shamba (vegetable garden) invites you to pick fresh produce, before enjoying the interactive kitchen. All this while situated within a private concession inside the Masai Mara, giving you the opportunity to enjoy walking safaris, night drives and possibly a bush dining experience. Expect the unexpected at Kichwa Tembo!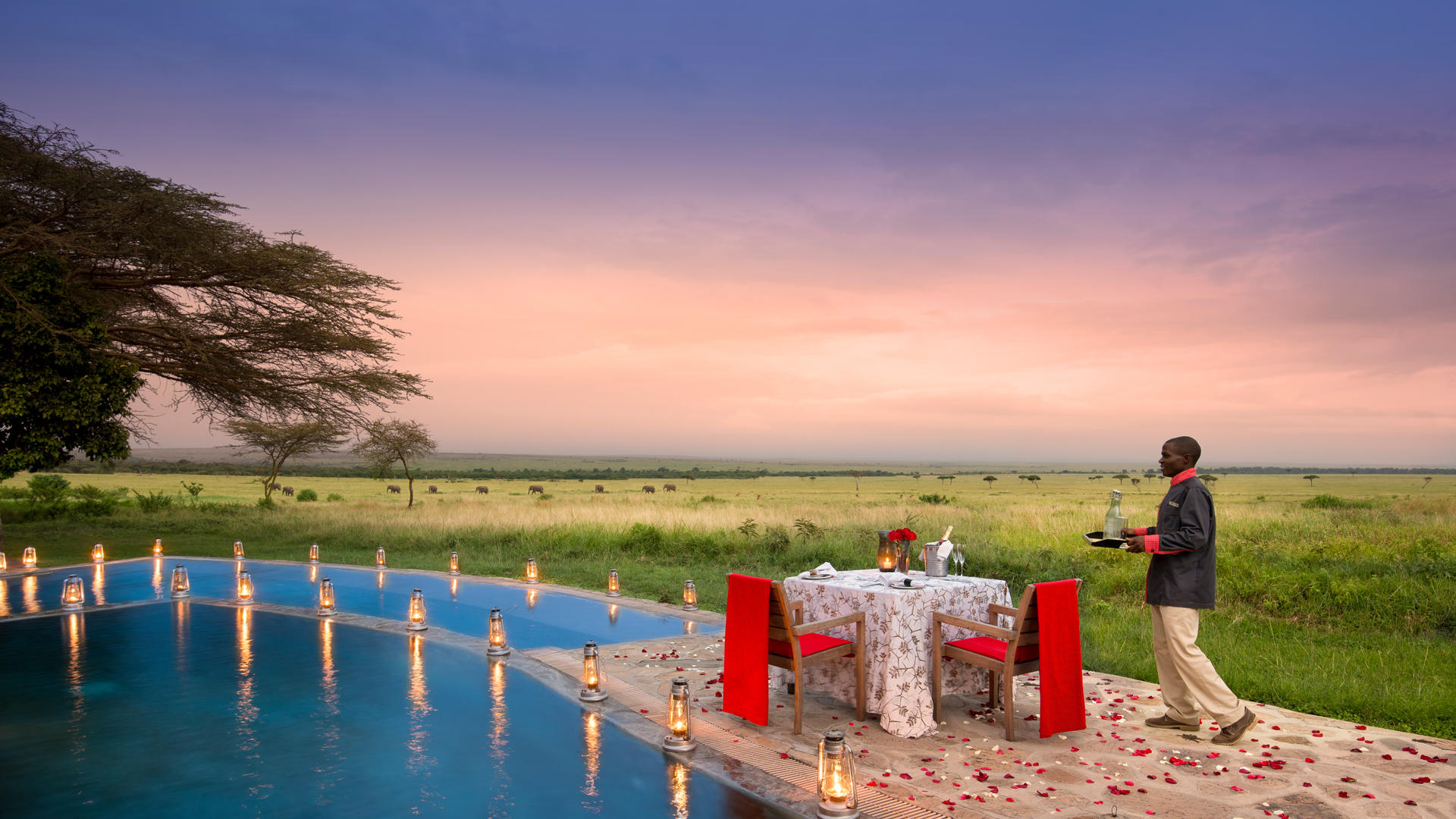 Why do we love it! 
Its private concession within the Masai Mara 

An interpretive guiding experience with twice daily game drive 

Swarovski Optik binoculars for each pair of guests 

Guided walking safaris and bushing dining experience 

Literally in the path of the Great Migration (July to October)
Discover the perfect family safari vacations with our new Suggested Itinerary – A Family Escape to Kenya and Zanzibar
Are you ready for the trip of a lifetime?
If you're thinking of planning a trip, we're here to help! Our team of travel designers will create an itinerary just for you to create memories to last a lifetime and conquer your bucket list. Get in touch with us today to start planning your adventure in Africa.
Follow us on Instagram