If you're passionate about wildlife, you will love Africa. With some of the world's most iconic and endangered species, the continent of Africa is home to exotic animals like lions, zebras, giraffes, kudu, ostrich, and wildebeest (to name a few!) So if you're looking for a unique wildlife experience, you're sure to find plenty on offer across the continent of Africa. And for us at Ubuntu Travel, we not only love animals but are eager to protect them. So many of the best animal encounters in Africa are not just a chance to meet the animals or view them up close, but to also protect them and ensure they survive. So with that, these are the best animal encounters in Africa!
1. Penguins at Boulders Beach, Cape Town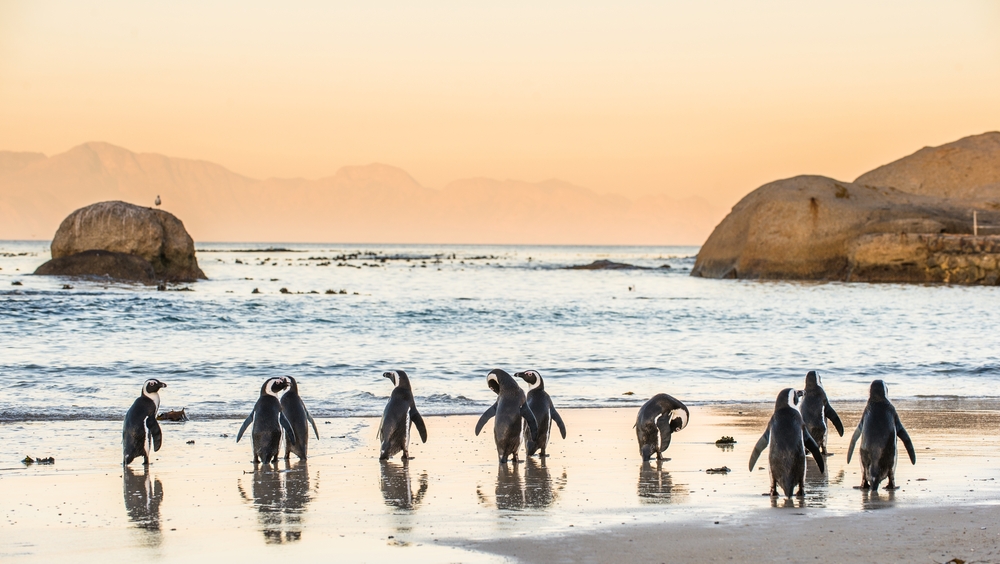 One of the most accessible animal encounters in Africa is just a short drive away from Cape Town, a must-visit city when traveling to South Africa. The penguins are located at Boulders Beach in a small coastal city named Simons Town. There are a handful of wonderful cafes and shops in the area but it is no secret that the main attraction is the large penguin colony who call Boulders Beach home. There is a small fee to enter the area, about $12-$15 for international visitors, depending on the exchange rate.
Ready to book a trip? Explore our sample South African Itinerary
2. Meerkats in the Kalahari Desert

If you fancy a safari with a difference, look no further than the Kalahari Desert. It is here in the Kalahari, which borders Botswana, South Africa, and Namibia, where you view the quirky meerkat colonies that call this land home. The meerkats are most active in the morning and at sunset, as they make their way back to their homes after hunting for food. When in their presence, if you sit still long enough, they may just mistake you for a termite mound and climb atop your head to get a better view of the surrounding area! There is no additional cost to visit the meerkats if you book your stay at Jack's Camp or San Camp, two of our favorite lodges for a digital detox. 
Need more inspiration? View our sample itinerary in Southern Africa
3. The Giraffes at Giraffe Manor, Kenya
Ubuntu Travel founder, Leah Green, at Giraffe Manor
It is no secret that Giraffe Manor in Nairobi is one of our favorite places in all of Africa. When we had the pleasure of visiting last year, it was one of the trip highlights and something we were thrilled to check off our bucket lists! After spending the morning enjoying breakfast with the giraffes, and experiencing the famous high tea in the late afternoon, we fully understand why there is no shortage of clients wanting to book a stay here. Nearby in Nairobi, you can also include a visit to the Daphne Sheldrick Elephant Orphanage to spend quality time with the animals while learning about the rehabilitation and rewilding programs by their caretakers. If you wish to experience Giraffe Manor for yourself, be sure to plan in advance. This lodge is one of the most sought after in the entire continent and with such a unique experience on offer, we can see why.
Read more: A complete destination guide to Kenya
4. Elephants in Botswana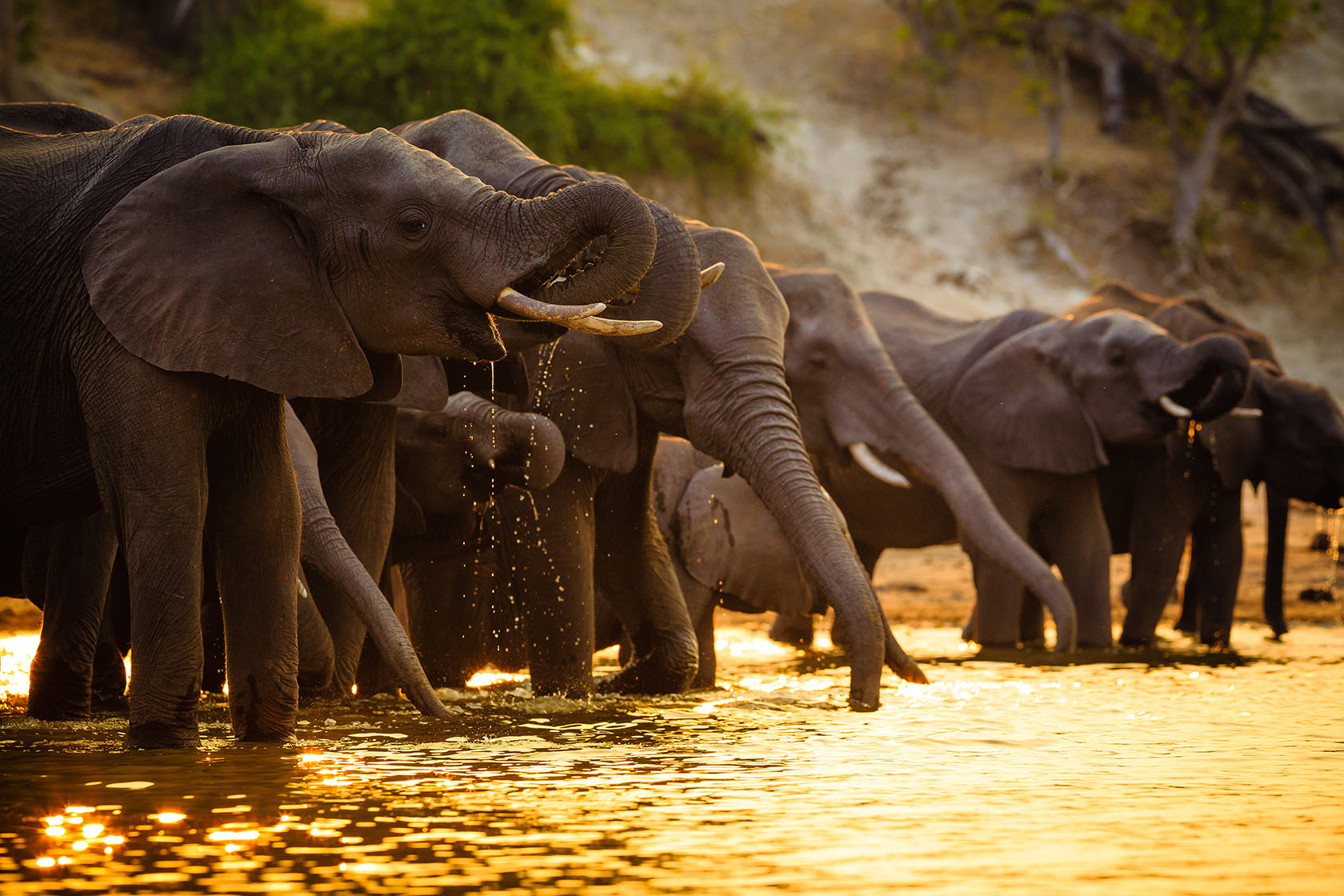 For those of you who have been lucky enough to already visit Botswana for a safari, you'll know why this country has such a special place in our hearts. The entire country is a mecca for wildlife, especially if you make your way to the Okavango Delta when the water levels are high. All across Botswana, you will encounter a large concentration of elephants, as there are many big herds who call this land home. The good news is they are quite accustomed to the sound and sight of safari vehicles, so they will often go about their business without ever caring that you are so close. Picture herds of elephants in the hundreds and you'll get an idea of what to expect while on safari in Botswana.
Looking to visit Botswana? Explore our latest suggested itinerary to Botswana
5. Londolozi Private Granite Suite, South Africa

And if you love elephants enough to get even closer from the comfort of your private deck, look no further than the Londolozi Private Granite Suite within Sabi Sands Private Game Reserve! This epic lodge has some friendly resident elephants that are often spotted out the front of the deck, making use of the river below as a valuable water source. This is a once-in-a-lifetime opportunity to get up close and personal with elephants, quite literally!
Feeling inspired? Check out Londolozi Founder's Camp
6. Mountain Gorillas in Rwanda

No list of animal encounters in Africa would be complete without mentioning the mountain gorillas in Rwanda. Not only are these animals magical to see in real life, but just by visiting them, you are contributing to their survival. Sadly, mountain gorillas are endangered due to the level of poaching of these animals and the loss of habitat. However, in Rwanda, the gorillas have become a huge source of income for the country thanks to sustainable tourism operations that allow for the conservation and care of these animals.
Ready for adventure? View our suggested itinerary in Rwanda
7. Rhino Conservation in South Africa
Lastly, one of our favorite travel memories has been our rhino conservation trip to Phinda Private Game Reserve in South Africa. This special group trip is not only a great way to learn about animal conservation but an even better way to make your own impact on the ground. The rhino conservation program operates through andBeyond, who ensure the protection of many rhinos in their private reserve by dehorning the animals to effectively render them valueless to poachers. This is a great way to give back and get your hands dirty, by contributing directly to conservation efforts yourself.
Ready to book a trip?  Explore our Conservation Safari itinerary
Are you ready for the trip of a lifetime?
If you're thinking of planning a trip, we're here to help! Our team of travel designers will create an itinerary just for you to create memories to last a lifetime and conquer your bucket list. Get in touch with us today to start planning your adventure in Africa.
Follow us on Instagram