Elephants have long been the centerpiece of the African safari and a truly magnificent creature to see in person. Their monumental size, strength, and grace are breathtaking, drawing many visitors to the African continent just so they can catch a glimpse of one in the wild.
Despite decades of ivory trade and trophy hunting in Africa, elephant populations have rebounded in recent years and can be seen in incredible numbers in certain parks that are more fiercely protected. You can enjoy viewing the large herds, too, if you know where and when to look for them.
Chobe National Park, Botswana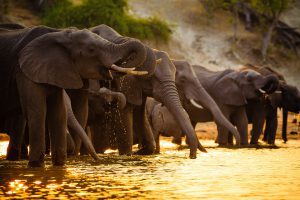 Housing the largest population of elephants in the world, Chobe is an easy selection if you're interested in viewing "eles" in massive groups. The floodplains and woodlands in this part of Botswana are home to tens of thousands of elephants, as they circulate seasonally through the region based on water access. 
The Chobe River is a focal point for immense wildlife activity, drawing in a variety of creatures, specifically when water is scarce. The largest herds will congregate during the peak dry season in September and October. Hundreds of elephants dot the banks of the river, which can be quite a sight to see, from either a 4×4 safari vehicle or by boat! As the rainy season commences in November, elephants will make their way inland, as water supply becomes plentiful elsewhere.
Older males will reside along the Chobe River year-round, so you will always be able to see elephants in this region, but if you're after herds in the hundreds, Chobe in the dry season is our top choice.
Amboseli National Park, Kenya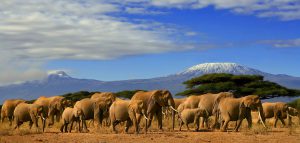 In Southern Kenya, Amboseli National Park sits on the Tanzania border with incredible views of Mount Kilimanjaro. As the snow melts off the towering peak, water streams down and collects at the base, leaving a great source of water and greenery for loads of elephants. The Amboseli Trust for Elephants also resides here, fueling impressive research and conservation projects that aim to ensure elephant safety in the region and throughout Africa.
June through October are the best months to visit Amboseli for seeing elephants because the dry season forces wildlife to congregate near the larger remaining water sources. January and February, with little rainfall during those months, are also great times to visit Amboseli.
Tarangire National Park, Tanzania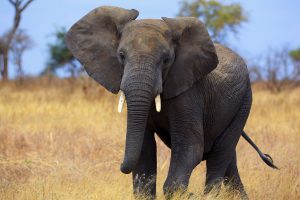 While not as well known as its neighboring parks, the Serengeti or the Ngorongoro Crater, Tarangire National Park is an outstanding spot to see elephants en mass. During the dry season, herds of up to three hundred elephants can be seen seeking out water from the Tarangire River, making it a great spot to catch all the action. Elephants from this region of Africa have evolved to learn that they can access water moving below the dirt during the dry season. Try visiting between June and October for peak elephant activity, and for excellent all-around game viewing, as well!
Hwange National Park, Zimbabwe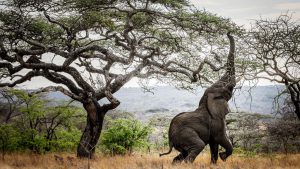 Sitting on the border between Botswana and Zimbabwe, Hwange National Park in Western Zimbabwe is the gateway for elephants looking to traverse between the two unfenced countries. This region has permanent watering holes that provide valuable drinking water to wildlife during the dry season. While Zimbabwe's largest park is extremely biodiverse, it remains minimally impacted by tourists, seeing less than forty thousand guests in a calendar year – making it a traveler's dream for those looking to avoid crowded sightings.
Come explore during the late winter months of August through October, and you'll most certainly see more elephants that you could possibly imagine!
Pachyderm Paradise
Elephants are iconic wherever African wildlife is concerned. The sight of just one big tusker can leave you with your jaw on the floor, so the spectacle of a herd that is nearing three hundred strong is almost unimaginable. If this sight is a must-see on your bucket list, you'll be in pachyderm paradise when visiting these exciting destinations in Africa!
Start Planning Your Dream Trip
Reach out and let's start talking. We'll listen and begin to tailor an experiential, private, luxury vacation based on exactly how you want to experience Africa. From adventure to relaxation—and everything in between—let us handle every detail of your unforgettable journey.