Sitting on the border of Zambia and Zimbabwe, and plunging an impressive 355 feet into the Zambezi River below, the picturesque Victoria Falls entices numerous adrenaline junkies, families, and romantic couples every year. Beyond its thrilling adventure, Victoria Falls also offers a host of other experiences with wildlife, as well as educational and cultural immersion. In order to fully take in all the excitement, Victoria Falls has to offer, we recommend trying a bit of everything during your stay, as it's truly a place for every type of visitor.
Adrenaline Activities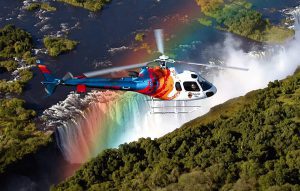 Known as the "Adrenaline Capital" of Zimbabwe, Victoria Falls boasts first-class adrenaline-filled activities, some of which include:
Bungee jumping – Although there are several stunning locations to go bungee jumping in the world, all pale in comparison to the magnificent Victoria Falls. As the world's highest bungee jump at 364 feet tall, those brave enough to take the leap are rewarded with 360-degree views of the falls, Bakota Gorge, and the Zambezi River. There's also an option to do a bungee slide! (Important note: Bring your passport! You'll be traveling between Zambia and Zimbabwe and we don't want you to miss out on any adventure!) 
Bridge Swinging

– This option is not for the faint of heart. Take a running leap off the falls in a full-body harness and freefall a drastic 230 feet into the Bakota Gorge!

Flying Fox

– If you're wanting a taste of adrenaline but prefer a gentler option, the Flying Fox is a perfect place to start. Similar to ziplining, you will be put into a harness that travels 650 feet horizontally across the Zambezi Gorge. It's a memorable gliding experience, without a doubt.

Zipline

– To take things up a notch from the Flying Fox, the traditional Zipline is another high-wire experience that's both faster and longer. Some have reached speeds of 65 mph on the Zipline!

White Water Rafting

– Would it be a river without white water rafting? The Zambezi River features 13 rapids when the water is high and 23 when the water is low. It's generally best to visit from July to February when conditions are safer and more favorable. Be sure not to miss out on this stellar adventure during your visit to Victoria Falls.
Become Culturally Immersed
Visiting the Mukuni Village is an immense privilege and deeply special experience for travelers looking to add some meaning to their trip. Founded in the 13th century, this Royal village is home to 7,000 Leya people who are kind enough to invite visitors into their huts and get a glimpse of their lifestyle and cultural customs. People of all ages are permitted, and you can expect the tour to last for approximately 2 hours, wherein you will be welcomed to try traditional foods.
Animal Activities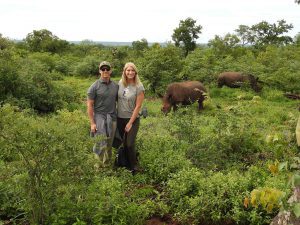 (Photo:  Founders Kyle and Leah Green)
Rhino Walk

– If your dream is to walk amongst and meet wild animals face to face, this is the experience for you! Just upstream from the incredible Victoria Falls, this wilderness walk is situated in Mosi-oa-Tunya National Park. It is within the park that you'll lay eyes on buffalo, impala, zebra, giraffe, warthog, and most notably, the endangered white rhino. Specialized guides will lead you to wild rhinos in their natural environment, as they are constantly monitored from a distance to protect them from poachers. Your walking segment will be approximately two hours in length, with a picnic to follow.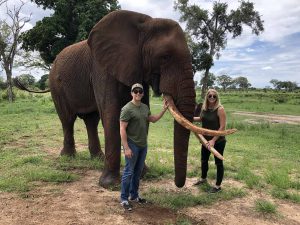 (Photo:  Founders Kyle and Leah Green)
Elephant Interaction at Elephant Cafe

– This once-in-a-lifetime experience is a tourist favorite. Beginning with a 20-minute cruise up the Zambezi River, you will arrive at the sanctuary and cafe, where you will have the chance to meet rescued elephants and spend time feeding and playing with them before a fine-dining feast. The cafe's maximum occupancy is 24 people, so it is an intimate experience and gives guests plenty of time with the elephants.
Other Experiences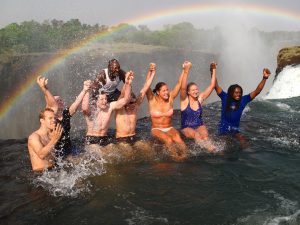 Tour of the Falls

– Of course, one of the most magical things you can do when visiting is taking a formal tour of the falls themselves. This can be done by foot, microlight glide, or helicopter tour, all of which offer unique views and perspectives.

Livingstone Island & Devil's Pool

– Livingstone Island is the only tour in operation that offers access to Devil's Pool, a refreshing dip on the edge of Victoria Falls. This vantage point is one of the best and most unobstructed views of one of the Seven Natural Wonders of the world. During certain parts of the year, daring guests can swim in Devils pool and essentially peer over the edge of the falls!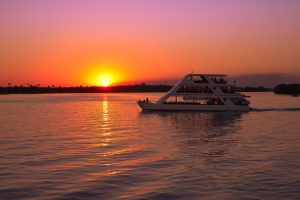 Sundowner Boat Tour

– Perfect for a celebration or to simply give travelers a taste of life on the Zambezi, large catamaran boats, featuring multiple decks, boast panoramic views of the river and banks. Local snacks and beverages are served to the soundtrack of hippos calling nearby. A sundowner boat cruise is an excellent way to end the day at Vic Falls, gorgeous sunset and all!

Royal Livingstone Express

– As implied by its name, this steam locomotive has been restored to accommodate guests and create an unforgettable fine-dining experience. Departing from Livingstone Island and trekking through Mosi-oa-Tunya National Park, Zambezi River Valley, and eventually the Victoria Falls Bridge, you'll feast your eyes on wildlife and stunning scenery all while enjoying an exquisite meal, wine selection, and exceptional hospitality. A stop in the middle of the Victoria Falls bridge is the perfect photo opportunity with a cocktail at sunset.
Activities Aplenty
There is more than enough thrill, adventure and sheer beauty to go around at Victoria Falls. As one of the most stunning and highly sought after sites in the world, rich in history and immersive experiences, we simply couldn't recommend it more.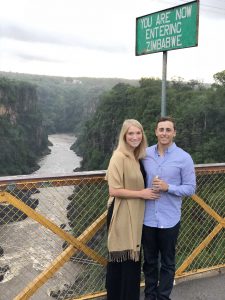 (Photo:  Founders Kyle and Leah Green)
Start Planning Your Dream Trip
Reach out and let's start talking. We'll listen and begin to tailor an experiential, private, luxury vacation based on exactly how you want to experience Africa. From adventure to relaxation—and everything in between—let us handle every detail of your unforgettable journey.