Mount Kilimanjaro usually comes to mind when people think of hiking in Africa, but the continent is rich with stunning and diversified natural landscapes, abundant wildlife, and numerous hikes (of varying levels of difficulty) that are great for every active traveler looking to drink in the plentiful beauty of the motherland. Here are some of our favorite hikes in Africa!
The Best Hikes in Africa
Mount Kilimanjaro, Tanzania – A whopping 20,000 people attempt the 5,895-meter climb to the top of Mount Kilimanjaro each year, nicknamed the "roof of Africa", and there's good reason that it is regarded as one of Africa's top hiking spots. Although physical fitness and mental stamina are beneficial when making the climb, there are a variety of tracks available, with longer routes allowing for an extended acclimatizing period. Additionally, it comes highly advised to hire both a guide and porter. For the effort you put forth to carefully plan your trip, you'll be rewarded with delicious sunrises, environmentally diverse landscapes, and irresistibly fresh air. A hike up Kili pairs well with an East African safari, as a relaxing reward for your great accomplishment.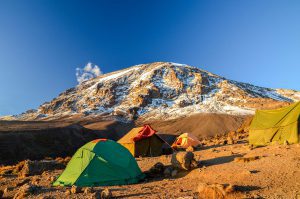 Table Mountain, South Africa – One of the most idyllic summits in all of Africa, Table Mountain traverses 4 miles and about 2,300 feet of elevation via the Skeleton Gorge trail, though there are 5 total trails and options for climbing. Depending on fitness and breaks, you can expect to be climbing for at least a few hours while being surrounded by dense flora and fauna, having a spectacular vantage point of the ravine and reservoir, and eventually a breathtaking view as you reach the top. Needless to say, the strenuous trek is well worth it. Most hikers will enjoy views at the top, and take the cable car back down.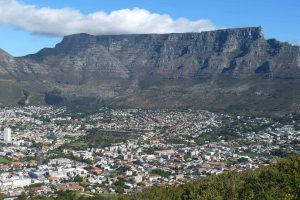 Lions Head, South Africa – Sitting atop the vibrant city of Cape Town, Lions Head is the perfect compliment to Table Mountain, but with longer mileage and impressive panoramic views. Over the course of roughly 8 miles, you'll circle around the mountain until you reach the top, with views in all directions. Technically speaking, Lions Head is not too physically demanding, and thus a great fit for everyone.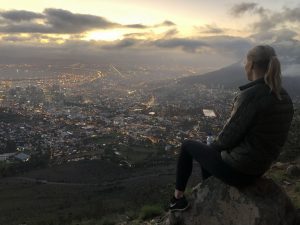 (Photo:  Co-Founder & Travel Designer Leah Green)
Fish River Canyon, Namibia – This one is for those who would consider hiking more than a hobby. Akin to the undeniable magnitude of the Grand Canyon, the Fish River Hiking Trail in Namibia is the largest canyon in Africa and most commonly a seven-day experience that covers an admirable 56 miles. It affords hikers exciting scenery, the chance to take a dip in natural hot springs, and view starry desert nights without light pollution.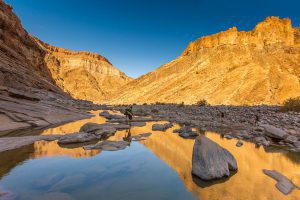 Blyde River Canyon, South Africa – Rich in subtropical foliage, the Blyde River Canyon is likely to be the largest "green canyon" in the world (compared to its more desert-like counterparts) and one of several of South Africa's jaw-dropping natural landmarks. Formed millions of years ago by way of the Drakensberg escarpment, most trails within the Blyde River Nature Reserve take a full day or longer to complete. Primary points of interest include God's Window, Pinnacle Rock, Bourke's Luck Potholes, and the Three Rondavels.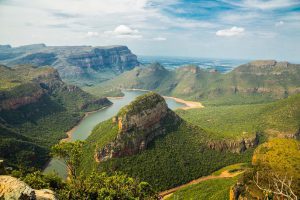 Murchison Falls, Uganda – A short 45-minute hike results in unobstructed views of the mighty Murchison Falls, and requires a reasonable amount of fitness to complete. Once you reach the top, you'll feel the vibrations of the thunderous Nile, which squeezes through the narrow chasm near the top of the falls and drops 137 feet into Lake Albert below.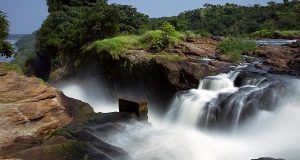 Mount Kenya, Kenya – Often overshadowed by Mount Kilimanjaro, Mount Kenya, nicknamed "place of light", is quite a journey as Africa's second tallest peak. This ancient dormant volcano offers three peaks and summit options, as well as five primary routes for climbing, each requiring varying levels of fitness, technical understanding, and appropriate gear. You'll climb through various grasslands and savannah, snow and glaciers, and its beauty is often best showcased during sunrise, but its remarkable views will captivate hikers any time of day.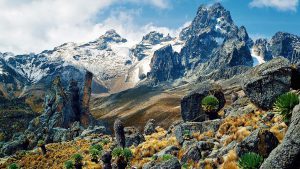 Otter Trail, South Africa – One of the oldest and most popular hiking trails in the world, Otter Trail sits along the succulent Garden Route coast in South Africa and, as indicated by the name, features the clawless otter, in addition to steep climbs and descents as well as technical river crossings. Due to this trail being in such high demand, reservations are required one year in advance. You certainly won't regret snagging a spot.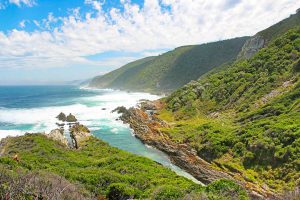 Primate trekking in Volcanoes National Park – Although not a typical hike, trekking in Volcanoes National Park is a bucket list item for those interested in having a very intimate experience with mountain gorillas (so basically everyone). Within this region, there are six extinct and three active volcanoes, thick forest ranges, and other spectacular forms of wildlife. Note: permits are required, and trekkers should be aware of the strict conservation rules that govern this special national park.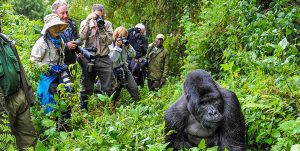 Delightful Adventures for Everyone
Although safari generally takes precedence when visiting Africa, we highly suggest carving out some time to hike. There's a trail for everyone, depending on where you're traveling to, and unrefined beauty eagerly awaits those bold enough to adventure.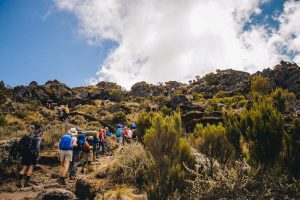 Start Planning Your Dream Trip
Reach out and let's start talking. We'll listen and begin to tailor an experiential, private, luxury vacation based on exactly how you want to experience Africa. From adventure to relaxation—and everything in between—let us handle every detail of your unforgettable journey.