Written by: Sean Messham 
It's time to get romantic! And no, not because Valentine's Day is just around the corner! But because, whether we like to admit it or not, it has been a challenging few years for everyone. It's time to celebrate with your most significant other and start planning a journey that is intimate, restorative, for yourselves and… dare we say it… away from the large family and friend gatherings. 
Honeymooners, we have not forgotten the turmoil you have gone through, or perhaps are still going through… Let this be the start to the most romantic – and carefree – journey with us! After you scroll through these 8 incredible destinations, have a look at our new East Africa Honeymoon itinerary. 
So grab your partner, pour a cup of coffee (or perhaps a glass of wine), and dine on 'Our Most Romantic Safari Lodges in Africa' for 2022.
*PS: Valentine's Day is on February 14th, for those who didn't realize…
andBeyond Tengile River Lodge 
Sabi Sand Game Reserve, South Africa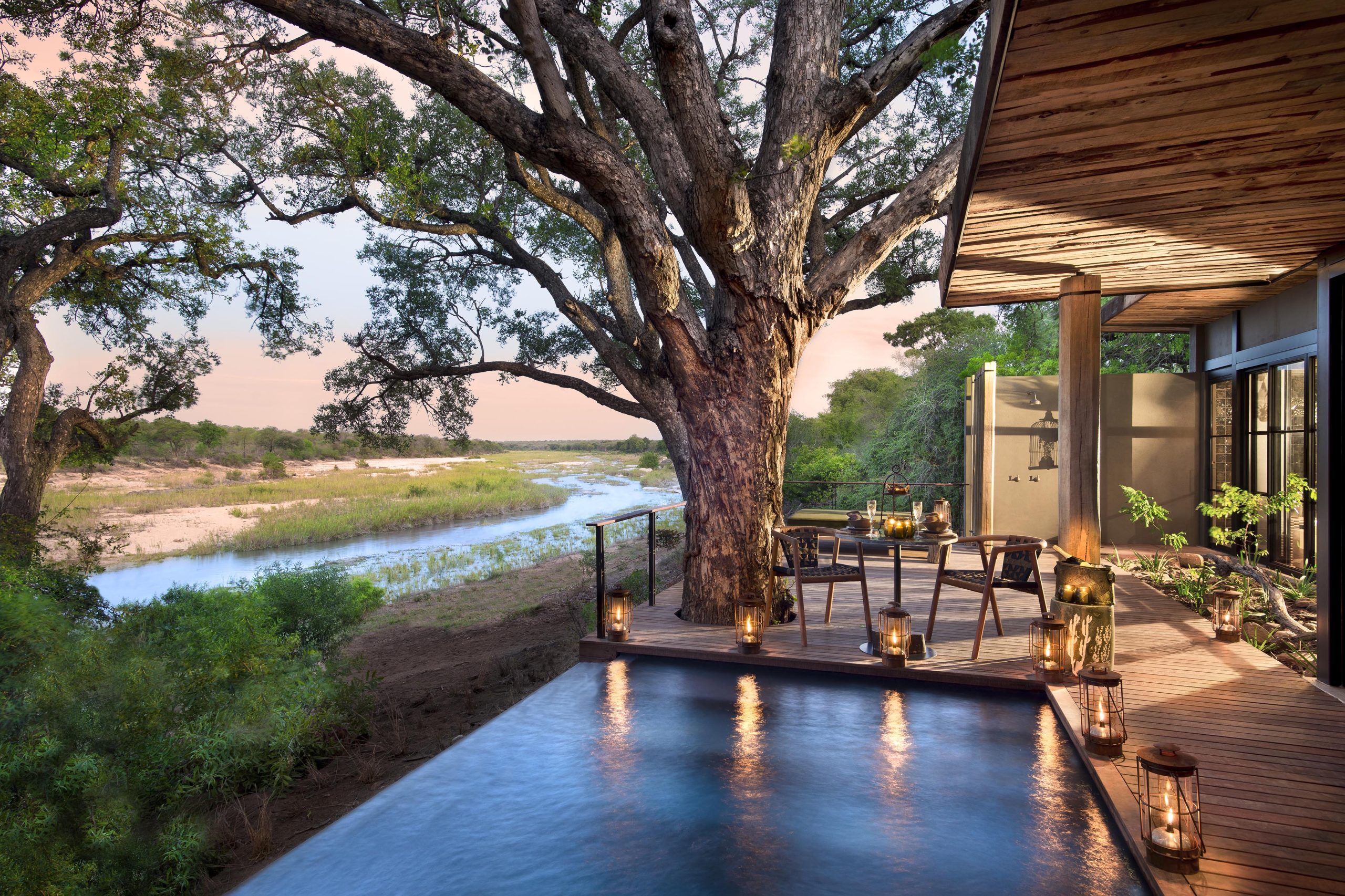 Meaning "tranquil" in the local Shangaan language, Tengile River Lodge is situated on the banks of the Sand River, where you can literally watch herds of elephant and buffalo come down to drink from your private lap pool or sunken outdoor lounge area. I guided in this region for over 3 years, so I am intimately biased, but you will struggle to surpass a South African game viewing experience here. There is just something quite magical, and almost surreal about what you get to witness on the game drives! The lodge is magnificent, but it's the safari that will steal your heart!
Why do we love it! 
Exceptional Big Five Game viewing 

Private Sand River views from your luxurious and spacious suite

Private plunge pool with Sand River views 
Exclusive 26 000 acre transferring rights in the Sabi Sand Game Reserve
Complimentary Swarovski binoculars for each couple for during your stay
Dedicated partnership with Panthera – a fantastic big cat conservation organization 
Suggested Itinerary – Best of South Africa 
Royal Chundu Zambezi River Lodge  
Zambezi River, Zambia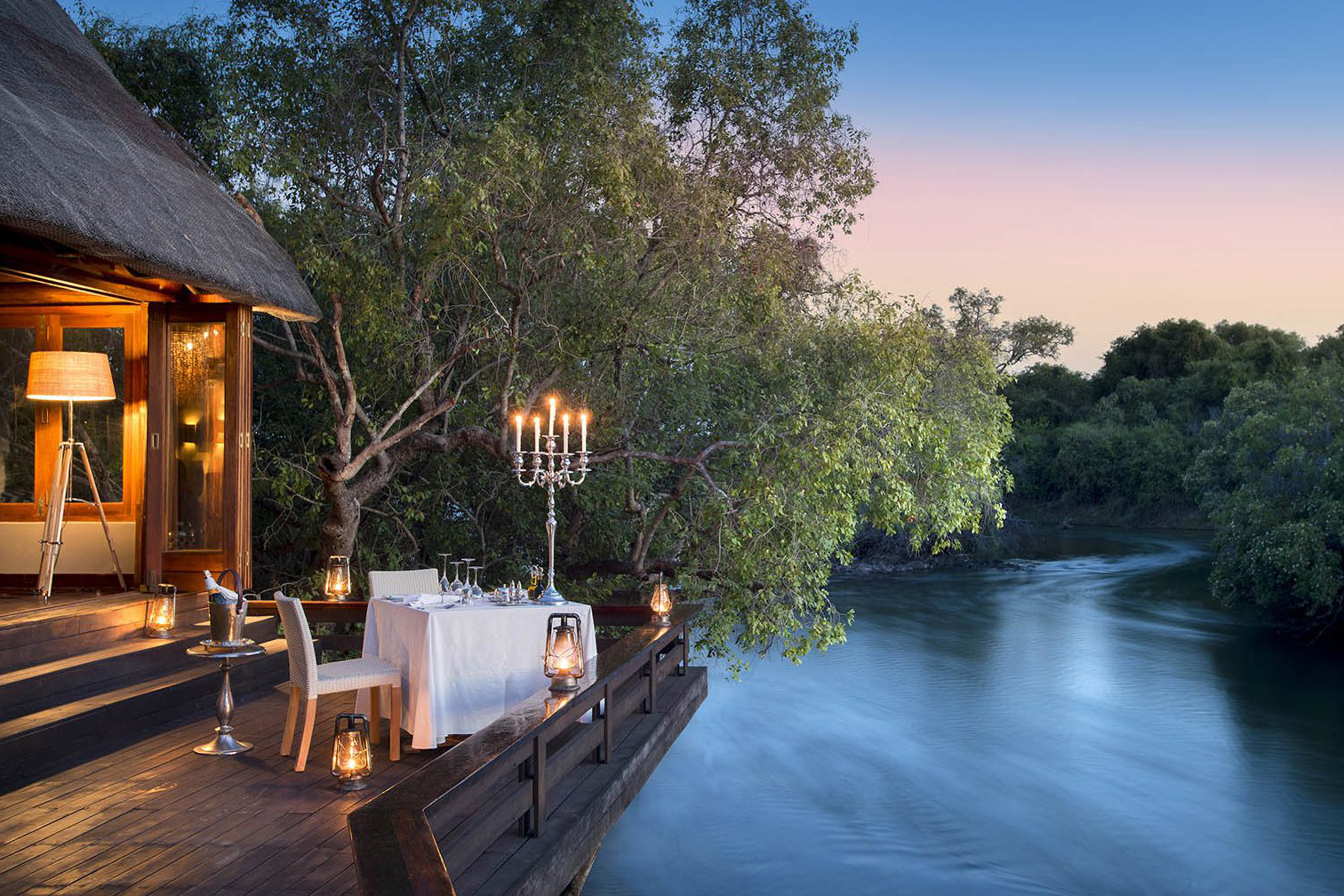 If you read our previous blog, "The Best Luxury Bathtubs in Africa", you might recognize the name ever so slightly. However, this is Royal Chundu Zambezi Island's sister lodge on the banks of the Zambezi River. We noticeably have fallen in love with this area and where the two lodges are situated. I think you can easily see why. 
The River Lodge has 10 suites scattered along the riverfront, providing uninterrupted privacy and views across the Zambezi River. Away from the romantic comforts of your suite, you have the opportunity to indulge in sunset river cruises. And for the adrenaline-seeking couples, adventure activities await at Victoria Falls.
Why do we love it! 
Close proximity to Victoria Falls 

Private and intimate views of the Zambezi River

Daily Sundowner river cruises 

Private riverside picnics

Adventure activities around Victoria Falls
Suggested Itinerary – Southern Africa Explorer 
Greystoke Mahale 
Mahale Mountains National Park, Tanzania
If you are looking for a combination of rustic romance and outbound adventure, then we would highly suggest the remote Greystoke Mahale. Situated along the white sand of Lake Tanganyika in Tanzania, encounter wild chimpanzees in the Mahale Mountains National Park. Renowned as one of the best places to see chimps, the forest also offers a calming atmosphere with leisurely forest walks to incredible waterfalls and other remote rock pools. 
Greystoke Mahale has just six thatched bandas, each with its own private upstairs viewing deck, providing uninterrupted lake views during the day. You also have the option to kayak or sail on a traditional dhow at your leisure. Openly, just a perfect spot to get back in sync with each other and nature.
Why do we love it! 
Remote destination in the Mahale Mountains National Park 
6 romantically rustic dhow wood bandas 
Exclusive chimpanzee trekking 
Water activities on Lake Tanganyika 
Forest hikes with interpretative guide 
Suggested Itinerary –Masai Mara and Serengeti 
Singita Kwitonda 
Volcanoes National Park, Rwanda 
Just take a moment to look at this heated outdoor plunge pool, with that exceptional view of the Volcanoes National Park. Kwitonda Lodge shares a 1.2km border with the famous Volcanoes National Park, putting you in close proximity to where about a third of the remaining wild gorilla population live. Imagine contemplating your gorilla trekking experience, with a glass of bubbles, enjoying these panoramic views of the volcanoes. 
In addition to your private plunge pool, each suite features a wellness treatment area, in-and outdoor fireplace with large timber-framed windows that seem to blend the boundaries of nature therapeutically into your luxurious suite.
Why do we love it! 
Lifechanging gorilla trekking experience 

Bordering the Volcanoes National Park  

Private heated plunge pools with panoramic views 

Farm-to-table dining experience 
Akarabo Nursery – dedicated reforest and rehabilitation program 
Suggested Itinerary – Rwanda Gorilla Trekking 
Elewana Loisaba Star Bed  
Laikipia Plateau, Kenya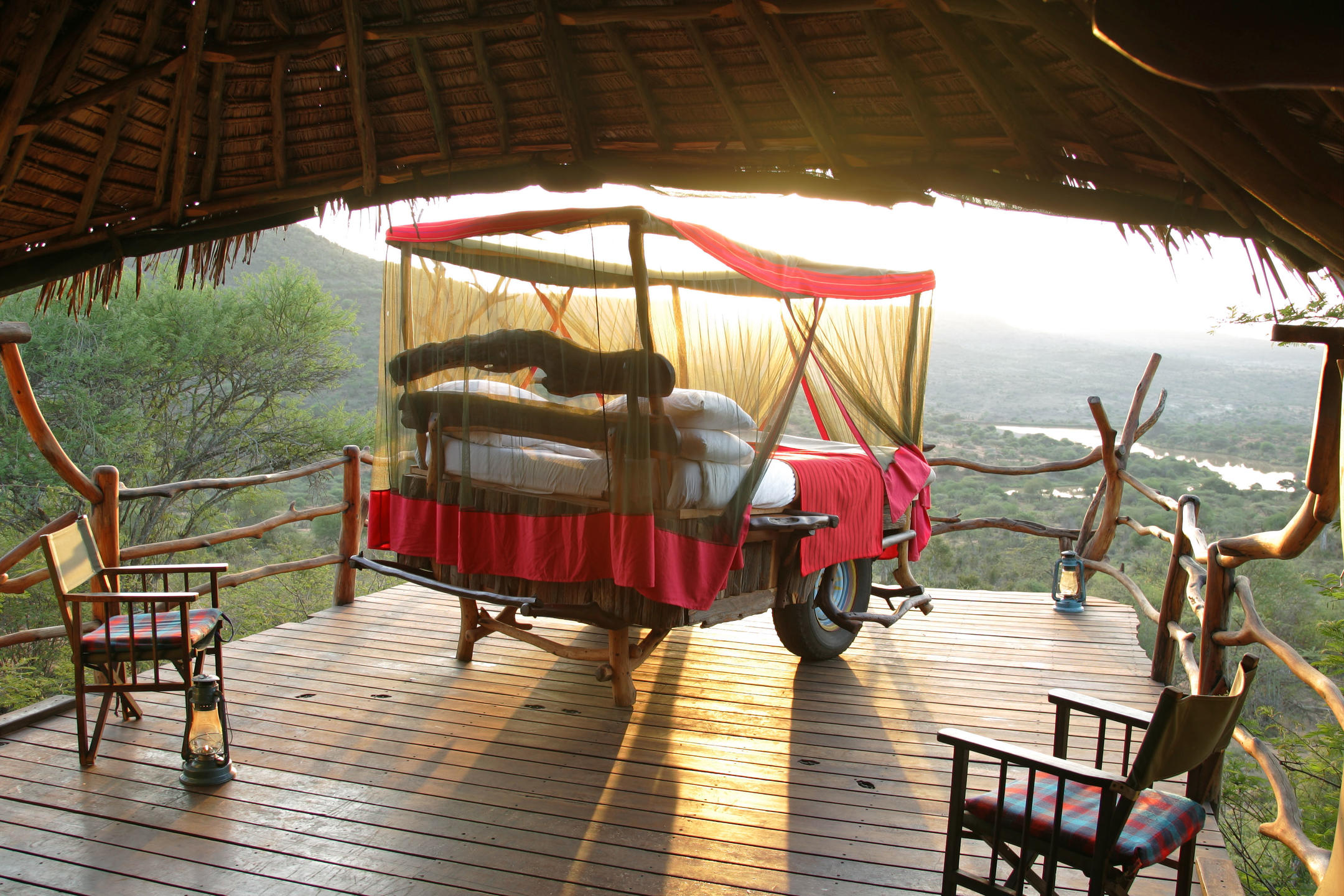 There is no doubt that this will provide you with one of the most memorable nights under the African sky.  Arguably one of the lesser-known destinations, the Loisaba Star Beds is situated in the 57,000 acre Loisaba Conservancy, northern Kenya. This area serves as one of the most important elephant movement corridors in the country. 
The accommodation is uniquely built on a rocky outcrop, with a sitting area, open-plan bathroom, and private deck overlooking this incredible and vitally important conservancy. At night, a romantic four-poster bed is conveniently positioned on the deck for you to enjoy a night like no other!
Why do we love it! 
A unique night under the African night sky  
Panoramic views with a private waterhole from your starbed
Sunrise and coffee overlooking the Loisaba Conservancy 
Explore the conservancy on camels
Visit the Loisaba Conservancy Anti-Poaching Unit 
Suggested Itinerary – Ultimate Kenya Safari 
Vumbura Plains 
Okavango Delta, Botswana  
Botswana's Okavango Delta has an undeniable ability to slow you down. Drift away and seamlessly explore the water channels on a mokoro (traditional canoe). And to fully appreciate the expanse of this unique wilderness, soar over this UNESCO World Heritage Site in a hot air balloon or helicopter.
Vumbura Plains has 14 luxurious suites, with each featuring indoor and outdoor showers, en-suite bathrooms, and private plunge pools overlooking the mesmerizing Okavango Delta. The camp is said to be so intimate, that elusive leopards come to drink from the swimming pool. Quiet and tranquil, this camp is perfect for you both!
Why do we love it! 
Mokoro rides and motorboat experiences 

Exceptional Big Five game viewing

Rare sightings of sable or sitatunga antelope

Hot air balloon or helicopter excursions

Private plunge pools and outdoor showers 
Suggested Itinerary – Southern African Explorer
andBeyond Mnemba Island 
Zanzibar, Tanzania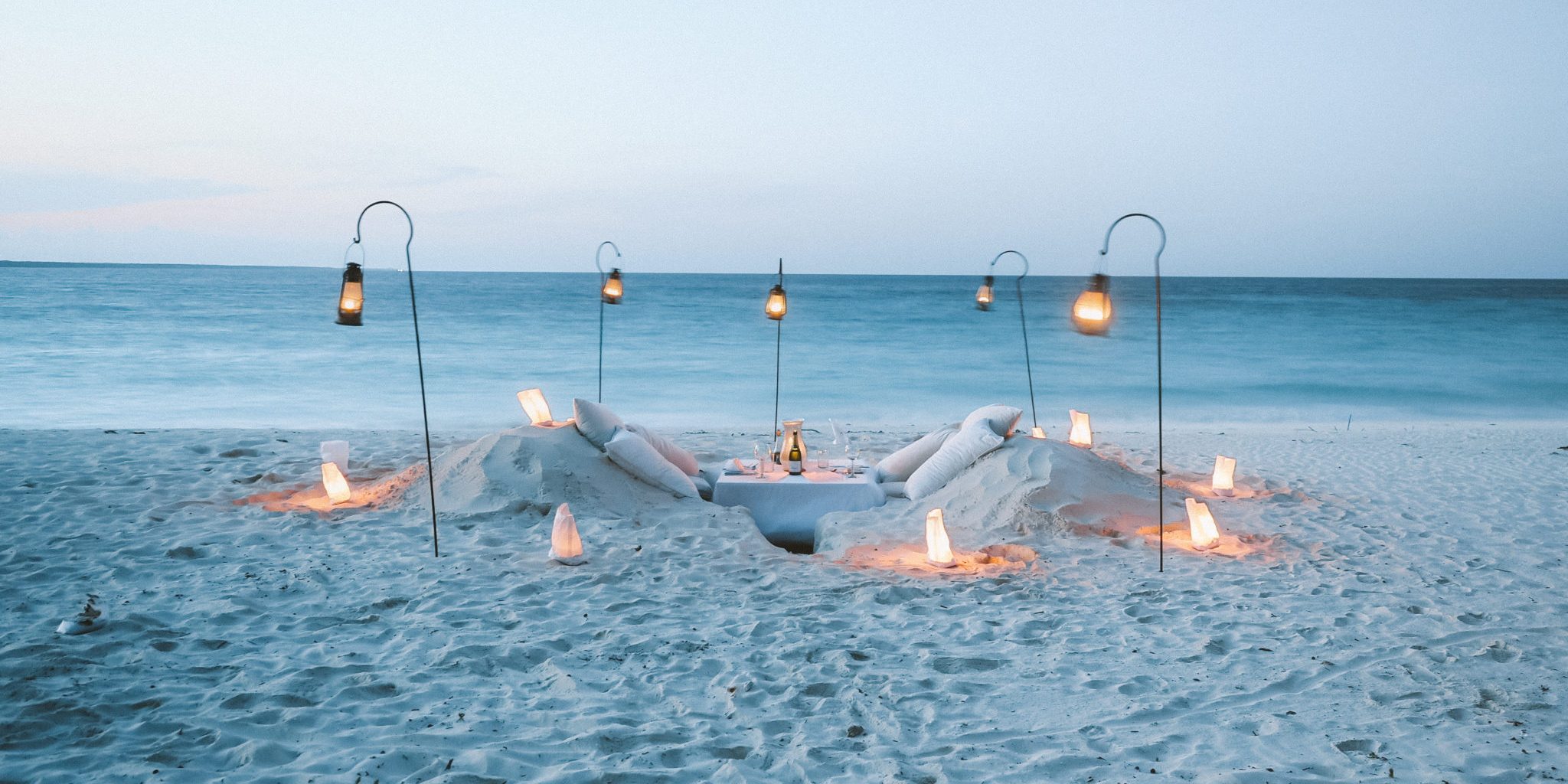 Described as a "romantic hideaway", Mnemba Island is a small and intimate island off the north-eastern coast of Zanzibar. With just 24 guests and the incredible staff on the island, you can conveniently choose what to do at your leisure. 
The island has 12 beach bandas, each with its own stretch on the beach front. Sit back and enjoy chilled champagne and locally, sustainably caught fish. Or choose from the myriad of marine activities from a cruise on a traditional dhow sailing boat to snorkeling or PADI dives in the Mnemba atoll. The island's marine conservation program deserves a special mention here too, as the conservation team has been monitoring and researching sea turtles here for over 20 years!
Why do we love it! 
Small and intimate private island 
Seasonal turtle nesting and hatching 
Romantic candlelit dinners on the beach 

Exceptional snorkeling and diving opportunities  

Marine Conservation partner – Oceans Without Borders 
Suggested Itinerary – Tanzania and Zanzibar 
Lemala Nanyukie Lodge 
Serengeti National Park,  Tanzania  
Lemala Nanyukie Lodge opened just 4 years ago, and is situated in the eastern area of the Serengeti National Park, just a 60 minute game drive away from the Seronera airstrip. 
The fabulous canvas lodge is superbly located with outstanding views of the open plains. In the correct season, you can witness the Great Wildebeest Migration, but the area is more known for its large concentration of big cats! They have 15 luxurious guest tents, perfectly spaced apart for maximum privacy. Each tent features a spacious lounge and corner plunge pool, just perfect for looking across the grassy plains for elephant herds, giraffes, zebras and a variety of antelopes grazing.
Why do we love it!  
Incredible big cat viewing – especially cheetah 

Great Wildebeest Migration (Seasonal)

Private corner plunge pools overlooking the Serengeti 
Hot air balloon rides over the 'endless plains' 
Separate spa tent for secluded relaxation 
Suggested Itinerary – Tanzania and Zanzibar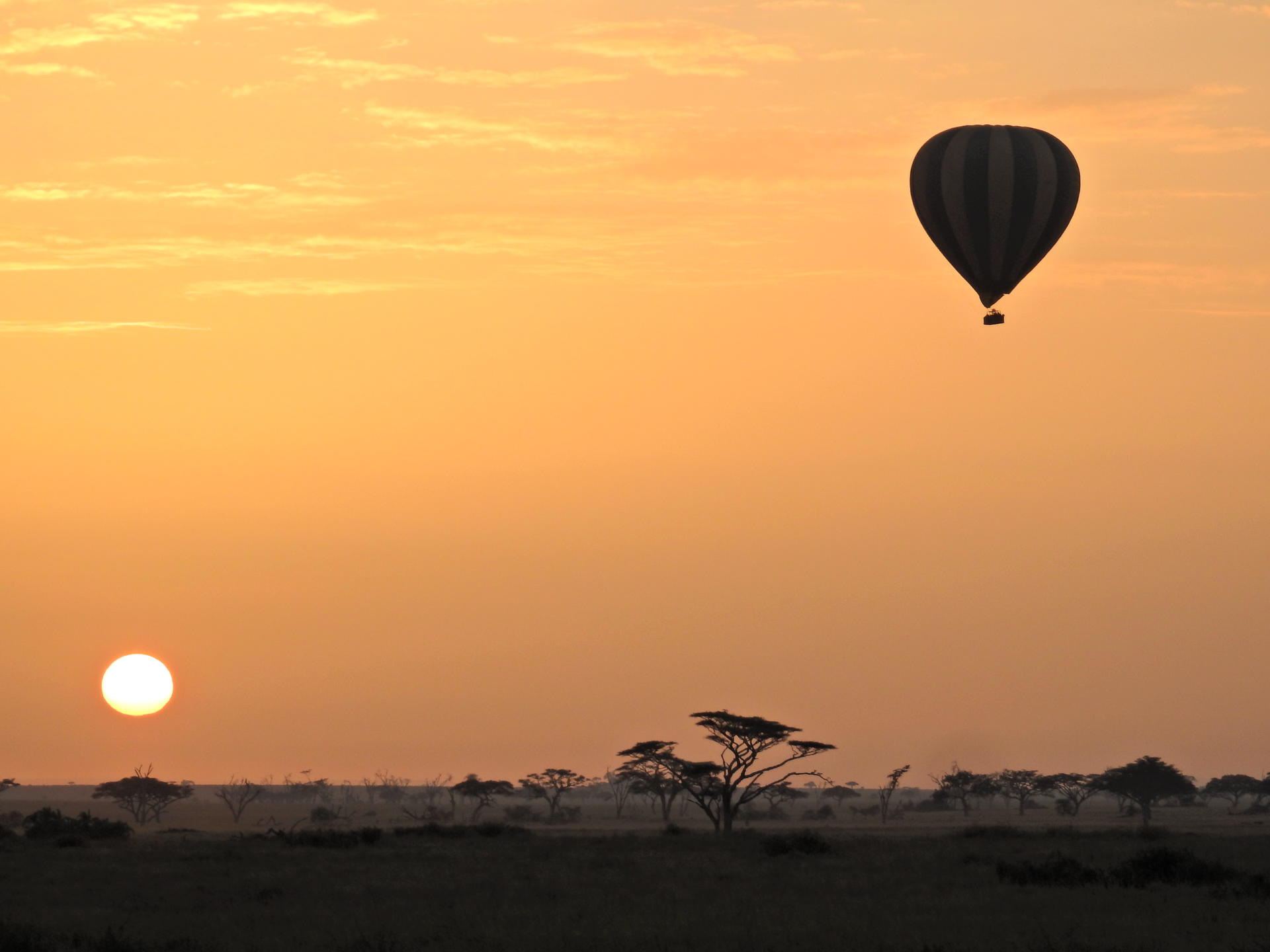 Are you ready for the trip of a lifetime?
If you're thinking of planning a trip, we're here to help! Our team of travel designers will create an itinerary just for you to create memories to last a lifetime and conquer your bucket list. Get in touch with us today to start planning your adventure in Africa.
Follow us on Instagram