If you're dreaming of a honeymoon that you will talk about for years to come, then look no further than exploring the magic of Africa. There's just something so alluring about being in the wild plains of Africa with the one person you love. If you ask us, there isn't anything more romantic than spending a night under an African sky! So, where are the best honeymoon lodges in Africa?
We're glad you asked. The truth is, there are too many lodges and camps to choose from when it comes to visiting Africa. This of course is not a bad thing, as camps are often small and intimate, with just a handful of rooms at each property. Guests can enjoy very hands-on, white-glove service from the local staff who are more than eager to help create memories to last a lifetime. So, what are you waiting for? Let's dive into the most romantic honeymoon lodges in Africa!
1. San Camp, Botswana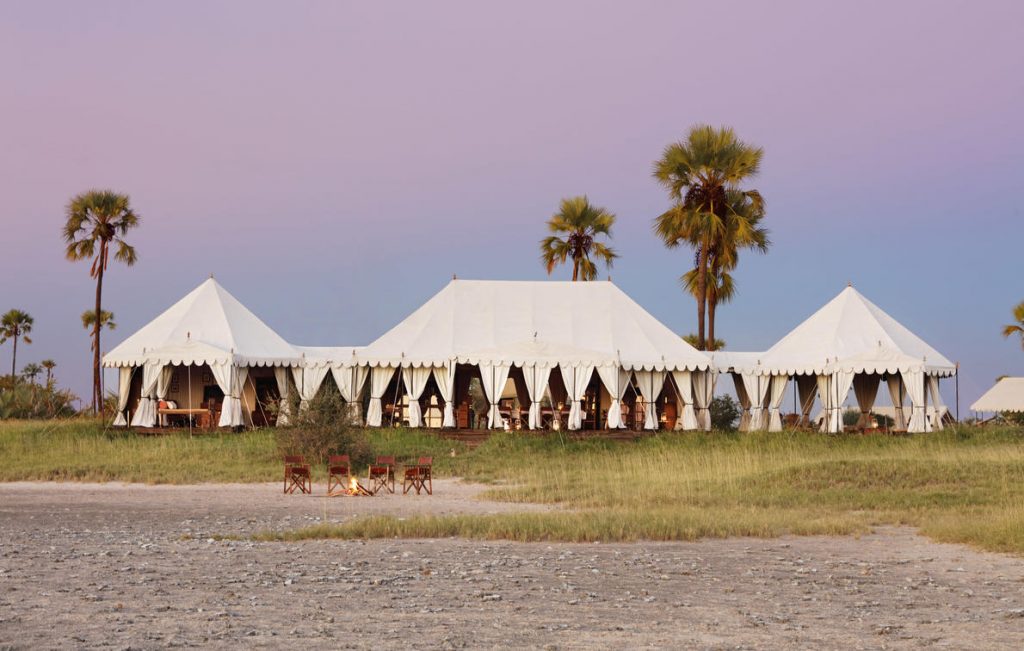 We'll start with a camp so isolated in the depths of the Kalahari Desert that you'll think you've left earth itself. This part of Botswana is so quiet and serene, that by switching off (there is no wifi), you'll really be able to switch on to your senses. Nights include adventurous trips out into the salt pans on ATVs, star-gazing by an open fire and listening to the sounds of predators hunting prey in the distance. Days are great for spotting wildlife, both small and large, or you can opt for a horseback ride through the salt pans and get up close with a herd of wildebeest.
Suggested Itinerary – Southern Africa Explorer 
2. andBeyond Mnemba Island, Zanzibar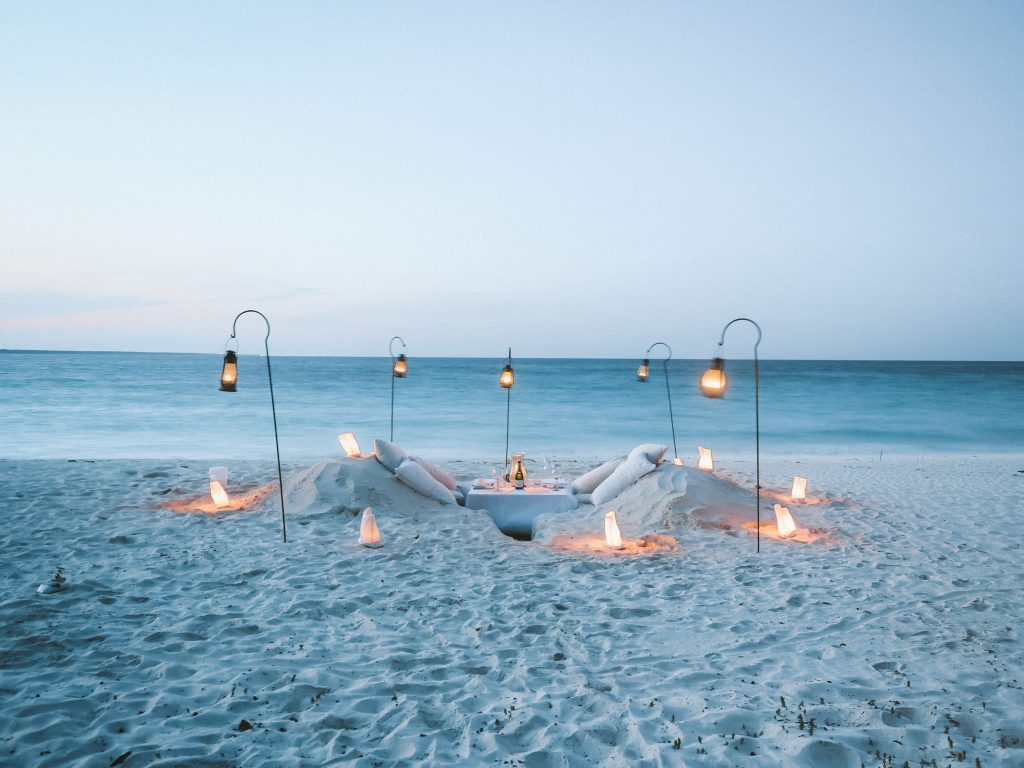 If you have ever dreamed of a private island escape, Mnemba Island is for you. This small and unassuming island is located off the coast of Zanzibar, which is located off the coast of Tanzania in East Africa. It is small enough to host just 12 villas that are affectionately known as bandas (bungalows). Each banda comes complete with a private butler, room service any time of day, a help-yourself bar and so much more! Mnemba Island is fully inclusive, so you can completely relax and indulge. There are a bunch of activities on offer for those who prefer to keep busy, including kayaking, standup paddle boarding, diving, and snorkeling. Lucky guests may even have the chance to swim with dolphins or witness a sea turtle nest hatching!
Suggested Itinerary – Tanzania and Zanzibar 
3. Bird Nest Nay Palad, Kenya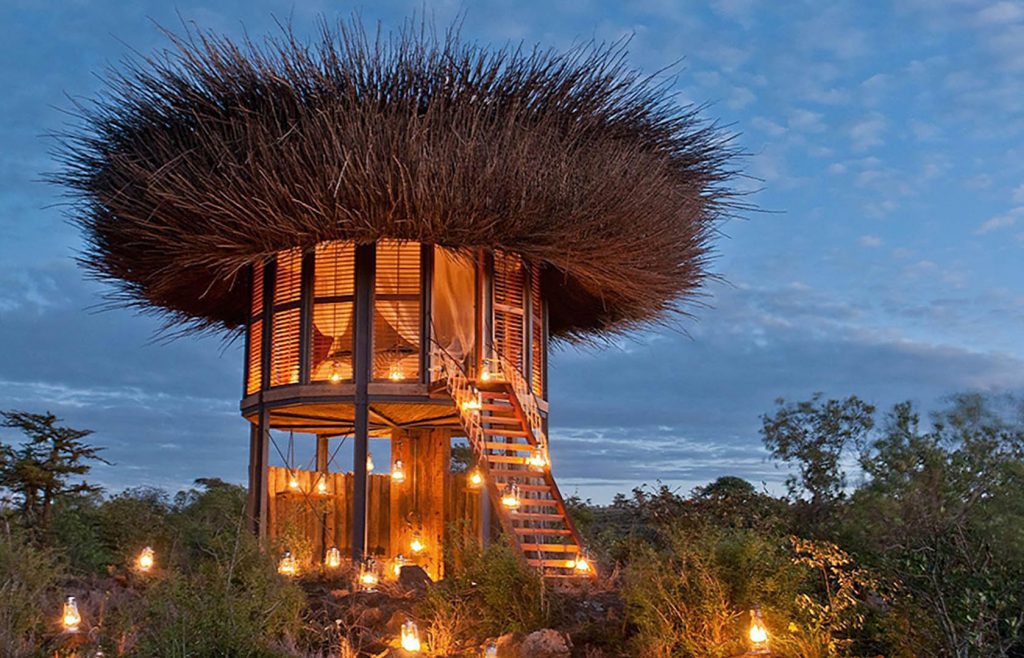 When it comes to once in a lifetime experiences, the Bird Nest Nay Palad in Kenya's Laikipia Plateau is as good as it gets. This ethereal treehouse offers 360-degree views over the surrounding wilderness, giving you unparalleled access to an East Africa wildlife experience. To reach the treehouse, guests can either experience a wildlife walk or take a drive in a safari vehicle to the treehouse. The experience is certainly not for the faint-hearted, as you'll be in the thick of the bush, but what better way to experience East Africa than to be amongst the action!
Suggested Itinerary – The Ultimate Kenya Safari 
4. Thorntree River Lodge, Zambia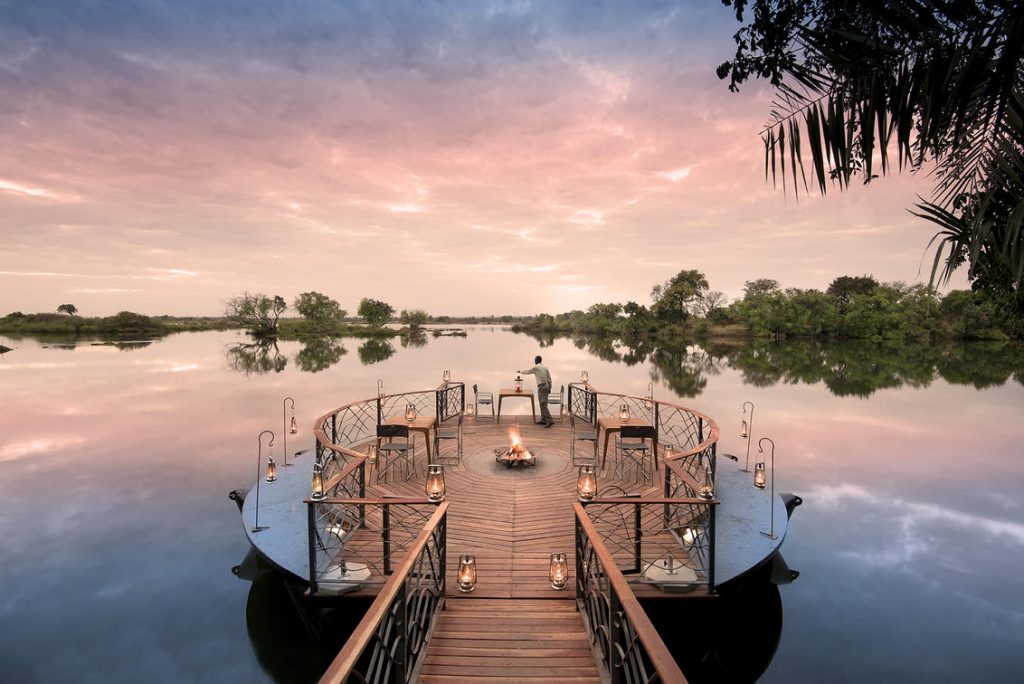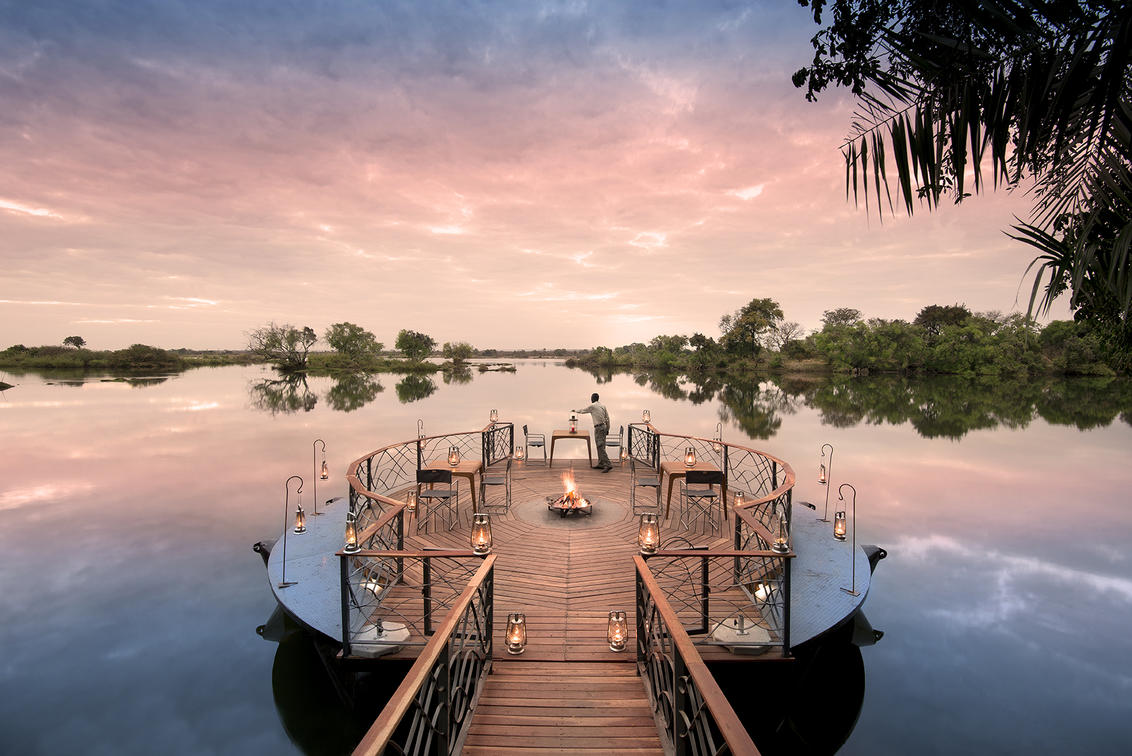 There are a handful of locations in Africa that stand out above the rest, and the Zambezi River is certainly one of those. Leading to the world-famous Victoria Falls (commonly considered the largest waterfall in the world), the Zambezi is a mecca for African wildlife. And if you dare, you can even join a canoe tour down the river passing hippopotamus and maybe even a sighting of a predator on the banks of the river. Thorntree River Lodge occupies an idyllic part of the river on the Zambian side of the Zambezi River. This lodge is perfect for honeymoon couples and offers some unparalleled sunset viewing spots. 
Suggested Itinerary – Waterfalls and Wildlife 
5. Londolozi Private Granite Suite, South Africa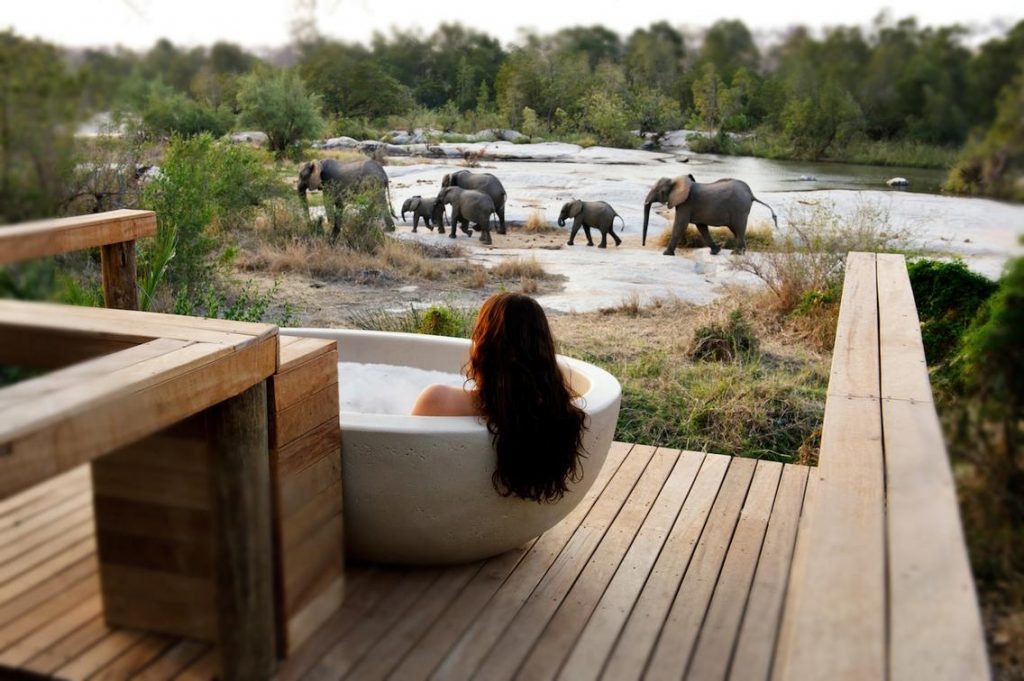 If you are planning your first safari, South Africa is often a great place to start. This is certainly the most popular choice for first time safari goers, but with so many camps to choose from, you will be spoiled for choice! One of our top picks for honeymoon couples is the exclusive Londolozi Private Granite Suites. These suites are spacious with luxury on overdrive, complete with an outdoor tub to kick back and watch the wildlife walk by! Each suite offers the perfect blend of indoors and outdoors, making this a great choice for those hoping to get in touch with their senses in South Africa. 
Suggested Itinerary – The Best of South Africa 
6. Lion Sands Ivory Lodge, South Africa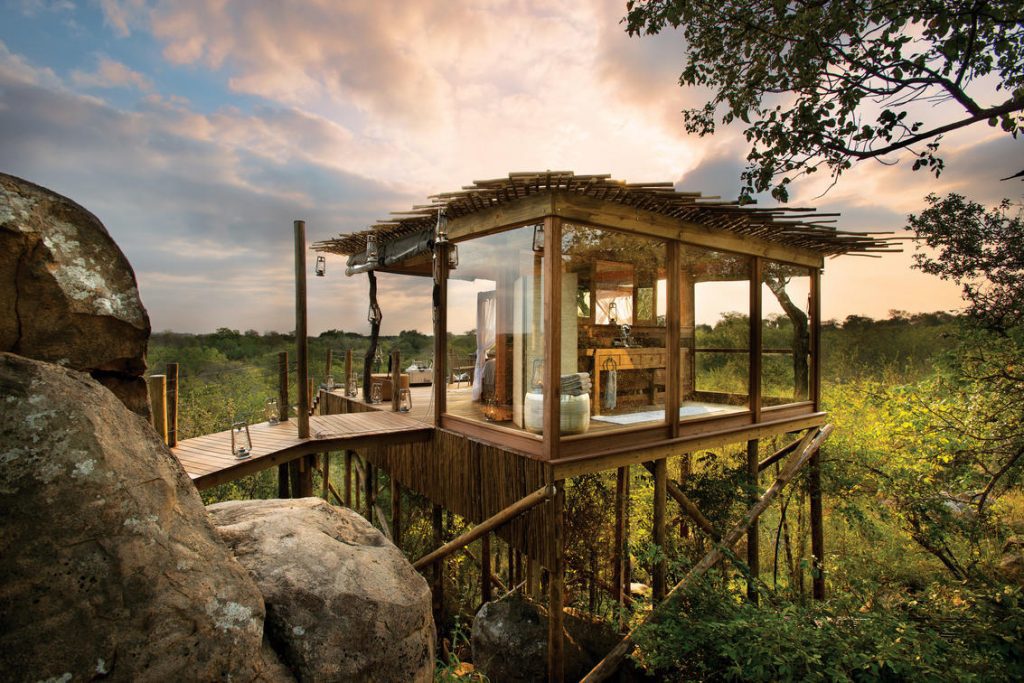 Located across the world famous Sabi Sand Game Reserve and Kruger National Park, Lion Sands is a collection of lodges in South Africa. Perhaps our favorite is the Lion Sands Ivory Lodge, where honeymoon couples can spend a night in a luxurious glass treehouse. This is the most idyllic way to experience the bush as you will feel fully immersed in the experience around you. 
Suggested Itinerary – The Best of South Africa 
7. Angama Mara, Kenya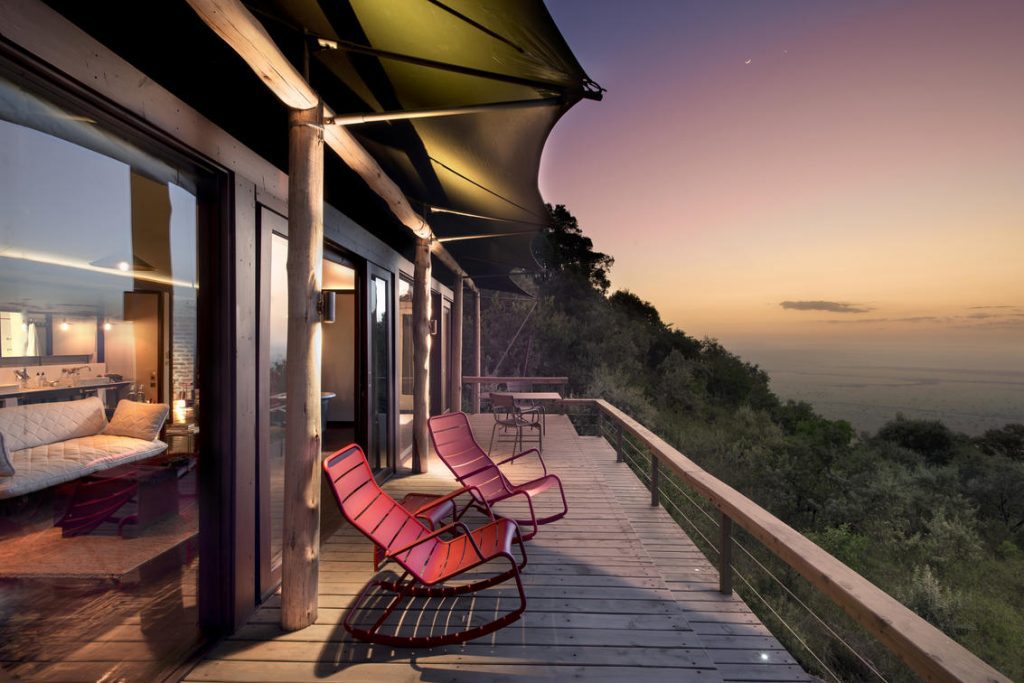 While there is an abundance of lodges to choose from in the Masai Mara, only one of them has this epic view over the park. Angama Mara is one of the newest lodges in the Masai Mara and it isn't hard to see why it has quickly become one of the most sought after accommodations. This luxury lodge offers butler service, decadent in-room mini-bars and our personal favorite – the chance to experience a picnic just like the one from the Out of Africa film! There is an infinity pool on site for those hot summer days plus a large outdoor fire pit for sunsets you will never forget.
Suggested Itinerary – East Africa Honeymoon 
8. One&Only Nyungwe House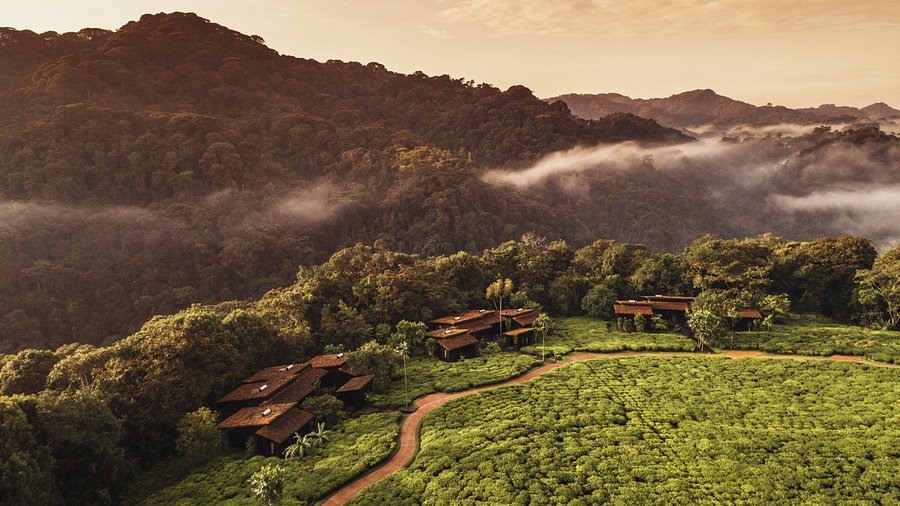 Set amongst a working tea plantation, One&Only Nyungwe House is located in the most important site for biodiversity conservation in Rwanda. So if you're interested in a trip that leaves a lasting impact (both on you and the environment), then head to Nyungwe! Located in the southwest of Rwanda, the Nyungwe forest is a vast area of mountain rainforest home to many chimpanzees, plus owl-faced and colobus monkeys. You can expect to enjoy unforgettable experiences like trekking through the rainforest on a suspension bridge, sighting chimpanzees and birdlife from afar. The untamed jungle rainforest will have you feeling wild and isolated from the moment you arrive. It is certainly worth staying at least a few nights to really immerse yourself in the natural wonder!
Suggested Itinerary – Rwanda Gorilla Trekking 
9. andBeyond Ngorongoro Crater Lodge, Tanzania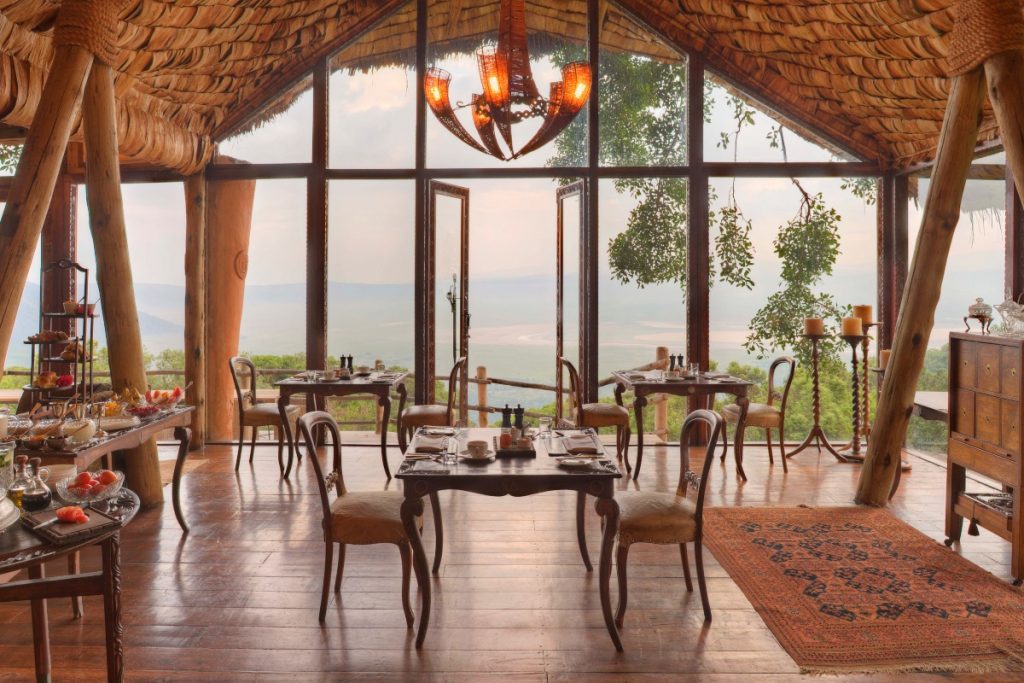 If an old school safari romance is what you have in mind, then andBeyond Ngorongoro Crater Lodge is just the ticket. This lodge feels as if you have stepped back in time, completely transporting you to a former era. The Crater is one of the most famous destinations for safari, at the bottom of a volcanic caldera. Located in Northern Tanzania, the lodge is just a stone's throw away from the Masai Mara in Kenya. Thus you can enjoy cultural experiences both with the Maasai and Hadzabe while you are staying at the lodge. And if the views aren't enough to convince you this is the perfect place for a honeymoon, the opportunity to interact with the KopeLion Conservation Team might do the trick. With andBeyond's commitment to conservation, this is a great opportunity to have the trip of a lifetime while giving back to conservation efforts on the ground.
Suggested Itinerary – East Africa Honeymoon 
10. andBeyond Bateleur Camp, Kenya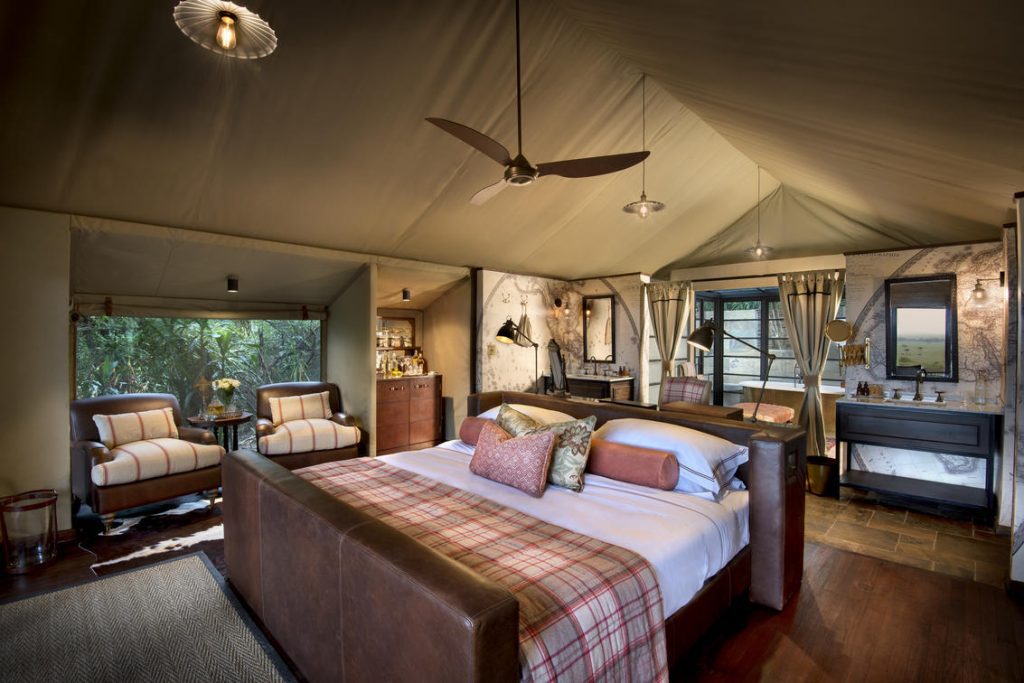 What could be more romantic than a hot air balloon over the Masai Mara? We'll let you know if we think of something! andBeyond Bateleur Camp is another great choice for a safari that feels like you have stepped back in time. Except this time, you're on the Kenyan side of the border in the ever-popular Masai Mara. There will be ample opportunities to view the big five animals, as well as all your usual suspects (zebras, elephants, giraffes and many more!) And if you time your honeymoon with the Great Migration, this is an unparalleled opportunity to witness more than two million animals migrate from the Serengeti to the Masai Mara. 
Suggested Itinerary – East Africa Honeymoon 
11. andBeyond Sandibe Okavango Delta Lodge, Botswana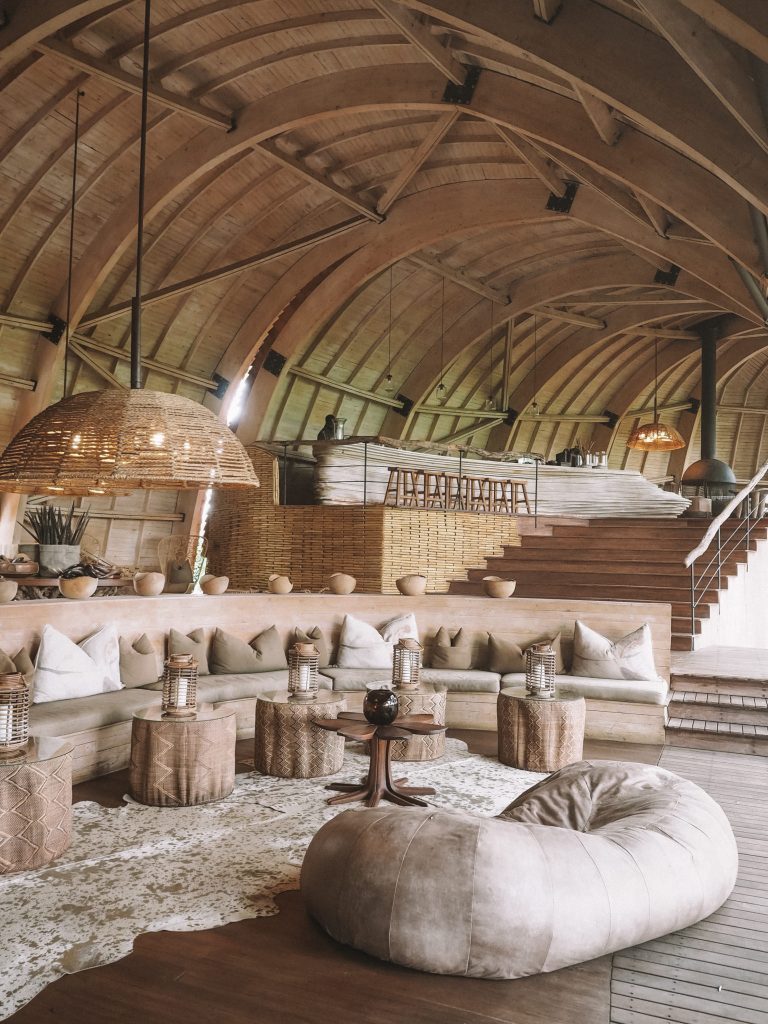 If you're seeking a lodge that is inspired by the nature surrounding it, you can't go past Sandibe Okavango Delta Lodge. This andBeyond lodge has won a string of awards for its impressive design, but the wow-factor doesn't stop there. As the premium offering from andBeyond in the Okavango Delta, guests can expect to be pampered throughout their stay. There are lots of little surprises in store for honeymoon couples and this is without a doubt one of the most romantic backdrops to spend a few days in the remote wilderness.
Suggested Itinerary – Explore the Best of Botswana 
12. Shipwreck Lodge, Namibia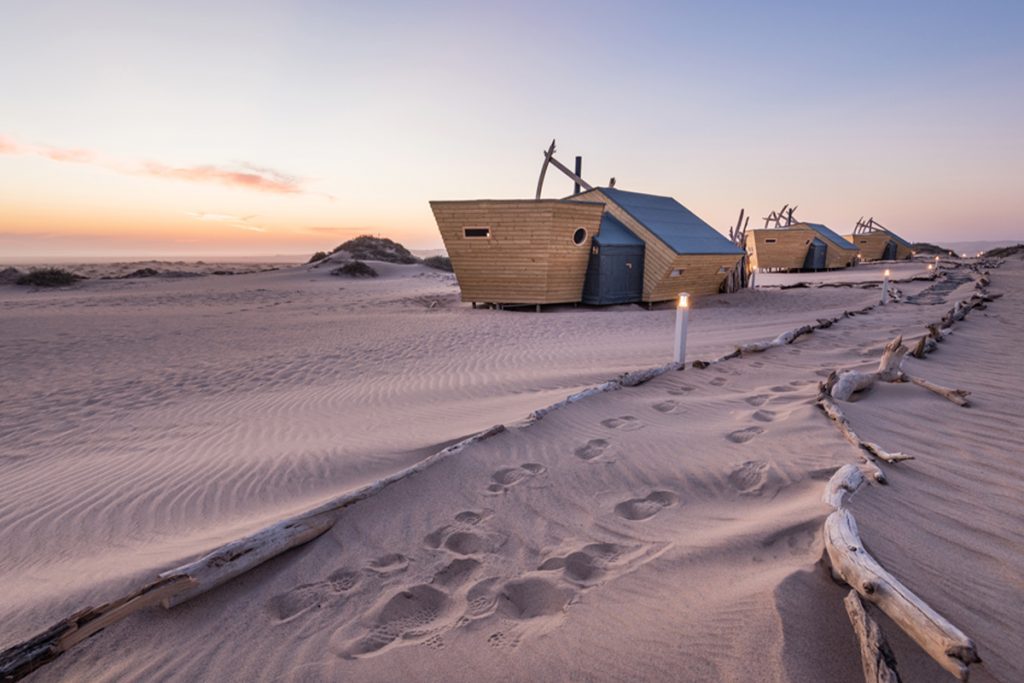 As one of the most isolated lodges in all of Africa, Shipwreck Lodge is worth staying at least four nights to really make the most of your visit. After flying into Windhoek (the capital city of Namibia), guests will need to board a chartered aircraft to make their way to the rugged and whimsical Skeleton Coast, one of Namibia's most famous landmarks. Once you are out here you will soon see just how secluded and remote this lodge is. Each night enjoy a peaceful sleep with the sound of crashing waves in the background and an opportunity to witness the Milky Way with no light pollution. This is truly a sensory experience and best enjoyed with your plus one.
Read more: These are the best isolated lodges in Namibia
13. North Island, Seychelles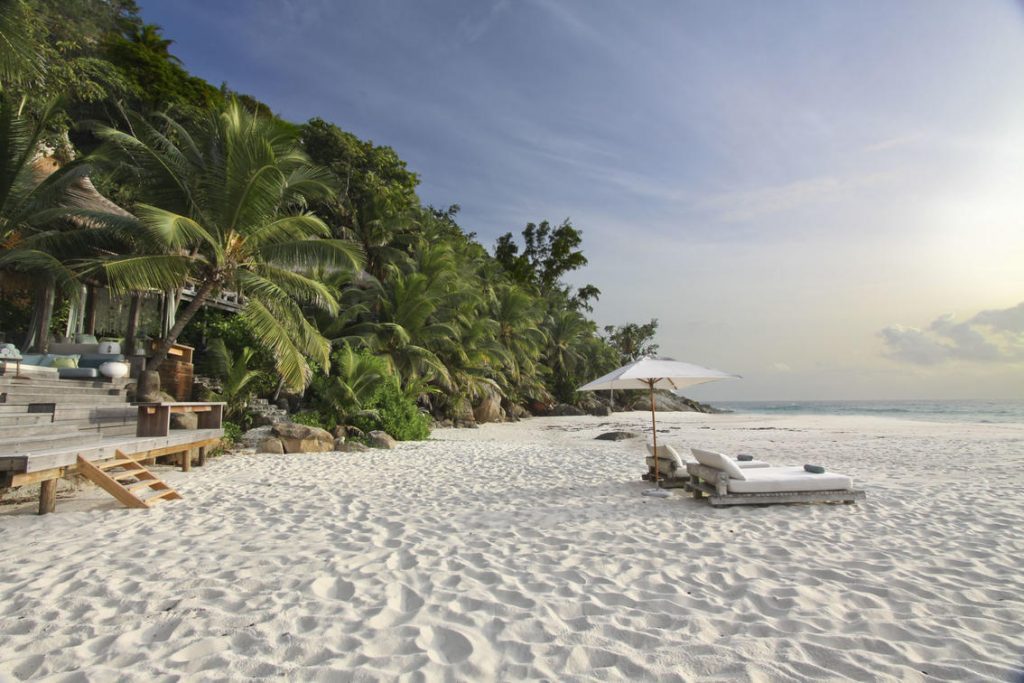 If you're looking for less safari and more beach oasis, then you can't go wrong with a honeymoon to North Island. As one of the world's most exclusive lodges, North Island has a price tag to match its reputation. But if your budget allows, there truly is nowhere more quiet and serene to spend your honeymoon. You can spend your days exploring the island at leisure or enjoy endless water activities offshore. The Seychelles is home to some of the best marine wildlife viewing in the world, so be sure to pack your togs!
Read more:Your guide to the Seychelles
14. andBeyond Benguerra, Mozambique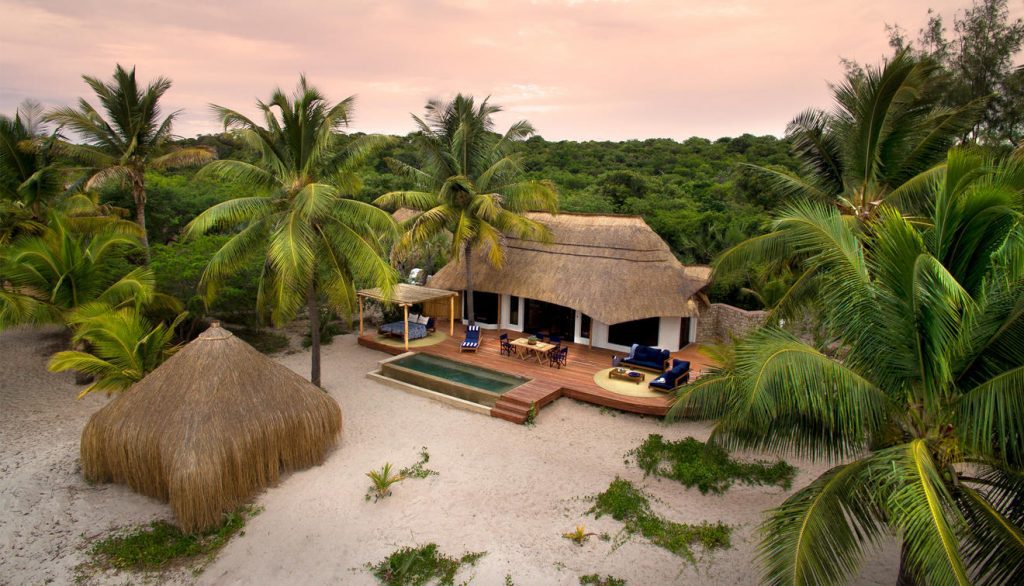 Are you dreaming of a place where time stands still? Benguerra Island in Mozambique might be the answer. This barefoot luxury lodge is perfect for honeymoon couples who want privacy and relaxation. But if you prefer some action, there is also plenty to do on the island. It is at Benguerra where you can spot rare dugongs out at sea, perhaps on a traditional dhow sunset cruise. Or if you prefer to stay on dry land, a castaway picnic can be prepared for you and your partner in crime.
Read more: 5 Must Do Adventure Activities on Benguerra Island 
15. andBeyond Sossusvlei Desert Lodge, Namibia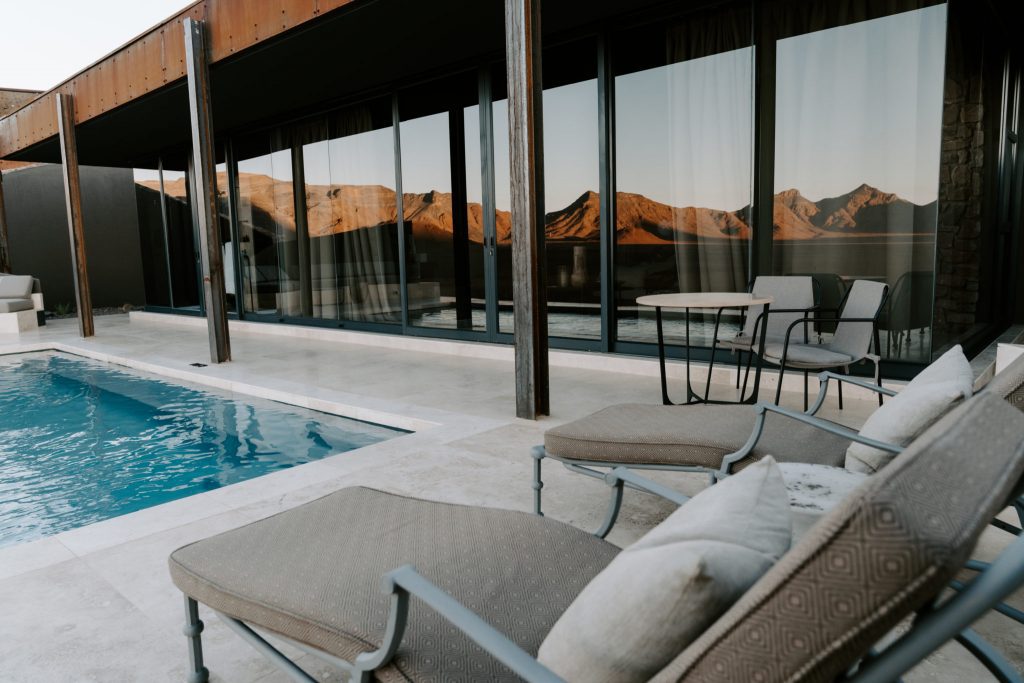 There really is no place in the world quite as serene as the Sossusvlei Desert in Namibia. Whether you're relaxing in your private pool or out climbing desert dunes, there's so much to do at this lodge. andBeyond Sossusvlei Desert Lodge is the premium lodge offering in Namibia and is sure to impress. Room rates are all-inclusive so you can kick back and enjoy the bar until your heart is content. The food is also quite a journey at this lodge, with a focus on gastronomic inventions to keep guests guessing. Sundowners are another highlight of this lodge as you sit and watch the sky turn a pastel wash of colours. And if you're an early riser, don't miss the chance to watch the sunrise over the dunes. It is truly something else!
Suggested Itinerary – Namibia Flying Safari 
16. Singita Boulders, South Africa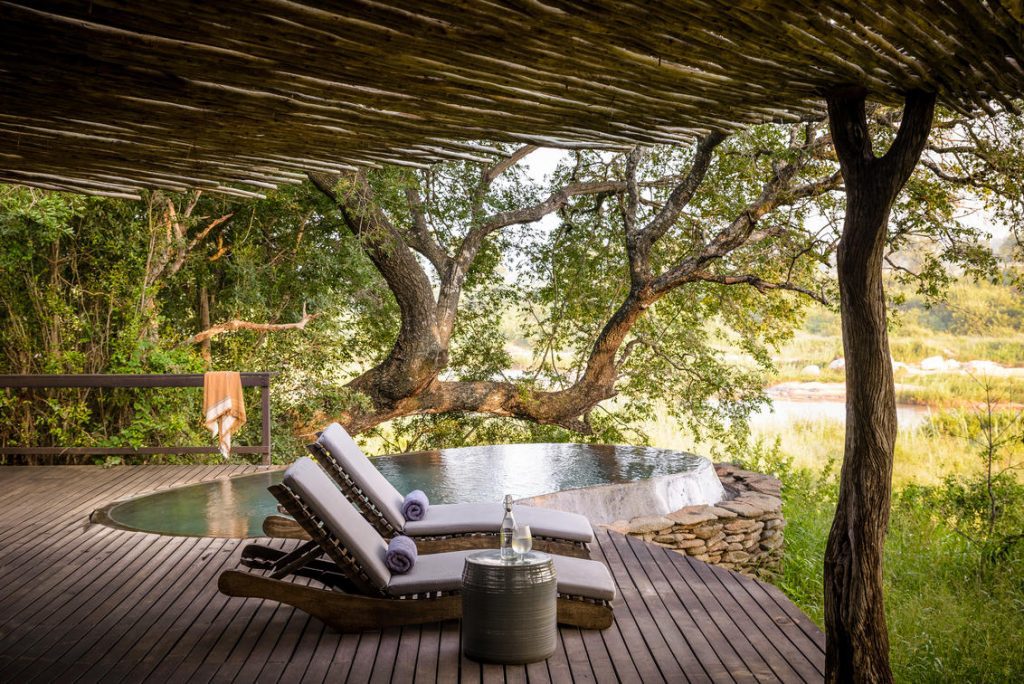 Tucked away in the ever-popular Kruger National Park is the epitome of raw luxury, Singita Boulders. This lodge has long been a favorite for guests visiting Africa and believe us when we say elephant sightings by your private pool are a regular occurrence! If you're looking for a luxury lodge that covers all the bases (and more), this is a great choice. Stunning architecture and design are paired with exceptional service at Boulders Lodge. Singita is also renowned for their enviable food and wine service, which will truly elevate your safari experience. This lodge is located above the banks of Sand River, which means you will find great wildlife viewing year-round as the animals always make their way to the water to refresh.
Read more: Why you should visit Africa in 2021
17. Mombo Camp, Botswana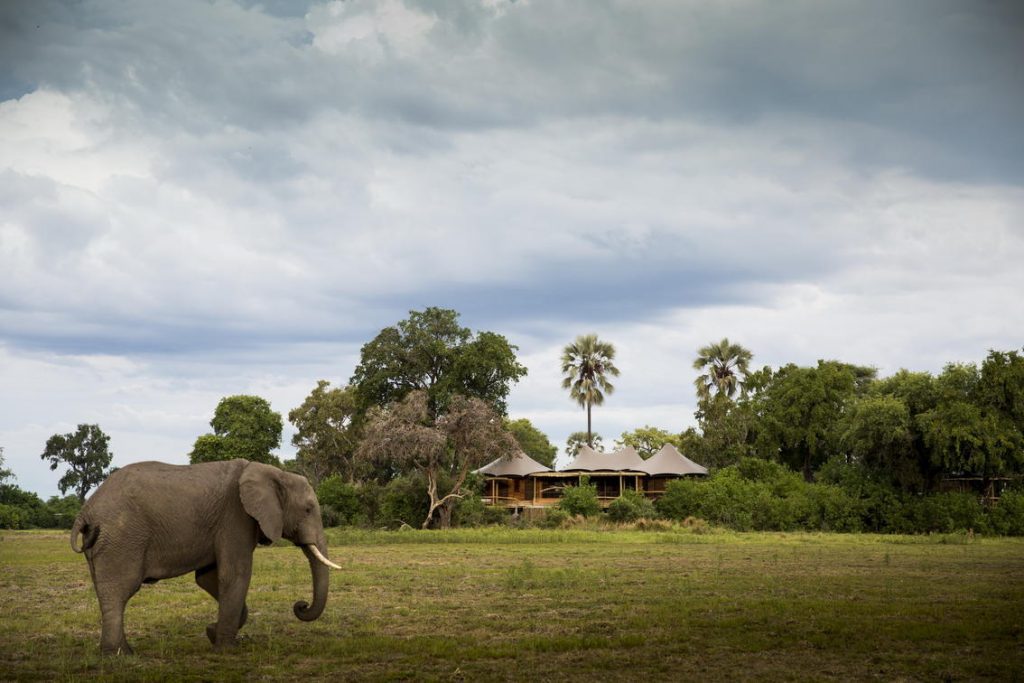 With just 9 luxury tents on offer, Mombo Camp in the Okavango Delta is one of the most luxurious lodges in all of Africa. This private and exclusive lodge is the epitome of an African romance – both with your partner and the continent itself! Each tent features a private plunge pool, which is a welcomed reprieve in the warmer months. Temperatures can sometimes reach 100 degrees, but don't let that stop you! There really is no bad time to visit Botswana, a country that is commonly considered to host the most authentic safari experience. You won't see many (if any) vehicles as you make your way out on game drive as the focus in Botswana is on quality over quantity. Mombo Camp is a true reflection of this, offering guests one of the most exclusive experiences in the bush. 
Suggested Itinerary – Explore the Best of Botswana 
18. Bisate Lodge, Rwanda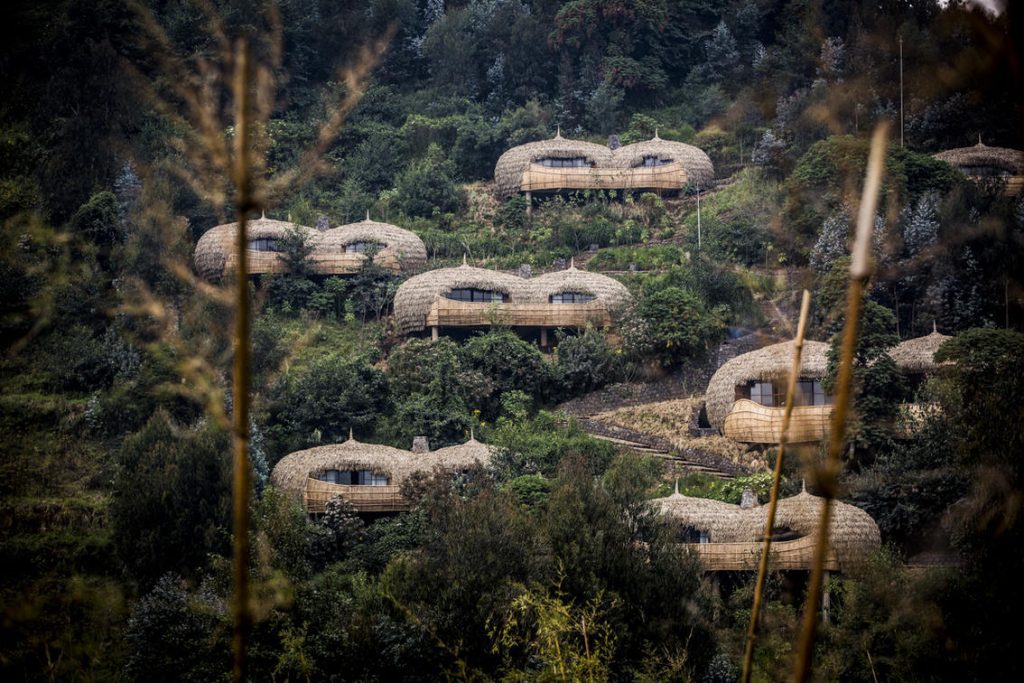 If you are looking to plan a honeymoon that you will be talking about for years to come, be sure to consider Rwanda. Outside of the typical safari experience, there are a handful of unique opportunities on the continent of Africa. And one of those is to travel to the depths of Rwanda and see mountain gorillas up close. Bisate Lodge in Rwanda is a great place to base yourself if you are looking for unique accommodation. The six thatched forest villas are tucked into a lush forest setting and each has its own private verandah to enjoy the views. Nature walks around the property are highly encouraged as you're surrounded by rainforest and volcanoes.
Suggested Itinerary – Rwanda Gorilla Trekking
19. Gibb's Farm, Tanzania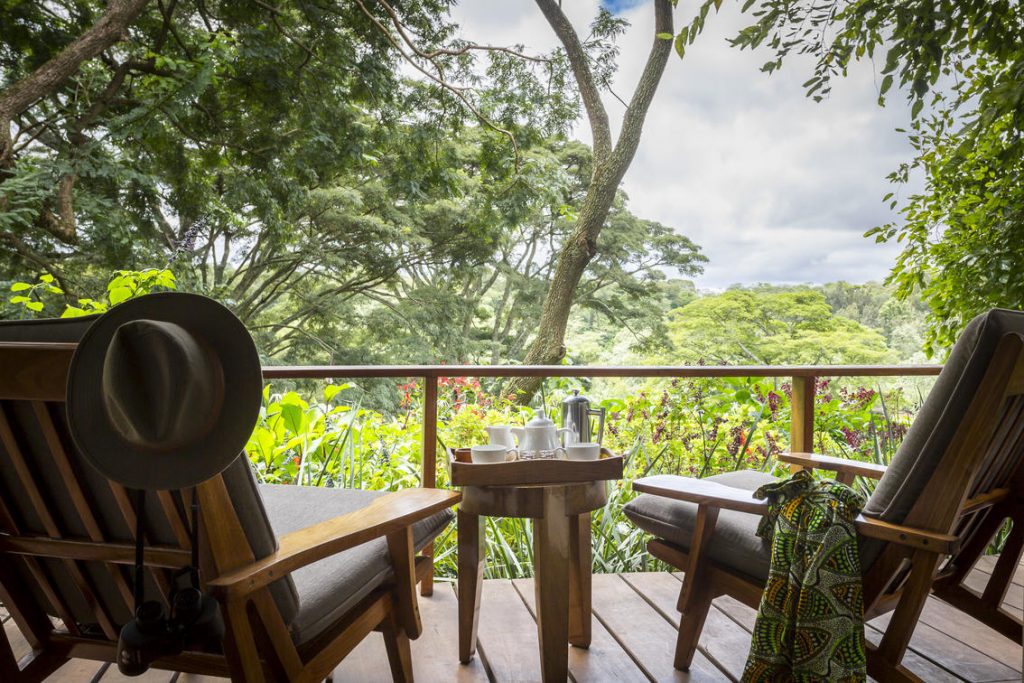 If you're a garden enthusiast or perhaps your loved one is, Gibb's Farm is a great choice in East Africa. This intimate lodge is located amidst fragrant gardens and surrounded by the rolling fields of a historic coffee farm. The farm was originally built by German settlers in 1929 and is thus one of Northern Tanzania's oldest guest houses. Day trips for safari are offered into the Ngorongoro Crater and Lake Manyara National Park, so you can pair wildlife viewing with your experience at the farm. So if you feel like getting a glimpse inside the old nomadic safari explorations, this is a great place to do so. Oh, and did we mention it is impossibly romantic from every angle?
Read more:Your guide to visiting Tanzania
20. Victoria Falls River Lodge, Zimbabwe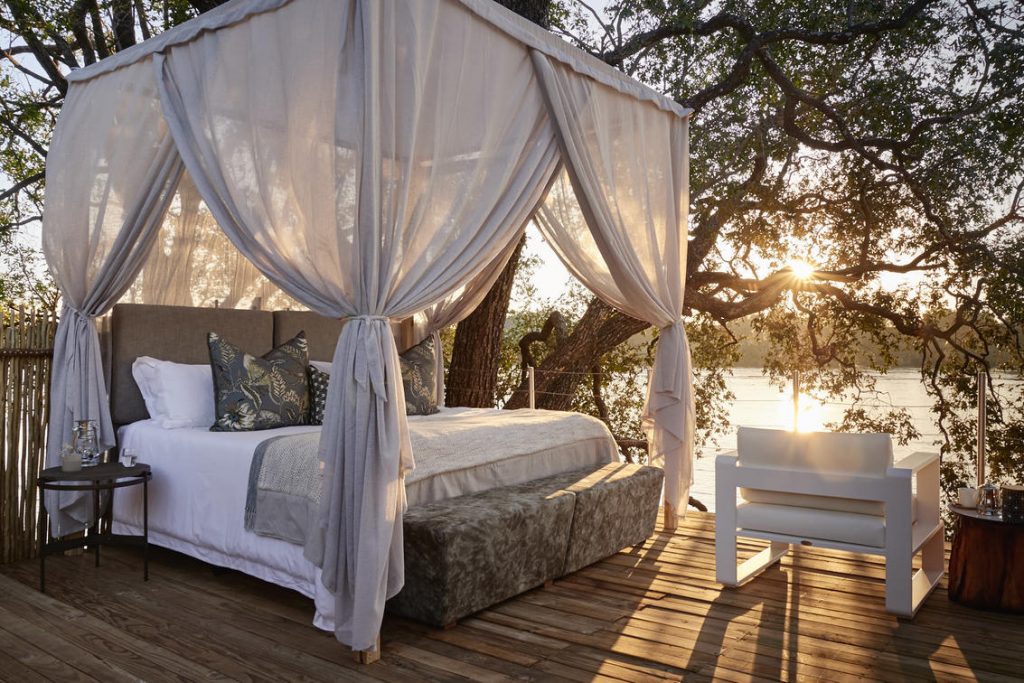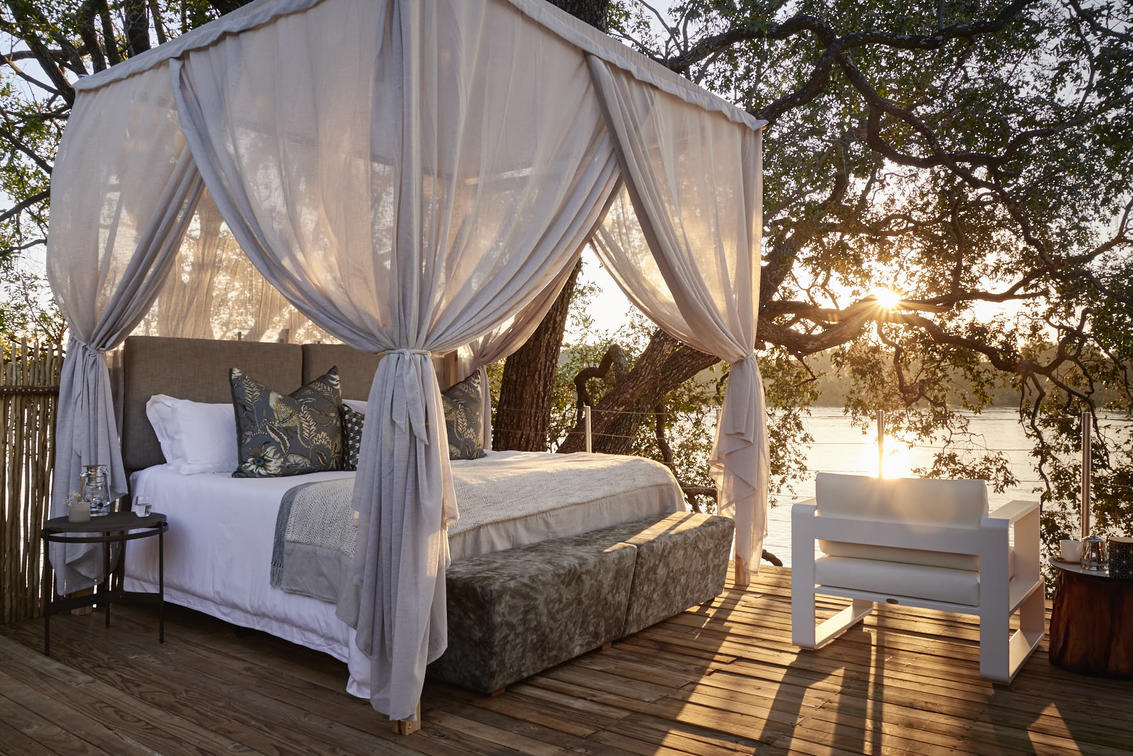 Set on a riverbank in the Zambezi National Park, Victoria Falls River Lodge is the epitome of luxury. If you're looking for a place to wake up and feel at one with nature, look no further. The airy suites will give you a great sense of what it is like to live in the bush. But of course, with all the comforts of home! You can expect daily morning wake up calls with a pot of freshly brewed coffee, plus minibars, private plunge pools and generous patios to enjoy the views.
Suggested Itinerary – A Honeymoon in Southern Africa  
Are you ready for the trip of a lifetime?
If you're thinking of planning a trip, we're here to help! Our team of travel designers will create an itinerary just for you to create memories to last a lifetime and conquer your bucket list. Get in touch with us today to start planning your adventure in Africa.
Follow us on Instagram